Nov 19 2014
John Hamer/ The New York Sun
Now if you read yesterday's offering on this site you will know that I am writing a rather complicated article at the moment that I have no chance of finishing today.
It therefore follows that I obviously haven't had chance to write anything new for you to read either.
Fortunately, I have the articles that my friend, the author John Hamer sent me to fall back on, and the one that I have picked for today is a short, controversial cracker which will no doubt attract quite a few trolls – which is nice.
Never the less, I won't spoil the story for you because as I just said, it is very short. I have however also added an article from the New York Sun newspaper which is very relevant to John's article and certainly goes a long way to back the story up.
And as always, I have taken the liberty of adding photos to John's piece.
HARRY POTTER

JOHN HAMER
Who among us could not fail to enjoy the harmless fun and yet enjoyably scary tales about Harry Potter, the heroic boy-wizard and his epic fight against the forces of evil, along with his plucky chums, Hermione and Ron Weasly?
What wonderful entertainment we have all had from the vivid imaginings of Joanna K. Rowling, that 'single-mother made good' who somehow against all the odds, managed to drag herself almost from the gutter singlehandedly, to become a multi-billionaire and a role-model to which we can all aspire.
If only all was as it seems…
Joanna Rowling is a mind controlled Monarch slave, selected to be the author of the stories because she is a single parent and as part of the Tavistock Institute/Frankfurt School controlled plot to subvert society by promoting its extreme (homo)sexualisation, feminism and the 'positives' of single parent status.
She is a member of the Fabian Society and the Church of Scientology. The Church of Scientology is of course a CIA-run front for the Royals, Rockefellers and Rothschilds, in other words the Elite.
Around Christmas 2011, I corresponded with and spoke to someone who claimed to be the father of JK Rowling's child, born in 1995.
I believed him to be telling the truth because of the detailed story he related to me. He said that in the early 1990s, he, Jessica Mitford and her husband Bob Treuhaft (who was apparently JK Rowling's 'handler') in a long-delayed train journey 'brainstormed' the entire Harry Potter story whilst JKR took copious notes.
This story was then written by someone whom he referred to as a 'pen and ink stand', a term used to describe someone who is hired to write a story that is not their own idea, with the decision subsequently being made to use JKR as the 'front' for it in-line with the Tavistock plan for the aggressive promotion of anything that undermines family values (ie. her single-mother status).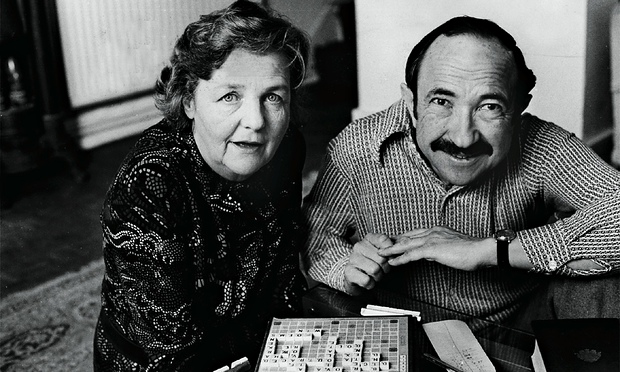 Photo: Jessica Mitford and her husband Bob Treuhaft
He also said that it was based loosely on the CS Lewis 'Narnia' stories but qualified that further by saying that he had no idea at the time that all the references to paedophilia, witchcraft, Satanism etc. were going to be incorporated and nor that he would subsequently be subjected to multiple attempts on his life orchestrated by orders from Prince Phillip himself and who he believed was meant to be represented in the stories by Lord Voldemort.
He also told me that the scar on Harry Potter's head is a representation of the symbol of the British Union of Fascists. Jessica Mitford's sister was married to Oswald Mosley who fronted the BUF during WWII and he also told me that Jessica Mitford told him bluntly that his grandparents were Unity Valkyrie Mitford, her sister and a certain Adolf Hitler!
Photos: Harry Potter's scar (top) British Union of Fascists insignia (middle) Sir Oswald Mosley inspects the BUF circa 1936 (bottom)
Following on from these discussions I undertook some research of my own on the Mitford / Treuhaft connection and found that Bob Treuhaft's business partner in his legal firm for almost 20 years was someone who went by the name of 'Dobby' Walker. This was just her nickname but even so her Wikipedia obituary refers to her as 'Dobby Walker' and not 'Doris Walker', her real name.
For those of you unaware, 'Dobby' was an elf-like character in the HP stories who was employed as a 'manservant'. Maybe this is how Treuhaft and Mitford regarded Walker? In delving even further into Walker's background it appears that she was an active member of the Communist party in the 1940s and 1950s as were Mitford and Treuhaft.
Despite what the Elite would like us all to believe, there is virtually no difference between Communism and Fascism, in practice. They are 'sold' to the masses as being at the opposite ends of the political spectrum to one another but perhaps a more accurate depiction of the linear political spectrum would be to think of it as a complete circle with Fascism at 1 minute before twelve o'clock and Communism at one minute past.
For the record, Dobby Walker died in 2009.
Also, interestingly enough, an intern by the name of Hillary Rodham began work for the law firm of Treuhaft and Walker in the early 1970s, now better known of course as the lovely Hillary Clinton herself. Just a coincidence? Maybe, who knows?
Whatever the truth really is, and it may never be known for sure, there is far more to all this than meets the eye, as always and the rabbit-hole goes very deep indeed.
Hillary Clinton's Radical Summer
A Season of Love and Leftists
By JOSH GERSTEIN, Staff Reporter of the Sun | November 26, 2007
OAKLAND, Calif. — In a life marked largely by political caution, one entry on Senator Clinton's résumé stands out: her clerkship in 1971 at one of America's most radical law firms, Treuhaft, Walker and Burnstein.
One partner at the firm, Doris Walker, was a Communist Party member at the time. Another partner, Robert Treuhaft, had left the party in 1958, several years after being called before the House Un-American Activities Committee and labeled as one of America's most "dangerously subversive" lawyers. The Oakland-based firm was renowned for taking clients others rejected as too controversial, including Communists, draft resisters, and members of the African-American militant group known as the Black Panthers.
Clockwise from top, the future first lady while at Wellesley College in 1969, and partners at the law firm Treuhaft, Walker and Burnstein, Robert Treuhaft, Doris Walker, and Malcolm Burnstein.
To this day, Mrs. Clinton's decision to work at the unabashedly left-wing firm is surprising, even shocking, to some of her former colleagues there and to those supporting her bid for the presidency. To the former first lady's enemies and political opponents, her summer at the Treuhaft firm is yet another indication that radical ideology lurks beneath the patina of moderation she has adopted in public life.
Through more than a dozen interviews, a review of law firm files and correspondence at two university archives, and an examination of previously published descriptions of Mrs. Clinton's California summer, The New York Sun has sought to compile a comprehensive account of the 23-year-old Yale law student's work for the Treuhaft firm, how she got there, and how acquaintances she made that summer surfaced from time to time as her political career unfolded.
The Sun's investigation found that:
Republican opposition researchers working for President George H.W. Bush were aware of Mrs. Clinton's tie to the Treuhaft firm in 1992, before it was widely known, and apparently chose not to exploit it. They reasoned that she was the wife of the candidate rather than the candidate herself, a reasoning that no longer applies as Mrs. Clinton seeks the Democratic presidential nomination. Lawyers involved with the firm were surprised that Republican operatives never moved to capitalize on Mrs. Clinton's connection.
An oft-repeated and published anecdote about Mrs. Clinton's involvement in the firm's plea negotiations over an armed invasion of the California Legislature by Black Panthers seems to be apocryphal, though one of the attorneys directly involved has a "very distinct" memory of Mrs. Clinton's attendance at a Panthers-related meeting.
The firm was involved in another volatile Black Panthers case the summer Mrs. Clinton worked there: the trial of Huey Newton for the 1967 killing of an Oakland police officer. Treuhaft represented a Newton associate whose role in the trial may have helped Newton win a series of mistrials and, eventually, the dismissal of all charges related to the officer's death.
Partners at the firm said it was likely Mrs. Clinton also worked on politically sensitive cases involving a Berkeley student activist denied admission to the California bar over incendiary rhetoric, Stanford physician interns fighting a loyalty oath at the Veterans Administration, and men claiming conscientious objector status to avoid being drafted and sent to Vietnam. Mrs. Clinton's only public recollection of her work at the Treuhaft firm is that she handled a child custody matter.
Mrs. Clinton's most vivid memories from that summer may be personal ones that have nothing to do with the law firm with which she clerked. A fellow Yale law student, President Clinton, shared the Berkeley apartment where she was staying. The pair soon got serious and would move in together when they returned to New Haven that fall.
Mrs. Clinton's campaign declined to make her available for an interview for this story.
AT YALE, TURBULENT TIMES MOLD A LAWYER-IN-TRAINING
Mrs. Clinton's decision to work at the Treuhaft firm was rooted in the turbulence, chaos and radicalism that buffeted Yale after she entered law school there in 1969.