Dec 18 2013
Christopher Spivey
So, Nick 'the lot' Clegg's old headmaster has been convicted of being a nonce!
With that news in mind, I thought "fuck me", we could well be looking at a similar scenario to Tony Blair's school days.
For those of you who don't know, Tony Blair was once the favourite pupil of a nonce teacher.
The following is from the aangirfan website:
Scotland on Sunday revealed that the man who taught Tony Blair history, left Fettes following allegations including fondling boys while he caned them, watching children on the toilet and becoming aroused while meting out corporal punishment. Source
And, as I am sure you are aware, myself and others have often written about Blair's love for children.
Blair is also the monster who protected himself and his nonce infested Cabinet from exposure with a D Notice.
Moreover, it wasn't so long ago that Clegg was exposed in the MSM as a protector of sex pests.
I am of course referring to Clegg's old mentor Lord Rennard.
The following is from the Surrey Scholar:
On Thursday 21st February Channel 4 News broke the exclusive story that Lord Rennard, a Liberal Democrat MP, was touching and propositioning his female co-workers inappropriately while working for the party. The Liberal Democrat party claimed to be committed in their manifesto to furthering equality in the work place for women; this would now appear like most of their other promises, to have been a lot of hot air.
Nick Clegg, at a party conference in 2009, paid tribute to Lord Rennard, saying that without his "guidance and encouragement", he "wouldn't have been elected as an MP, let alone now be leading the party". Despite resigning in 2009 as Chief Executive, Lord Rennard has remained an important influence, nominated by Nick Clegg as Vice President of an international federation for liberal parties, and the following month he was elected onto the Lib Dem's Federal Policy Committee, which writes the manifesto. Read More
Having given that glowing tribute to Rennard in 2009, Clegg must have felt a proper cunt when the story broke three and a half years later. Especially since the allegations of sexual misconduct stretched back to 2007
Luckily enough, everybody else already thought of him as a proper cunt anyway so there was no damage done really.
Never the less, that bastion of truth, Vince Cable was forced to appear on the BBC News 3 days after the story broke in the press, where he emphatically denied that neither he nor Clegg  knew fuck all about Rennard being a sex pest:
Following newspaper reports that Mr Clegg had been told about the allegations, Mr Cable told the BBC's Andrew Marr Show he had not known of the claims, adding: "Nick Clegg has also said he was not aware of these allegations until they appeared on TV last week.
"But they are serious, and we take them very seriously."
Mr Cable went on: "It's obviously wrong if there are women there who have made complaints and felt they weren't dealt with properly, so we are now setting up a proper investigative process – we want an independent element to that – and we'll get to the bottom of it." Source
Fair do's I suppose.
Course, the revelation that Jonny Oates (great name), Clegg's Chief of Staff had been questioned about the allegations levelled against Rennard by a Telegraph reporter four days before the 2010 General election didn't help either  – and we are not talking about just the odd one or two allegations of sexual misconduct here.
Now, obviously no one seriously believes that Cleggs Chief of Staff wouldn't have gone running straight to his boss with the news… That is of course, except for me.
I can in fact quite well believe Cleggs denial about being informed by Oates about the Telegraphs revelations.
I mean, in all probability Oates didn't even know that Clegg was his boss since no one knows – including me – what the cunt does for a living anyway.
Photo: "Me! Christopher Rennard! Do I look like a sex case?"
So, you can imagine my disappointment when just two days after Dim Vin's denial, the Independent published a story revealing that Clegg did in fact know about the allegations.
However, according to that Independent article:
Nick Clegg insisted today that he and the Liberal Democrats had got "nothing to hide" over the handling of claims that a senior party official had sexually harassed several women. Source
Treble disappointment for me then being as Nick 'the lot' had lied about not knowing that Rennard was a sex case, had lied about Porridge Oates not telling him and was still fucking lying by saying that he had "nothing to hide" over his handling of the allegations.
If the lying cunt had fuck all to hide, why in Dogs name did he lie in the first place?
I tell you what?  I'm now no longer so sure that Nick the Knock didn't know that the Fat Nonce Monster Cunt, Dead Cyril Smiff  was a Kiddy Fiddler.
Or for that matter, that as a a senior member of Leon Brittan's office staff in the 1990's he didn't know that his boss – who I would like to tell you has been questioned by the old bill within the past 2 weeks, following videos of him fucking kids coming to light, but I can't –  is an odious child raping cunt who was allegedly committing large scale fraud, whilst Nicky Nacky Noo Noo was in his employ.
And when I say "allegedly", the very fact that the Zionist Monster resigned over the matter is tantamount to his guilt… But Tricky Nicky never knew about it.
He would admit to it if he did, wouldn't he? … Wouldnt he?
Just like he would admit to knowing about his whipper, the unfortunately named Mike Hancock, who was forced to resign – guilty then – over an 'inappropriate relationship' formed with a woman over 10 months.
The following is from the Guardian:
A Liberal Democrat MP who is fighting a high court claim that he sexually assaulted a vulnerable constituent has stood down from the party whip – two years after the Lib Dems were first warned about the allegations.
Mike Hancock, 67, the MP for Portsmouth South, made the decision after holding a meeting with Nick Clegg and senior party figures on Monday afternoon.
The decision follows accusations in court papers, first disclosed in the Guardian, that he formed an inappropriate relationship with the woman over a 10-month period after she approached him for help with noisy neighbours. Hancock is planning to fight the writ. Read More
Now, how the fuck can a relationship formed over 10 months with a woman be inappropriate, even if they were both married, unless of course the woman was his Mother or Sister? … Which she wasn't… His Mums dead and he hasn't got a sister…. Probably.
I mean, if as the Guardian says, Hangcock is alleged to have placed his hand on the woman's breast, exposed himself and kissed her on many occasions without consent, then it wasn't a fucking relationship was it, for fucks sake?
However, to be fair to Clegg the Beg, there can be no doubting his integrity or no accusations that he covers up for his pack of sex pests on this occasion.
After all, how was Nick the Dick to know that the woman went to the old bill in 2010 to report his MP for sexually assaulting her… I mean, obviously that inquiry was dropped because that is the law when criminal MP's are reported to the plod… I think! … Or maybe it just seems that way.
Likewise, the fact that  John Lyon, the then parliamentary commissioner for standards, said in late 2011 that he did not have a remit to examine Hancock's behaviour after the woman contacted him about Hang the Cock Cunt sexual abuse. It proves fuck all.
I mean, since she obviously contacted the wrong department Clegg wouldn't have known about it would he?
Tell me again what the  parliamentary commissioner for standards is there for?
And just because The Lib Dems were asked to investigate the woman's claims in 2011, doesn't mean that Clegg would have been informed… After all, to the Lib Dems, Clepto Clegg is just that fella who walks around the Houses of Parliament stealing things and as far as they are concerned, Vince 'the lying cunt' Cable is in charge.
In any event, the Lib Dems took no action on the grounds that the police inquiry and parliamentary authorities had found no case to answer… Well they wouldn't would they.
So, its fair to say that Nepotist Nick probably took action as soon as he found out about Mike Floppycock's inability to control his sexual urges… He's probably a psychopath… And Quare to boot… I'm referring to Mick the Dick there of course, not Norman Nick… Who's also a psychopath… Probably.
And when would that have been then, I hear you ask.
Well, according to the Guardian:
Clegg launched an inquiry into Hancock in February in the wake of allegations of sexual assault against Lord Rennard, the party's former election chief. He also denies the allegations.
Needless to say that any inference drawn from the purely coincidental timing of Clegg's inquiry would be unfounded speculation.
As would any suggestion that Clap Cock Clegg knew about Mike Hunt Hancock's prior indiscretions… Tell em about it please Guardian Shit-rag:
Hancock, who is married, has been embroiled in controversy in the past concerning his relationships.
Last year, his former parliamentary assistant, Ekaterina Zatuliveter, who was cleared of spying charges, told a criminal court that she had a four-year affair with him.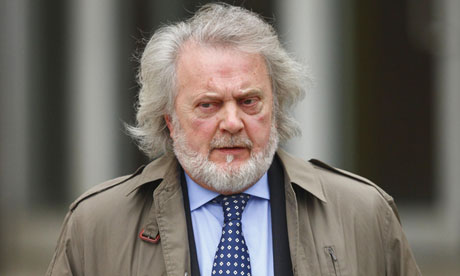 Mike Cock: Seen here opting to adopt the Lord Longleat look so as not to look like a sex case… As have Dave Lee Travis, Gary Glitter and Rolf Harris.
Mind you, it is a bit suspect how after Nicky the Nicker denied nicking that £12 million knicker for his wife, Miriam Nixeven Moore, to give to her favourite 'charridy', emails allegedly incriminating him in the fraud – I wonder where he learnt the art of fraud – have now been protected by the law from having their contents revealed:
Nick Clegg was last night accused of being at the centre of a 'Coalition cover-up' over bombshell emails that reveal how he helped to fast-track £12 million of taxpayers' money to a charity linked to his wife.

A watchdog, acting on the advice of a Cabinet Minister, has banned the release of all correspondence relating to the Booktrust case on the grounds that it would have a 'chilling effect' on the Government.

The ban – condemned by one of the Deputy Prime Minister's own Liberal Democrat MPs – follows a year-long drive by the Cabinet Office to suppress details of how one of Mr Clegg's advisers successfully lobbied for Booktrust to receive automatic funding, rather than having to bid against other charities. Read More
And there in a nutshell, is everything that is wrong with the country.
Nick the fucking Dip steals public money and we are not allowed to have the proof because it would have a chilling effect on the government!
The only chilling effect I wanna see on the government is when we march the cunts – naked – into an unplugged large metal walk in freezer – containing 1 good quality fur coat, one pair of  waterproof thermal boots and an inch of water on the floor – lock the door and turn the fucking thing on.
Anyway, to cut a long story short Slick Nick's headmaster being found guilty of kiddie fiddling is nothing like Tony Blairs nonce teacher training him up.
Just saying.
Nick Clegg's former headmaster, 83, convicted of abusing five young boys at top prep school
Roland Wright molested children at Caldicott Prep School in 1950s and 60s

Jury found former headteacher guilty on 10 counts of indecent assault on a male and two counts of indecency with a child

Three former teachers previously convicted of child sex offences at school
By BECKY EVANS
PUBLISHED: 19:21, 17 December 2013 | UPDATED: 19:43, 17 December 2013s
Roland Wright was today convicted of abusing five boys while he worked at Caldicott Prep School in the 1950s and 60s
Nick Clegg's former headmaster was today convicted of abusing five young boy pupils at a top prep school.

Roland Wright molested the children and simulated sex with them in his own bed at Caldicott Prep School in the 1950s and 60s.

The former headteacher, 83, was found guilty at Amersham Crown Court of 10 counts of indecent assault and two counts of indecency with a child.
Wright – also known by his middle name Peter – will be sentenced at a later date.

The offences on boys aged between eight and 13 spanned from September 1959 to August 1970.
The jury heard how Wright ran the school's rugby team and would choose a favourite child who would be given rides in his sports car.

He would also invite them to his bedsit to watch television and drink whisky.
The trial heard Wright would invite children into his room where they would be abused.

One former pupil said in evidence at the trial in Amersham, Buckinghamshire, that Wright created an atmosphere where boys wanted to please him.
'Boys like me and a lot of others fell for Peter Wright. We had a crush on him,' he said.
'What we wanted was his approval.'
Hugh Henry, another teaching contemporary of Wright's at the school, in Farnham Royal, Buckinghamshire, tried to commit suicide by taking an overdose after being caught in a boy's bed back in the 60s.
He has already admitted a number of offences and also falls to be sentenced.
The deputy Prime Minister spent five years at Caldicott from 1975, and was not a pupil at the time of the abuse.
The jury heard how Wright would choose a favourite child who would be given rides in his sports car and invited into his room
The other teachers at Caldicott Prep School have been convicted of child sex offences
Wright became headmaster in 1968 after already being at the school for a decade, and retired in 1993.
Fellow teachers John Addrison, Edward Carson and Hugh Henry were also previously convicted of child sexual offences at the school.
The Crown Prosecution Service said today Wright and the other teachers' position of responsibility increased the seriousness of the crimes.

Ruth Bowskill, the temporary Chief Crown Prosecutor for Thames and Chiltern area, said: 'This case marks the end of a series of prosecutions of four teaching staff involved in the serious sexual abuse of a number of children at Caldicott school in Buckinghamshire committed over a period of a decade.
'The position of trust held by these men, the young age of the victims and their vulnerability at the time of the abuse greatly increases the seriousness of these already grave offences.
Deputy Prime Minister Nick Clegg was a pupil at the school for five years from 1975 and was not a pupil at the time of the abuse
'Roland Peter Wright was a particularly trusted member of staff at Caldicott school and became the headteacher.
'Not only did he breach the trust of the pupils at the school, their parents and the staff, Wright also abused his position of authority in order to gain access to his victims.'
She commended the former pupils for their determination, adding: 'It is only due to the great courage and persistence of the victims and those affected by the abuse that the despicable behaviour of these teachers at the school has been exposed.
'Roland Peter Wright has never shown any contrition for his behaviour or apologised for his conduct; at all times he has sought to evade responsibility for what he did.
'I would like to pay tribute to the victims and witnesses in this case for their strength and tenacity in coming forward and giving evidence on matters which must have been extremely distressing still years after the events took place.
'The emotional impact on Wright's victims and those of the other teachers is impossible to quantify.

'I hope that the convictions give some small
Read more: http://www.dailymail.co.uk/news/article-2525390/Nick-Cleggs-headmaster-convicted-abusing-boys-Caldicott-Prep-School.html#ixzz2nmPQrEzC
Follow us: @MailOnline on Twitter | DailyMail on Facebook