Nov 9 2014
Chris Spivey
Good morning, afternoon or evening and a happy Weirdy Beardy Man in the Skyday to you all.
Now as most of you already know, the Social Workers out to steal my Clayton were due to impose themselves on our home once again at 3.30PM last Friday (7/11/14).
However, at 2.05 PM, Nicole Miles – the social worker heading the 'assessment' – rang my daughter Stacey to cancel, citing a need to deal with an "emergency case" as the reason for doing so.
Miles then rearranged the meeting for next Thursday, meaning that it will be 3 weeks by then since she was last here.
That fact then, kinda makes me question why – just over a fortnight ago – Miles and her boss were holding meetings behind our backs with the Southend plod, with a view to making Clayton a Section 47 protection case.
Indeed, it was only when the plod advised against it that the Social Workers backed down.
Yet there are parents by the 1000's who are either drug or alcohol dependent, many neglecting or abusing their children, whilst it is my family and others – totally innocent of any wrongdoing – who are being targeted by the State Child Snatchers… This has got to stop.
However, I must say that once again your efforts have been outstanding for which I give you my sincere thanks and ask you to keep up the pressure.
That pressure of course also extends to the wholly corrupt Essex Police whom I am now constantly hearing more and more disturbing news about on a seemingly almost daily basis.
After all, I don't need to remind you that they STOLE my computers on a trumped up charge of suspicion of harassment that they had zero evidence of me committing, and then after 2 months of searching for evidence – of which there was none – the disgusting nonce protectors planted child pornography on them… But I will remind you never the less.
Indeed, the corrupt Southend plod would have done well to remember:
' THE RIGHT OF FREE EXPRESSION '
2.1. The right To Freedom of Expression. Article 10. Schedule 1, Paragraph 1. HUMAN RIGHTS ACT 1998.
The right to hold opinions/ impart information and ideas without interference by Public Authority and regardless of frontiers.
Course, Southend plod have no qualms about harassing innocent people:
An Essex Police officer has been remanded in custody to appear in court tomorrow (November 10) after being charged with harassment.
PC 74095 Jon Williams, 28, who was based at Southend Police Station, was arrested yesterday (November 8) and is due before Chelmsford Magistrates' Court tomorrow.
He has been suspended from duty pending the outcome of the court case against him. Source

Course, that does not surprise me at all since the Essex police force is nothing more than a criminal gang full of… Errr, criminals:
A 52-year-old female police officer was the first cop to be arrested yesterday morning in connection with allegations of receiving illegal payments from journalists.
The unnamed suspect was questioned at an Essex police station before being bailed until a return date in April next year pending further inquiries, Scotland Yard said. Source

Mind you, Essex police are not known for their honesty whilst conducting their investigations:
Oct 21, 2013The Independent Police Complaints Commission (IPCC) has been authorised by the Crown Prosecution Service (CPS) to charge a former Essex Police constable with the offence of misconduct in public office.
Hannah Notley, 30, a former sexual offences trained officer based at Rayleigh Police Station, will appear before Westminster Magistrates' Court on Friday, 25 October.The charge relates to her alleged failure to properly investigate an allegation of rape between July 2011 and February 2012.
It is alleged that she falsely informed her superiors and the victim that the CPS had decided to take no further action, when in fact the case had not been submitted to the CPS. Source

Notley was jailed for 4 months in December 2013… Nowhere near long enough in my opinion. Remember, these violent thugs masquerading as police officers are supposed to be upholding the law, not breaking it.
And of course there are the high profile cases that were whitewashed by my very own constabulary, such as that of Stuart Lubbock – yet despite the huge outcry over the "botched" investigation carried out by the Essex Police, no one has ever been disciplined let alone charged.
Now for the benefit of those who do not know about Stuart Lubbock, he was a young, heterosexual fella from Essex who accepted an invitation to a party at the obnoxious, former TV star, Michael Barrymore's Essex home.
At the party Lubbock was drugged, tortured and raped before being slung (possibly already dead) into Barrymore's swimming pool:
A man found floating in Michael Barrymore's swimming pool was the victim of a serious sexual assault shortly before his death, an inquest heard yesterday.
Stuart Lubbock sustained appalling internal injuries during a drug-fuelled party at the entertainer's house.
The 31-year-old would have been in 'excruciating pain' after the incident.
A pathologist suggested Mr Lubbock – who was three times over the legal drinkdrive limit and had taken drugs including Ecstasy and cocaine – may have been forcibly held down while the alleged assault took place.
Professor Jack Crane claimed that the shock could have caused him to suffer heart failure and die.
Until now it had been widely believed Mr Lubbock, a factory supervisor, had drowned. Source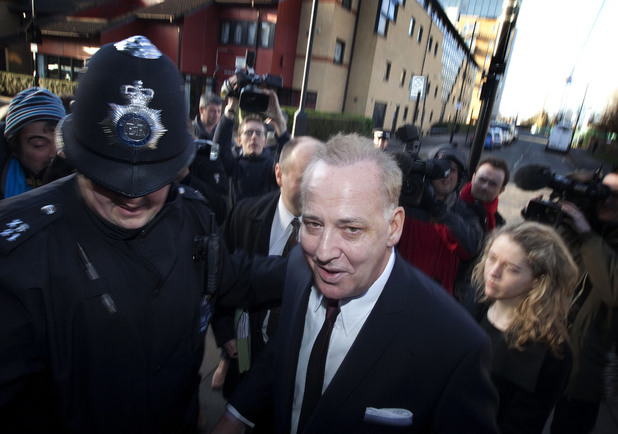 Barrymore – who now works in an Essex garden center – looks a bit like one of the Kray twins in the above photo, don't cha think?
More recently the Essex Plod were accused by people in droves of deliberately botching their investigation into the death of Lee Balkwell.
Mind you, neither do the Essex plod just confine their harassment to those that they are ordered to:
A police officer from Essex resigned following complaints about inappropriate comments or pictures.
At least two officers were sacked, seven quit and 150 faced disciplinary action after posting inappropriate photos or comments on Facebook in the past four years – an officer from Essex resigned following complaints about inappropriate comments or pictures.
Officers used the popular social networking site, which has 30 million users in the UK, to harass former partners and ex-colleagues, to comment on others' wives, and to suggest they had beaten up members of the public during protests. Some even revealed details of police operations, tried to befriend victims of crime, or were caught in inappropriate photographs, forces said.
The details, released to the Press Association following a request under the Freedom of Information Act, come as a review into police corruption found there was a "significant blurring'" between officers' personal and professional lives on social networking sites, which risked damaging the service's reputation. Source

This attitude that they are above the law indeed, really does appear to run prevalent throughout the ranks of the Essex Police – top to bottom
For instance, I have already previously reported on Essex Chief Inspector Ben Hodder who was caught making CHILD PORN on his computer the other week Source
Predictably, there is no mention in the press as to how he got on in court last week I see (November 6th).
And then there is the Freemason Robert Chambers, an Essex Councillor & Ex-Essex Police Authority Chairman who was forced to repay £10,000 after fiddling his expenses Source
Other examples of the insidious nature of Essex Police are those of Catherine Renew:
Gross misconduct was substantiated against Catherine Renew, a civilian Detention Officer (DO), at an Essex Police hearing on Wednesday this week for her using excessive force,  failing to treat a woman detainee with respect and dignity, and not providing appropriate care.
Moreover, August 2014 saw the IPCC findings into the death of Essex man, Steve Bore, who somehow fell into the sea after being arested:
The Independent Police Complaints Commission (IPCC) is today issuing its findings from an investigation into the death of Steven Bore on Canvey Island in Essex in February 2013.
Mr Bore, aged 31, died after a fall from a jetty at Smallgains Marina just after midnight on Sunday 17 February 2013 after suffering an epileptic seizure. He was in the custody of two police officers at the time who had arrested Mr Bore on a warrant for non-payment of council tax.
While under escort from a moored boat to the shore, Mr Bore fell approximately four feet from a jetty to the embankment below having suffered an epileptic fit. He was not handcuffed at the time. The officers moved Mr Bore from the embankment to a nearby car park. He subsequently stopped breathing and the officers performed CPR until an ambulance arrived. Mr Bore was taken to Basildon General Hospital where he died later that day.
As part of the investigation the IPCC interviewed the officers involved in the initial arrest, those who subsequently arrived at the marina, the duty police Inspector, a friend of Mr Bore who was also on the boat, and the paramedics.
The investigation concluded that there were some concerns over the timing of the execution of the arrest warrant because of the risks that might be associated with executing it late at night. It was also not backed for bail and Mr Bore would have spent an extended period in custody awaiting a court hearing. However it is accepted officers should be allowed to use their judgement when deciding when to execute warrants and when the objective of the warrant is most likely to be achieved. Source

I had a wry smile on my face after reading that the IPCC had "some concerns over the timing of the execution of the arrest warrant" (around midnight). I mean, at least the dodgy fuckers had bothered to get an arrest warrant unlike they had done when they arrested me, searched my home and stole my computers at 1.30 AM on the morning of the 31st of July.
Predictably, the IPCC investigation concluded that Mr Bore died from natural causes.
Much more disturbing still is that according to the IPCC
In total, 5,998 deaths were recorded for the 11 years from 2000 to 2010. This is an average of 545 deaths per year. Of these deaths, 72% (N=4,291) were of males and 28%  were of females
And that is only up until 2010, yet no police officer has ever been convicted of being responsible for those deaths or the deaths in custody of others post 2010.
Of course, quite unsurprisingly Essex Police are involved in the most recent of those deaths as we have already seen with the Steven Bore case. And then there is this one:
Sep 4, 2014
The Independent Police Complaints Commission (IPCC) is to investigate events leading to the death of a man in hospital following contact with police in the South Ockendon area of Essex.
Police were called to Broxburn Drive in South Ockendon at around 4.30 pm on 28 August 2014. They subsequently detained Andrew Moore in a nearby shop on Broxburn Parade. Ambulance staff were called and Mr Moore was placed into an ambulance and taken to Basildon General Hospital. He later died in hospital on the 29 August. Source

You can find further information on deaths in police custody and the obstacles put in the way of the victims families to prevent them from getting justice by clicking HERE
Neither should I need to remind you that the 3 policemen who arrested me were the same 3 who launched an assault on another of their victims; strangling him whilst telling him that they were going to kill him in the back of their unmarked police car… Funny that the MSM refuses to report on this stuff isn't it?
Moreover, since all of this is linked to my arrests, you may recall that I compared mine to that of the Essex deputy headmaster, Martin Goldberg, who killed himself after being caught with child pornography on his computer. In his case the Southend police, having failed to obtain a search warrant simply knocked on Goldberg's door and asked to look at his computers. When he refused, the mugs simply left.
Well, last night my friend and top CSA campaigner Brian Clare sent me the following on the Goldberg case:
The head of the National Crime Agency has apologised for exposing children to harm from a paedophile teacher after senior officers failed to pass on a tipoff about him for more than a year.
In July 2012, the Child Exploitation and Online Protection centre (Ceop), which is now part of the NCA, received a warning about Martin Goldberg, deputy headmaster at Thorpe Hall school in Southend-on-Sea, Essex, from a Canadian police investigation into images of child abuse.
However, it only contacted Essex police in November 2013 to issue a warning that Goldberg had bought videos from a Canadian seller of images of naked boys. When he was finally confronted by Essex police last month, following another 10-month delay caused by further failings by the local force, more than 1,000 illegal images of boys taken using a secret camera were found in his possession. Of those images, 75 had been taken in the school changing room and 465 were taken at the local swimming pool changing room. Goldberg killed himself the day after police confronted him.
Keith Bristow, the director general of the NCA, told the Commons home affairs select committee: "I'm sorry if that's led to harm to children or exposing them to risk because that's not what we stand for.
"Sitting on data for the period of time between July 2012 and November 2013, that could have led to children being protected or safeguarded, seems to me whether it's systemic or it's down to individuals – and there are certainly some systemic issues that we need to work through – that's not in the spirit of what we stand for."
Essex police have already apologised for their own delay. The force said that when an assessment was made of the Canadian evidence against Goldberg in January 2014, it was decided "this was a lower risk investigation and other cases with evidence of more serious offending… should take priority".
It was not until last month that Goldberg's profession was checked. When he was found to be a senior teacher, he was immediately confronted. Essex police admitted that Goldberg took some of the images after detectives had been handed the file from the national agency.
Asked about the low-risk assessment, Bristow told the MPs: "We are sat on a daily basis on top of significant risk because of the sheer volume of images and the different methods of offending by people who have a sexual interest in children. And we have a problem – not just NCA, not just law enforcement, not just government – we as a society have a problem with the number of people in the UK who access these horrible images or paying for children to be abused online. So in relative terms, it's still horrible that children are posing in an erotic manner, but when seen against some of the other images that our officers have to assess it is relatively lower risk."
Parents at the £10,000-a-year school have said they feel "betrayed and disgusted" by Goldberg, but they have also voiced anger at the police. "They should have done something," said one mother.
The case is being reviewed by the Independent Police Complaints Commission (IPCC).
Goldberg was later to have been found in possession of nearly 8000 indecent images of children with over 1000 of them being taken by himself… Rather more serious than Led Zeppelin album covers then!
More tellingly still, a report about police corruption by The Chimp in August of this year stated the following:
The only force which refused to reveal the number of officers suspended on suspicion of corruption was Essex Police, which claimed that the only way to answer the question would be to search through the files of every officer and employee individually. Source

And neither must James Duddridge be allowed to duck the issue either. Everyone involved in this harassment of my family must be called to account else there is no hope for any of us.
Not that I have any faith in my MP whatsoever:
TORY MP James Duddridge used public money to help furnish a London flat, then switched claims to help fund a different property in the capital.
Mr Duddridge, who represents Rochford and Southend East, spent about £7,000 renovating the apartment, then switched his second home claim to a new £397,500 flat.
He said he had not broken any rules and will not change his arrangements until the full inquiry into MPs expenses had been carried out. Questions were raised last week over why Mr Duddridge, or any of the south Essex MPs, should be allowed to claim second home allowances for London homes, when their constituency homes are within commuting distance. Source

I should also just point out that at the time of writing I have not received so much as an acknowledgment of receipt of the e-mail that I sent him on Friday… Just sayin'.
Therefore it is vital that you keep up the pressure, not only for my sake, but for your own as well since there is an opening for us to bring about real change here. We really must take the bull by the horns.
Okay moving on and lets have a look at the cunt cult of celebrity.
Now I have to say that I have been meaning to mention the death of Alvin Stardust ever since he popped his clogs last month from prostrate cancer.
Alvin Stardust was the crown prince of comebacks. He found fame as a Sixties teenybopper, in the Seventies with glam rock, and as a post-punk rocker in the Eighties — before launching a successful West End career.
He was planning another musical renaissance right up to his death yesterday aged 72, from prostate cancer.
His first studio album in 30 years, simply called Alvin, is due for release next week. He was still performing on stage last weekend, belting out his beloved Fifties rock standards, as well as his roster of Top Ten hits. Source

So, Stardust was performing on stage the weekend before he died and had a new album coming out the following week did he! … Roger that.
Indeed, I did in fact think it rather strange that the Chimp went on to say:
But it is as a strutting, smouldering monster of glam rock — half-cowboy, half-vampire — that he will be best remembered
I certainly never associated him with being a "Vampire"! Although we do know that a lot of the elitist wrong-uns do like to drink blood, don't we?
Now curiously, according to The Tap blog, former Radio 1 DJ Tony Blackburn claims that his colleague, Simon Dee, was axed by the BBC for refusing to interview the paedophile Gary Glitter.
However, Blackburn's claim was refuted by, Paul Hollingdale, a Deputy Programme Controller who stated:
Simon Dee was offered a mid-morning slot on Radio 210 in Reading. He left the station after refusing to interview ALVIN STARDUST not GARY GLITTER. Source
Hmmm, I wonder why that was then?
Never the less, the biggest problem that I have with Alvin Stardust is the fact that his name appears on the list of Satanic Paedophiles that I published on here in January 2014 and which has since proved to be very accurate.
For the full list click HERE
Moving on, and all those starstruck wannabe's ought to take a look at what happens when big stars no longer find themselves part of the in-crowd.
I am referring to Jan-Michael Vincent, once the highest paid actor on TV and who has been in the newspapers this week, although there have been many more who have found themselves friendless and shunned when the chips are down – Dudley Moore instantly springs to mind:
Once the highest paid actor on TV, Jan-Michael Vincent now lives out his days as a recovering alcoholic who almost died two years ago after an infection forced him to have his right leg amputated.
In the mid-80s, Vincent earned $200,000 an episode as helicopter pilot Stringfellow Hawke in the top rated television series Airwolf.
Yet even while filming the TV show, Vincent had admitted to issues with drugs and alcohol and admits that he still struggles with alcoholism. Source

And in other news I see that Peter Hayman, the former boss of Men in Tights, MI6 has been named as one of those abusing kiddies at the luxury Dolphin Square apartment block… Predictably Hayman is dead:
The former deputy director of MI6 Peter Hayman sexually abused young boys at an apartment complex near Parliament, an alleged victim has claimed. 
Hayman, who died in 1992, was investigated by police in 1978 for possessing inappropriate literature, but was not prosecuted.
He has been named as one of a number of paedophiles by a man, now in his forties, who claims to have been abused over a period of three years at Dolphin Square.  
The information has been passed to Scotland Yard to consider as part of its investigation into historic allegations of sexual abuse at Westminster. 
Hayman, referred to as a diplomat, was pointed out in a photograph shown to man, 'Nick', by Exaro, an investigative news website. 
But what I want to know is when are they going to arrest the living paedophiles who took part in this Dolphin Square nonce circle?
Perhaps William Hague would know… Just sayin'.
Indeed, my friend Coleman wrote an excellent article the other day about one of those Dolphin Square inhabitants who should have been locked up for life a long, long time ago… I am of course talking about Derek Laud, one of the sickest, vilest cunts to ever walk this earth:
Derek Laud is a known boy-rapist and loves to inflict physical injuries on his victims.
He's also a key lynchpin in this country's VIP child-abuse rings.
Sicko Laud is very close to David Cameron
Read the full article HERE
No real surprise then that Prince Little Willie once had an apartment there too:
Oh yes, Prince William has set to move into his very first bachelor pad. Our highness has chosen to move into an upscale (of course) apartment complex in the exclusive Dolphin Square.
Dolphin Square is a block of private apartments built near the River Thames at Pimlico in London. I'm sure the prince will have a grand time entertaining his friends and family with a game of twister, followed by cheese and crackers, complimented by a bottle of the finest, in his new boudoir.

And whilst we are on the subject of parasites, I see more absolute bollocks about the royals has made the newspapers this weekend.
I am of course referring to the old fanny about Bizzy Lizzy becoming a target for "terrorists":
A SUSPECTED plot to kill the Queen today at the Royal Albert Hall has been foiled by police.
Four Islamic terror suspects are thought to have been planning a knife attack on Her Majesty, 88.
The men were held in raids in West London and Buckinghamshire.
The Queen has vowed to go to the Royal Albert Hall and The Cenotaph this weekend — after being warned of the alleged plot to kill her. Source

Funny how these plots are always foiled before they get underway, don't cha think?
However, these four stooge terrorists are about as credible as rocking horse shit.
I mean, did you see how they were allegedly going to carry out this old fanny?
The swoops followed intelligence about an alleged plan to strike at the Festival of Remembrance at the Royal Albert Hall.
The men — aged 19 to 27 — are thought to have been planning to assassinate the Queen with a knife.
They were going to assassinate Sweaty Betty with a fucking knife! Never mind her 400 strong personal protection, these four well organized "terrorists" were going to do the fucking do with a knife… Not a bomb, not a sub-machine gun… But a knife.
And to think that some people say that the £17.5 Billion pound yearly budget generously afforded to our Security Services is a waste of money?
Scotland Yard said: "These arrests and searches are part of an ongoing investigation into Islamist related terrorism.
"Officers from the Metropolitan Police Service's Counter Terrorism Command (SO15) are working closely with colleagues in the SE Counter Terrorism Unit and MI5."
Sources called the arrests "significant" but stressed the investigation was at an early stage and intense efforts were being made to assess the seriousness of the alleged plot.
The four were arrested as a preventative measure in advance of the Remembrance events marking the centenary of World War One.
It is thought the alleged assassination plot on the Queen emerged during routine surveillance.
One source said: "In essence, it is suspected there was a plan to use a knife to carry out an assassination of the Queen or another high profile figure during a Remembrance ceremony."
I will remind you that Scotland Yard are also heading the investigation into Madeleine McCann… Nuff said.
Keeping on the terrorist bullshit theme now and there is more propaganda in the Chimp concerning the fella who fantasies that he was the man who shot Ozzie Bin Liner dead in that fraud Navy Seals raid on Ozzie's Pakistan hideout:
The Navy SEAL who claims he killed Osama bin Laden says he shot the terrorist a third time 'just for luck.'
Robert O'Neill, who was unmasked last week by MailOnline as 'The Shooter', had been trained to used two head shots during missions.
However, according to the New York Post, he told families of 9/11 victims there was 'no harm in putting one more bullet in him.'
Continue Reading That Old Bollocks HERE
And to justify the Billions of Dollars that the US and UK governments are wasting in the war on ISIS, it seems that Ali Baba Al Baghdadi, the American Government's choice of leader for the terrorist organisation, who are totally in control of Syria with no opposition whatsoever from Syrian President, Bashar al-Assad – at least that is how it would appear if you buy into the crock of horseshit touted by the MSM – has been critically injured in an American bombing raid:
American war planes have reportedly launched a strike on a gathering of ISIS leaders, critically wounding their leader.
Abu Bakr al-Baghdadi was hurt in the strikes today, according to local witnesses and government sources. Source

Brilliant, Dog bless America.
All that leaves now is for the newspapers to clarify which Al Baghdadi they are talking about.
And finally, for anyone who is interested I will be appearing live on the Rockshow tomorrow night (Monday 10th November) with my old friend Big Jim Hussell.
You may recall that Big Jim is the DJ threatened with having his career ruined by the Cardiff Police if he continued to have me on his show.
'Big' Jim welcomes back on to the show the lead vocalist of Swiss rock masters Krokus, the brilliant MARC STORACE & friend of the show, fellow political agitator CHRIS SPIVEY!

Can you afford not to miss this slice of rock & roll heaven? It's the only known cure for boredom on Monday nights, rockin' the crap out of your world!

It's Naughty Time from 8pm (UK) every Monday!hty Time from 8pm (UK) every Monday! Source

Kick off for me is at 9.20 PM (I believe).
That's ya lot, byeeeeeeeeeeeeeeeeeeeee.