Apr 3 2013
The Independent/ The Guardian
Yesterday, I published a story which observed that Foreign Politicians are every bit as corrupt and perverted as our British politicians. 
Today there is a story in the Independent about Spain's Princess Cristina – daughter of King Juan Carlos – being linked to a Multi million pound fraud involving public money. 
Inevitably, the Spanish authorities are already trying to get around the Princess being summons to court.
Mind you, her father the King is no different. He has been linked with  fraud, multiple affairs and Elephant shooting, while at the same holding the position of honorary president of the Spanish branch of the World Wildlife Fund (WWF).
And while these selfish cunts, take, take, take, their country teeters on the brink of financial ruin.
In other words, they are no different from the parasitic cunts who make up the British Royal Family…  Therefore, you won't be surprised to learn that the inbred parasites are related.
The royal suspect: Spain's Princess Cristina linked to corruption scandal
Spain's Royal Family lurched towards a new low point in what could be their most serious credibility crisis in decades when King Juan Carlos' daughter, Princess Cristina, was named as a suspect in a multimillion euro fraud and money-laundering case involving her husband, Iñaki Urdangarin.
For the first time since modern Spanish democracy began in the mid-1970s, an inside member of the country's monarchy, once blessed with a squeaky-clean reputation, will now have to respond to a court summons in Palma de Mallorca on 27 April.
As yet nobody has been charged in the case. But it has been gripping Spain for the past two years, thanks to a seemingly interminable spiral of allegations concerning Mr Urdangarin and the siphoning off of millions of euros of public money from regional government contracts to the supposedly non-profit making organisation, Nóos, he co-directed from 2004 to 2006.
Since 2011, a welter of gory financial details from the case – alleged tax dodges of more than half a million euros via an NGO for children with terminal illnesses, apparent charges of €700,000 for a 13-page financial report for a football club stadium and the liberal use of offshore companies in Belize and the UK – has been leaking steadily from Spain's judicial system on to the front pages.
The royal family have been trying to distance themselves from Mr Urdangarin, a former Olympic handball player who received the title of the Duke of Palma when he married Princess Cristina in 1997. More than a year ago, in December 2011, Mr Urdangarin was suspended from all official royal engagements. A royal spokesman then described his behaviour as "less than exemplary", his profile was removed from the royal website and his figure in Madrid's waxwork museum was shifted from the royalty tableau.
In two appearances in court in Palma de Mallorca, Mr Urdangarin has both proclaimed his innocence and insisted that his wife had no knowledge of his activities, despite her being a Nóos board member.
According to the Spanish media, emails have now emerged that appear to indicate that Princess Cristina had some degree of knowledge of her husband's financial affairs. Earlier this week a second attempt by Mr Urdangarin to have the emails, produced by his former business partner, Diego Torres, thrown out of court as invalid evidence was again rejected.
That was hardly good news for Mr Urdangarin. Nor was a demand, made last month, by presiding magistrate José Castro that he post a joint bond of €8.1m. And now, in a dramatic U-turn, after previously rejecting several calls for Princess Cristina to be declared a suspect, Mr Castro, has now decided that she should be.
According to El País, the 19-page court statement explaining his decision also says that "there is no evident indication that the Princess participated in the daily running of Nóos". But the statement also warned "the law is the same for everyone" – the same words used by the king in a 2011 Christmas address that was widely taken as a reference to his son-in-law.
When questioned about the latest development on Wednesday, a Spanish royal spokesman said that they do not comment on judicial decisions. Both of Spain's major parties, the PP and PSOE, have also avoided issuing statements.
The emails in question form part of dozens released by Mr Torres since April last year in what is widely seen as an attempt to avoid possible punishment by turning the spotlight on the royal involvement in Nóos.
Within hours of the news breaking, Spanish media had reported that the country's anti-corruption authorities would appeal against Princess Cristina's summons.
Fraud inquiry: The key names
Iñaki Urdangarin
The former Olympic handball player married Princess Cristina in 1997. He retired in 2000 and began running the not-for-profit Nóos Institute, organising sport-related events.
Princess Cristina
The youngest daughter of Juan Carlos is seventh in line to the throne. She runs social welfare programmes at a Barcelona-based charitable foundation.
Diego Torres
The former business school lecturer was Urdangarin's partner in the Noos institute until the investigation intensified. He has released dozens of emails taken from Noos business archives concerning Urdangarin. He denies any wrongdoing.
Spain's King Juan Carlos is engulfed in scandal
The once-popular king is losing public support even as he lies in a hospital bed. Some are talking of abdication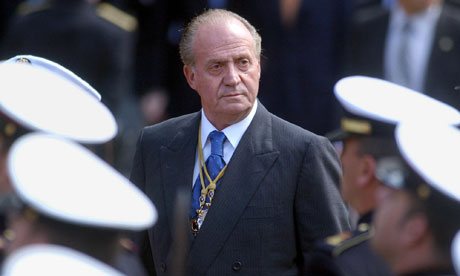 The elderly man who sold me my apartment was clear about Spain's King Juan Carlos. "He is a traitor," he said.
That was more than a decade ago, and it was a shocking – almost blasphemous – thing to say. Only diehard republicans and even harder-headed former Francoists criticised the monarch. Heliodoro was one of the latter, an unreconstructed extremist who never forgave Juan Carlos for using the powers he received from General Francisco Franco in 1975 to usher in democracy. Few would have agreed.
These days, however, Madrid seethes with discontented talk about the monarchy. The upset is proportional to the awed respect once accorded by almost everyone, including journalists who decided Juan Carlos was untouchable after he stopped a coup when civil guardsmen stormed the parliament in 1981.
As the 75-year-old monarch lies in a hospital bed this week, recovering from his fourth operation in 10 months, there is talk of both abdication and of controlling his use of taxpayers' money. The king is not as weak in mind or body as Pope Benedict, but in Madrid there is also a feeling that an old institution needs shaking up – possibly with a new face.
How did it get to this? The hard-working king with the common touch was once Europe's most popular monarch – a virtuous contrast to Britain's distant and dysfunctional royals. I recall once getting lost and driving freely through the deer park surrounding his modest Madrid palace. The royal guards were completely unconcerned when I eventually reappeared in the wrong place.
Yet, as Spaniards endure double-dip recession, government austerityand 26% unemployment, royal privileges suddenly seem less understated. The king's luxuries are beginning to grate.
Reminders of the royal lifestyle were plastered all over newspapers again this week. Corinna zu Sayn-Wittgenstein, a stylish 48-year-old who uses a German ex-husband's title to call herself "princess", gave several interviews about her relationship with the monarch. This, she assured doubting Spaniards, was purely professional. She complained, indeed, that his family scandals were now damaging her business as a go-between in deals involving companies and governments – including in the oil-rich Middle East. "This is doing a lot of damage to my professional reputation," she said.
Sayn-Wittgenstein's name first became public knowledge after she appeared as the mystery woman who travelled to Botswana when King Juan Carlos – then honorary president of the Spanish branch of the World Wildlife Fund (WWF) – secretly joined a free elephant hunt. His wife, Queen Sofia, was left behind. Sayn-Wittgenstein said she had travelled with another former husband, Briton Philip Atkins. She and the king were no more than "close friends", she told El Mundo , who had met nine years ago at the Duke of Westminster's Spanish hunting estate.
Spaniards only found out about the king's freebie after he tripped and broke his hip. The man who claimed he went to bed every night worrying about youth unemployment (currently at 55% among the under-25s) had to be flown home in a special aircraft and hospitalised. A chastened monarch gave an unprecedented apology. "I am very sorry," he said. "I made a mistake. It will not happen again." WWF members were not impressed. A few weeks later they sacked him.
Sayn-Wittgenstein's help did not stop at joining him on safari. She also tried, at the king's beckoning, to find his embattled son-in-law, Iñaki Urdangarin, a job. Urdangarin, a former Olympic handball star who gained the title of Duke of Palma when he married Princess Cristina, is formally suspected of fraud, tax cheating and embezzlement. A court has told him and his business partner to post €8m (£6.9m) bail – though charges have not yet been presented. Now emails between Sayn-Wittgenstein and the royal son-in-law have begun to surface. "I was just trying to find him a suitable job," she said, claiming that she had also done secret, unpaid work for the Spanish government.
Urdangarin has become a toxic royal asset – as damaging to Juan Carlos as the hundreds of thousands of unsold new homes left behind by a burst construction bubble are to the economy. He allegedly hid behind supposedly not-for-profit organisations as he sweated the royal brand for money. This mostly came from rightwing politicians who paid generous sums of taxpayers' cash in return for proximity – and photo opportunities – with the royal son-in-law. Money was then allegedly siphoned to offshore accounts. Court documents leaked to the Cadena Ser radio station purport to show only 1.5% of the money passing through one foundation actually going to help disabled children.
Urdangarin denies wrongdoing and has tried to keep his wife – who sat on the board of one foundation – out of the picture, along with his father-in-law. "The king's household neither opined on, advised, authorised or backed my activities," he said in a statement. Many Spaniards do not believe him. A recent poll saw half say they thought Juan Carlos had helped his son-in-law land business deals. The vast majority said his wife must also have known.
Politicians have caught the popular mood. "From now on either the monarchy is transparent, or it may stop existing," said Carme Chacón, a potential future socialist candidate for prime minister.
And what about the king's reputation as a playboy? Attempts by two people claiming to be his illegitimate offspring to prove his paternity have stumbled across his status as a man who is, literally, above the law. A court threw out their writ on the basis of the king's legal "inviolability".
Juan Carlos's son and heir, Prince Felipe, has stepped up temporarily to represent his father. With the king, who has disc problems, out of action for up to six months, some think the change should be permanent. Pere Navarro, head of the Catalan socialist party, said: "We need a new head of state."
The palace recently took the unusual step of denying the abdication rumours. As the king lies in hospital, however, he may think there are more peaceful ways to see out his old age.
The Spanish Royal Family is very related to the British Royal Family.
The most immediate relationship between the Windsors and the Bourbons of Spain comes via Prince Phillip & Queen Sofia, who are 1st Cousins Once-Removed, both being descended from George I of Greece (Prince of Denmark) and Olga Constantinovna of Russia. Phillip & Sofia are also Triple 3rd Cousins, both being descended from Queen Victoria & Prince Albert, as well as dually descended from Christian IX of Denmark and Princess Louise of Hesse-Kassel.
Prince Phillip & King Juan Carlos are 2nd Cousins Once-Removed, both being descended from Prince Alexander of Hesse and Countess Julia Hauke.
Queen Elizabeth II & Queen Sofia are Triple 3rd Cousins, both being descended from Queen Victoria & Prince Albert, as well as dually descended from Christian IX of Denmark and Princess Louise of Hesse-Kassel.
Queen Elizabeth II & King Juan Carlos are 3rd Cousins, both being descended from Queen Victoria & Prince Albert.
Although on paper, Prince Charles & Prince Felipe are at their closest only 2nd-Cousins Once-Removed, they are in fact cousins in such numerous ways that their consanguinity is almost that of standard First Cousins.
So, again, "Yes", the Spanish Royal Family is highly related to the British Royal Family.
Source(s):