Apr 9 2013
Fucking marvellous isn't it? 
"What is"?
The way the MSM distorts the truth. 
The song from the Wizard of Oz, 'Ding dong the witch is dead'  crashes into the iTunes download charts at number 22 in celebration of Slaggy Maggies death, and the MSM blame internet trolls.
So, anyone who praises the nonce is a well informed, intelligent person. Any discontent is because of 'Trolls'. .. You couldn't make this shit up don't cha know.
Police are already discussing arresting potential activists before the cunts funeral, that we, the people are footing the bill for, in order to stop them spoiling the old witches send off.
Funny how the powers that be are worried about mass protests at the funeral of someone supposedly so well loved isn't it?
But surely, if people are going to disrupt the cunts send off, the nonce government should be asking themselves if the corrupt old crone deserves such a grand funeral… Shouldn't they?
Mind you, perhaps the old bill are on to something with this preventative arrest malarkey. But not for activists. The old bill ought to be looking at preventative arrests on the government to stop little kids being raped?
Meanwhile, the Telegraph have had to shut down their comments sections on all their Thatcher stories because according to the Guardian:  
The Telegraph website was singled out for abuse by Thatcher critics, forcing it to shut down all reader comments on stories about former prime minister.
Yes you read that right. The Telegraph was singled out for abuse.
I cant help thinking that they didn't claim they were being singled out for abuse when people were leaving nasty comments about Rose West. When that happened, it was described as being the public airing their contempt for the woman… And make no mistake, West and Thatcher were equally evil.  
What a load of old fucking bollocks these propaganda rags spout..
Thatcher was a vile pervert, who is totally undeserving of a paupers funeral let alone any pomp and ceremony.
Mind you, perversion must run in the family. You see, it has just been revealed that the old slags dad was a sex pest… And there was me thinking that it wouldn't be until next year before the MSM started revealing the sordid details about what kind of monster the cunt really was.
You can find that story HERE    
Internet trolls push 'Ding Dong The Witch Is Dead' into iTunes Top 30
The Daily Express
A CAMPAIGN by internet 
trolls to get Judy Garland's 'Ding Dong the Witch is Dead' into the charts in reaction to the death of Margaret Thatcher has almost succeeded.
Margaret Thatcher sadly died just 24 hours ago
The campaign started on Twitter and Facebook has managed to get the song to number 22 on the iTunes downloads charts, just 24 hours after the former Prime Minister's death.Critics reacting to the Baroness's death announced "the witch is dead" and following the news people were urged to download the song.The 1939 hit song comes from the musical the Wizard of Oz in which Judy Garland proclaims the death of the Wicked Witch of the East.The news follows a number of macabre street parties celebrating the former leader's death.

Street parties and vile celebrations broke out in Bristol, London and Glasgow.
Margaret Thatcher's criminal legacy
Press TV
Hours after the death of former British prime minister Margaret Thatcher, the history books are being re-written and the beatification of the Iron Lady is well underway.
Current British premier David Cameron praised Lady Thatcher for having "saved Britain" and for making the has-been colonial power "great again".Tributes poured forth from French and German leaders, Francoise Hollande and Angela Merkel, while US President Barack Obama said America had lost a "special friend".Former American secretary of state Henry Kissinger and former Russian leader Mikhail Gorbachev also lamented the loss of "an historic world figure". Polish ex-president Lech Walesa hailed Margaret Thatcher for having brought down the Soviet Union and Communism.

Such fulsome praise may be expected coming from so many war criminals. But it is instructive of how history is written by the victors and criminals in high office. Obama, Cameron, Hollande and Merkel should all be arraigned and prosecuted for war crimes in Iran, Iraq, Afghanistan, Libya, Syria, Pakistan, Somalia and Mali, among other places. Kissinger has long evaded justice for over four decades for his role in the US genocide in Southeast Asia during the so-called
Vietnam War in which over three million people were obliterated in Vietnam, Laos and Cambodia.

The British state is to give Thatcher, who died this week aged 87, a full military-honours funeral. The praise, eulogies, wreaths and ceremonies are all self-indictments of association with one of the most ruthless and criminal political figures in modern times. Read More
Disunited in mourning: police fear Thatcher funeral may turn into security nightmare
 The Independent
Fears of civil disorder in capital as plans are revealed for partially state-funded ceremonial funeral. Meanwhile lawyers warn against pre-emptive arrests as police scan social media to identify likely protesters
TUESDAY 09 APRIL 2013
Police are bracing themselves for the likelihood that Margaret Thatcher's partially state-funded ceremonial funeral will attract protesters as anger mounts over her controversial legacy and the Government's decision to honour her with the help of taxpayer's money.
Chatter on websites, social media and forums that are popular with protest networks has revealed multiple plans by groups to either demonstrate during the funeral itself or hold "Maggie's dead parties" on the same day. Others have recommended celebrations in the days leading up to next Wednesday's funeral with one party slated for 6pm in Trafalgar Square this Saturday evening.
If the plans come to fruition they present a logistical headache for the Metropolitan Police who will have to balance making sure the funeral cortège is not disrupted whilst respecting the public's right to voice their opinion on one of Britain's most divisive modern day politicians.
It is believed officers who specialise in public order issues are currently monitoring social media, websites and Blackberry's BBM messaging networks over the coming days for any sign of protest. Their concerns have been fuelled by a number of impromptu street parties which broke out on Monday evening in Leeds, Bristol, Brixton and Glasgow – some of which resulted in arrests after sporadic clashes with police.
The Metropolitan Police said tonight it had no specific information on what plans are being drawn up to counter public order problems during the funeral but it is known preparations for the procession have been in the works for the last three years. It is likely that officers will need to line the entire route from the Houses of Parliament to St Paul's Cathedral to make sure that the cortège is not stopped.
"London's police, the MPS, City of London and British Transport Police, are working together to deliver a security operation for Baroness Thatcher's funeral. Given the nature of the event our operation will use of a range of appropriate tactics,' a spokesman said."
The Met's first large scale challenge is likely to be an impromptu party which anti-Thatcher protesters are planning for this Saturday in Trafalgar Square – a corner of London forever associated with the moment the former Prime Minister's power began to crumble as the poll tax protests turned violent. Flyers, some of which have been on websites popular with protest groups since 2004, have long called for a party in the square for the first Saturday after Mrs Thatcher's death.
Part of the difficulty for police is the inherently spontaneous nature of the protesters who are wary of alerting anyone to their plans before they happen.
Daniel, a 26-year-old from South London who was at the Brixton protest and is helping to organise something similar for Saturday evening, toldThe Independent: "There's never been an event with such an historic publicity run-up. At Brixton, the samba band and a sound system just turned up. Something similar will happen on Saturday: people will come and there'll be a few portable sound systems there."
He believed protests would only turn violent if the police tried to stop them voicing their opinion on Mrs Thatcher. "It would be unwise of the police to come down hard," he said. "Even just a heavy police presence will provoke a reaction."
The possibility of protests during the funeral has raised fears that police may adopt the controversial tactic of making pre-emptive arrests. Two years ago the Met caused controversy when it arrested scores of people in the run up to the wedding between Prince William and Kate Middleton. Some of those arrested took their case to the High Court which ruled that, on the facts of the individual cases, the arrests were lawful. An appeal is set to take place later this summer. At the time of the original case one of the arguments police used to justify the arrests was to protect minority protesters from angry crowds.
However the legislation that allows for pre-emptive arrests is narrow and human rights lawyers have warned police chiefs against any pre-funeral sweeps.
Michael Oswald, from Bhatt Murphy Solicitors, which represented 15 people who were arrested on during the Royal Wedding, said: "There must be a concern that the events that took place in Bristol and Brixton last night will be used by the police to justify the kind of tactics that were seen in the run-up to and during the Royal Wedding.  Whatever one thinks about the rights and wrongs of protesting during a funeral the law protects people's freedom to voice their opinions publicly in a peaceful manner."
Meanwhile anger is mounting over the notion that Mrs Thatcher's funeral will be partially paid for by the taxpayer. The bill for the funeral and policing will be shared between the former Prime Minister's estate and the Government.
A petition on the government's e-petitions website calling for Mrs Thatcher not to be given a state funeral had gathered 27,000 signatures by this afternoon. Lady Thatcher is in fact being given a "ceremonial funeral" – one rung down from a state funeral. A second petition on the Change.org website saying tax payers should not fund the funeral and that it should be privatised had also gained more than 1,500 signatures.
Telegraph shuts reader comments on Thatcher stories following abuse
The Guardian
Editor Tony Gallagher says Twitter timeline clogged by abuse relating to Margaret Thatcher following her death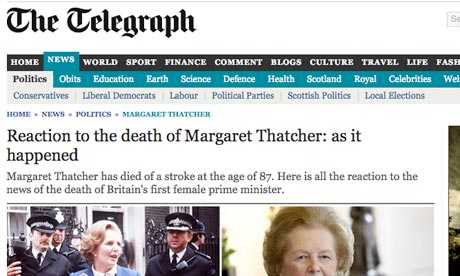 The Telegraph website was singled out for abuse by Thatcher critics, forcing it to shut down all reader comments on stories about former prime minister.
The Telegraph shut its reader comments facility on all stories about Margaret Thatcher because of abuse about the former prime minister when she died on Monday.
Tony Gallagher, the editor of the Telegraph, said the newspaper's email address for reader tributes was also "filled with abuse" and it decided to close the comments down.
The paper, which traditionally supports the Tory party and was edited by the former Conservative cabinet minister Bill Deedes during seven years of Thatcher's reign, feared an avalanche of "bile" would "spew" from its pages and decided to keep comments closed, according to insiders.
"We have closed comments on every #Thatcher story today – even our address to email tributes is filled with abuse," Gallagher tweeted. "Many of the people blocked from comments on our #ThatcherCoverage appear to have clogged up my timeline with their foul abuse."
In an exchange with the Guardian's Spanish football correspondent Sid Lowe, Gallagher complained "comments too often a horror show".
Insiders on the paper say the comments into the email account were particularly abusive and personal towards Thatcher.
"We don't tolerate abusive letters in print, why should we tolerate it online," the insider said. "It's not about stifling debate or a question of free speech, it's about the Telegraph. We don't want people spewing bile on line."
A divisive figure like Thatcher was always bound to cause abuse, they added, but it wasn't something the editor felt was fitting for the paper.
Comments on Thatcher stories remain closed but the paper's decision to refuse negative reader comment continued to be criticised on Twitter.
One user accused Gallagher of doing it because "you're an ideologue & not interested in the truth or 'freedom of speech' at all".
Another user suggested that there was a connection between the decision to close comments and the link with the Ritz where Thatcher died as it is owned by the Telegraph proprietors, Frederick and David Barclay. "The Telegraph: Beacon of free speech. Did Barclays brothers tell you to do it? She was their guest at the Ritz," tweeted a person going by the name of Joe Public.
The Telegraph never opens comments on obituaries but regularly has comments open on major breaking news.