Feb 24 2013
The Guardian. The Telegraph
Spivs Comment
Within the realms of 'you couldn't make this shit up', this story really is a beauty.
Where the fuck do these toads hide before going into parliament? It must be somewhere fucking safe because how this cunt doesn't get a good fucking hiding every time he leaves the comfort of one of his homes I will never know. What a fucking arrogant wanker this man is.
'Older people should go back to school in order to continue working'! That is fucking rich coming from a millionaire scrotum sack who has never done a days work in his life.
Nicknamed 'two brains' – one dead, the other dying in my opinion – Willetts was mixed up in the equally sleazy Neil Hamilton cash for questions scandal. Camerons cabinet is fast becoming as fucking sleazy as Slaggy Thatchers.
However, what really bugs me about this cunt, who masquerades as the 'minister of skills' is the fact that the wank stain apparently doesn't know how to change a light bulb. This is what the Telegraph said about the waste of space MP:
Mr Willetts billed the taxpayer £115 plus VAT for workmen to replace 25 light bulbs at his second home in west London. On the same bill, Mr Willetts charged another £80 to "change lights in bathroom", part of a £2,191.38 invoice for odd jobs that included cleaning a shower head.
It would be funny if it wasn't so serious. I know I keep saying it, but this madness really, really has to end.
David Willetts: older people should return to higher education
The universities minister encouraged workers at the end of their careers to study again as educational patterns change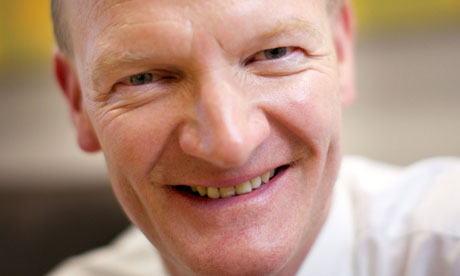 David Willetts said 'there is great value in lifelong learning'. Photograph: Anna Gordon for the Guardian
Older people should consider going to university in order to continue working beyond the official retirement age, the minister for higher education has said.
David Willetts encouraged workers at the end of their careers to see higher education as an option. "There is certainly a pressure for continuing to get retrained and upskilled. Higher education has an economic benefit in that if you stay up to date with knowledge and skills, you are more employable," he told reporters as he travelled with the prime minister, David Cameron, in India.
"Education is such a good thing – it is not reserved for younger people. There will be people of all ages who will want to study. There is great value in lifelong learning."
Student loans were restricted to people under 54, but the government permits prospective students of any age to take out loans for fees. Loans to cover living costs are restricted to the under-60s.
"There was a lot of criticism about the ageism of all this. The regime now is, there is no age limit on fee loans," Willetts told the Daily Telegraph. According to the Higher Education Statistics Agency, only 1,940 undergraduates starting courses last year were older than 60, out of a total of 552,240 students in Britain. Some 6,455 were aged between 50 and 60.
Tuition fees are a maximum of £9,000 per year in England and students start repayments when they have a salary of £21,000. Most pensioners have an income of less than £16,000, so would never have to repay their loans.
Today, 10 million people in the UK are over 65 years old. The latest projections are for 5½ million more elderly people in 20 years' time, and the number could reach 19 million by 2050.
Within this total, the number of very old people is set to grow even faster. There are currently 3 million people aged more than 80, and this figure is projected to almost double by 2030 and reach 8 million by 2050. The government estimates that the fastest-growing age group in the next decades will be people over 100.
As the number of elderly people grows, so does the pension deficit; British pension schemes are estimated to have a total deficit of £312bn.
Last year the House of Lords heard evidence of the effect of an ageing population on public policy. Simon Ross, the chief executive of Population Matters, told the Lords: "We should expect and enable people to work later in life than in the past. Employers and the government should consider what changes to employment practices are required to enable people to work longer.
"This may include changes to work premises and equipment, encouraging people to work from home, and being more flexible with regard to sick leave."
"Given the pensions shortfall, a flexible labour market should enable the 'fit old' to work as many or few days per week as they feel necessary to top up their own pensions, notably providing a workforce to care for the 'unfit older'."
Willetts said educational patterns were changing. "There is evidence that the idea that you first study and then stop isn't what the world is like any more," he said. "If they can benefit from it, they should have that opportunity. If people need it in order to keep up to date with changes in their jobs, that is an opportunity they are going to take."
David Willetts, skills minister who 'can't change a light bulb': MPs' expenses
David Willetts, the shadow innovation, universities and skills secretary is nicknamed "two brains" because of his formidable intellect but his expenses suggest he cannot work out how to change a light bulb.
David Willetts claimed for work on his bathroom Photo: EDDIE MULHOLLAND
Mr Willetts billed the taxpayer £115 plus VAT for workmen to replace 25 light bulbs at his second home in west London. On the same bill, Mr Willetts charged another £80 to "change lights in bathroom", part of a £2,191.38 invoice for odd jobs that included cleaning a shower head.
Parliamentary officials agreed to reimburse him for most of the work, but cut more than £1,000 from the bill including £175 for having a dog enclosure built and £750 for a shed base.
Some of the claims submitted by the Oxford-educated MP seemed not to comply with parliamentary rules, which state that members must not try to claim money for anything that "enhances" a property. Mr Willetts often had his claims cut by officials because of errors or overclaims.
Mr Willetts also paid the full rate of council tax on his house in London, despite being eligible for a 10 per cent discount from his local council for what he claimed as his second home. Between 2001 and 2008, Mr Willetts claimed £143,764 of taxpayers' money on his second homes allowance for his semi-detached Victorian villa in Hammersmith.
His mortgage interest cost £9,600 per year at its highest, and much of the expenses money was spent on renovations and redecoration, which frequently brought Mr Willetts into conflict with the parliamentary fees office.
In December, 2005, Mr Willetts submitted two bills for plumbing work totalling £1,441.54, which were both invoiced to his wife Sarah at the couple's constituency address in Havant, Hampshire. An official spotted the discrepancy, and in a letter from the parliamentary fees office dated Aug 10, 2005, Mr Willetts was informed: "Your claim included two invoices in relation to an address which is different from that nominated as your second home. Your claim has therefore been reduced."
The matter did not go any higher than the junior official concerned. Almost four months later, on Dec 5, Mr Willetts resubmitted duplicate invoices from the same west London plumbers, this time with his London address on them. He wrote: "These invoices were rejected on the grounds that as they bore the address of my Havant home, that is where the work had been carried out, which would not of course qualify for reimbursement … the work was in fact carried out solely at my London home, and the plumbing company have resubmitted the two invoices correctly addressed." The claim was paid in full.
It was in April, 2004, that Mr Willetts's claim for a shed base and dog enclosure was refused because the parliamentary Green Book states that MPs can charge only for maintenance of their gardens and nothing more. However, six months later the fees office allowed him to claim £330 plus VAT for the same odd job man to supply and erect a shed.
Mr Willetts also appeared to struggle to keep track of how much money he had claimed and twice had claims turned down because he had exceeded the annual limit.
In February, 2005, he submitted a plumber's estimate of £8,219.12 for work on his bathroom, which involved replacing a lavatory and a water tank, telling the fees office: "These are all necessary repairs – we are not creating a designer experience!" He was reimbursed for only £5,107.25 – the remainder of his allowance for that year. Later the same month, he submitted a claim for £1,100 for food, utilities, cleaning and other sundries, only to be reminded by the fees office that he had "exhausted" his allowance for that year. His claim was returned with the word "zero" written on the bottom.
However, there was better news for Mr Willetts in December, 2007. Having submitted a claim for £2,218, he was sent a cheque for 40p more than that because he had added up the total incorrectly. Mr Willetts said he had to have a workman to change his light bulbs because "we had problems with our lighting system which had caused many lights to fuse and needed the attention of an electrician".
He said the Commons authorities were right to reject his claims for a shed base and dog pen, confirmed that the plumbing work was carried out at his London home, and said he paid the full rate of council tax on both of his homes because "we use council services in both places and did not consider claiming a lower rate".
Tories Urge Pensioners: Go Back to School
http://thesatirestall.blogspot.co.uk/2013/02/tories-urge-pensioners-go-back-to-school.html
Once again, the latest and the greatest in scandal-mongering hot gossip from Anarchy Central's 24/7 Truth & Rumour Mill – with dispatches hand forged and crafted into bespoke satire to tempt the palates of all budding nihilists and career revolutionaries who carry the immortal bloodline of the rebel sons of Belial.
David 'Bonkers' Willetts, the Minister for Universities and Science (and incumbent Tory MP for Old Scrotum) has issued a somewhat hare-brained press statement concerning age related issues being an encumbrance with older people searching for jobs – claiming they should return to higher education to make themselves 'more employable'.
Disregarding the fact that Broken Britain is still bollocks-deep in a mosh pit state of post-industrial 'depression' (triple-dip variety or otherwise) purposely contrived by the Rothshite crime syndicate and a cabal of the Edomite Mafia's shifty Shylock banksters to undermine the global economy – resulting in the common herd being faced with a jobless landscape – in Willets' skewed opinion the UK's senior citizens should point their Zimmer frames in the direction of the nearest university and go get an all-new degree-certified skill set that prospective employers will jump at.
Previously the cut-off point for student loans was 54 (seriously) – however, since the upper age limit for taking out a loan to cover tuition fees has now been raised to 100-plus, the over-60s can go back to university and study whatever the fuck turns them on – with Pharmaceutical Chemistry being a favoured option for a self-employed line of work – cooking up lots of synthetic designer drugs (crystal meth', ecstasy, date-rape GHB and Rohypnol) on the kitchen stove for the local Yardie gang's distributers – with Roofies being the top knock-out drug favoured by Rochdale's Paki paedo' taxi drivers and the Oxford-based Muslim child sex grooming gangs.
Criticism besides, Willetts justified this scheme to a press hack from the Crock a' Shit Gazette, stating for the public record that "With people now living longer and the retirement / state pension qualifying age due to rise to 85 if we get back in at the next election, plus considering how inflation's shooting up at a geometric rate, then folks in their late 50's and 60's should most definitely consider opting for a mature student loan and trotting off back to a devil-may-care boozy campus life for three years and sow any wild oats they've got left."
"This move will give them an edge in the current job market wilderness – especially so if they take Polish or Bulgarian as a language study option and learn how to read the Cyrillic alphabet – then they'll be quids-in to save for their eventual retirement 'and' repay the £27,000 nicker student loan."
Certain more canny Lib-Dum members of the flawed Con-Dem Coalition have questioned Willett's sanity on this issue and raised fears whether the older segment of the common herd being enticed to take out student loans will have enough time to actually repay them – or are likely to keel over with a fatal coronary or stroke due the excitement of the graduation ceremony while receiving their sheepskin.
At the consumer end of things, Ron McScrote, 72, complained he did a night school course to get an NVQ1 diploma as a qualified Recycling Technician (Bin Man) a couple of years ago – and passed summa cum laude – but was still turned down for employment by local council contractors on the discriminatory grounds he couldn't walk without crutches.
Conversely Mrs Gladys Muffitch, a 69-year old widow from Smegmadale-on-Sea told media hacks that "Meself I reckon it's a fuckin' great idea an' I've always bin interested in studyin' tantric sex – so I intend ter sign up fer the Tantra Yoga instructor's course an' meet some strappin' student wot's in the same class an' fancies older women. Hey, I might be a bit past the MILF stage of me life but I can still suck the patina off a brass doorknob when I takes me false teeth out."
Hmmm, so much for Minister Willetts – formerly cabinet secretary for tea and biscuits. He with a disparaging sobriquet of 'The Man with Two Brains' – who regardless of having more degrees than an industrial thermometer lacks a single iota of common sense or nuance and is incapable of changing a light bulb – a task he contracts out to workmen at a cost to the taxpayer (claimed on MPs' expenses) of £115 quid.
Really, what Tory Millbank HQ committee put this fucking idiot in charge of an education portfolio?
Willetts is indeed a dangerous personage to have anywhere around the House of Conmans where political decisions are made – due him advocating the New World Order's proactive approach to the spread of liberal democracy throughout the known Universe by whatever means necessary – including military intervention – and don't we have enough of that already in Afghanistan, Iraq, Libya (what a fucking joke), Yemen, Somalia, Mali and Niger – and still pushing for the same in Syria – while the likes of Zionist arse-kissing Bahrain, Qatar and Saudi Arabia continue with their Western-approved barbaric versions of egalitarian 'despotcracy'.
To add to his calumny, he blames split-arsed feminists for the UK's burgeoning unemployed male statistics due Bolshie women who should be at home, slaving over a hot stove and content with a lifetime status of 'well fucked and poorly shod' – and not going out to get their cute arses educated then stealing all the good jobs from Tom, Dick and Harry – and Stefan from Cracow.
Allergy warning: This article was written in a known propaganda-infested area and may contain traces of slight exaggeration, modest porkies, misaligned references along with lashings of nano-particle cynicism and genetically-modified bush telegraph innuendo.
http://thesatirestall.blogspot.co.uk/2013/02/tories-urge-pensioners-go-back-to-school.html