Jul 3 2013
The Guardian, With thanks to William and Yvette.
If you are a regular visitor to this site, you will know that one of my readers, William Benson wrote to the Attorney Generals office asking for a review of the pathetic court sentence handed out to the paedophile artist Graham Ovenden… You know the artist I mean? 
The one who paints naked little girls and then sells the child porn to people like Nonce McAlpine under the guise of 'art'.
Well, unbeknownst to me, another of my readers, Yvette had also done the same.
And, I am pleased to say that they both received the following E-mail yesterday. 
Extremely well done to the both of you.
Thank you for your email regarding the sentence given to Graham Ovenden.
Having carefully reviewed this case, the Attorney General, Dominic Grieve QC MP, has decided to refer the sentence to the Court of Appeal as a possibly unduly lenient sentence. 
The case will in due course be heard by three Court of Appeal judges who will decide whether or not to increase the sentence.
Yours sincerely
Correspondence Unit
Attorney General's Office
Court to decide if Graham Ovenden's sentence was too lenient
Attorney general refers artist's 12-month suspended sentence for sexual offences against children to court of appeal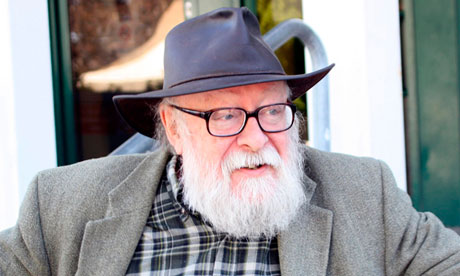 Graham Ovenden, who was convicted of six charges of indecency with a child and one of indecent assault relating to three girls. Photograph: Rod Minchin/PA
An internationally renowned artist who walked free from court despite being convicted of a string of sexual offences against child models is to have his sentence reviewed by the appeal court.
Graham Ovenden, 70, escaped with a suspended jail term after thesentencing judge decided that he was no longer a threat to children.
The sentence provoked complaints from groups campaigning for victims of sexual abuse who claimed it sent out the wrong message about how seriously such attacks were taken.
Having studied the case, the attorney general, Dominic Grieve, has decided to refer the matter to the appeal court in London, it emerged on Tuesday.
A spokeswoman for the attorney general's office said: "The case will in due course be heard by three court of appeal judges who will decide whether or not the sentence is unduly lenient and whether they should increase the sentence."
Ovenden, whose explicit portraits of young naked girls have hung in galleries across the world, was found guilty of abusing child models in the 1970s and 1980s.
Although the sentencing judge, Graham Cottle, told Ovenden he was sure that he had a sexual interest in children, the artist was allowed to walk free from Exeter crown court.
Separately it has emerged that police are looking at allegations that victims of Ovenden have been identified on the internet.
A spokesperson for the Metropolitan police, which led the inquiry into Ovenden's activities, said: "We can confirm that we are investigating an allegation that victims in the court case have been identified on the internet.
"Inquiries are underway and no arrests have been made."
Ovenden has refused to apologise to his victims, insisting he has done nothing wrong, and has launched an appeal against his conviction.
He studied under the pop artist Sir Peter Blake and during the time of his offences worked largely from an estate called Barley Splatt on Bodmin Moor in Cornwall.