Nov 22 2013
Chris Spivey
Fuck me, there is never a dull moment in the Spivey household… Well not for me at least.
However, were you to ask my daughter Stacey if the same were true for her, I am sure that she would say different and that she is sick to death of looking at me sat at the computer and shushing her every time she tries to speak to me.
In fact, I'm that busy and with so many articles that need commenting on today, I will have to give you my view of the news in the form of another news round extra.
Before I do, I am sure that you are all aware of the lack of content being added on a daily basis of late,
I can assure you that I'm not shirking. In fact, I am on the case more than ever.
The reason for the lack of content is because I do in fact have four major articles … Count them, 1, 2, 3, 4 on the go.
Course, a major article can take up to 2 or 3 months to write as they can be very complex to put together and the research alone uses up endless hours.
The first of these articles will be Boston Bollocks part 2, which as a lot of you know already has been a long time in the offing.
It is nearly ready now and will – amongst other things – prove beyond all doubt that the US government orchestrated, amateur production was filmed at least twice.
Now, you tell me how a 'terrorist attack' allows provision for photographers to film the event twice?
In this instance, the articles delay has been in putting all of the various sets of photos together which obviously involves reducing or increasing every single picture to a set size… And I have used hundreds of photos in evidence so as even the dumbest of the dumb can be left in no doubt that this was a staged event.
I won't tell you what the other 3 are about, but they will all be proper eye openers I can promise you that.
Okay, enough chit chat.
lets start this news round up with immigration.
As my regular readers will no doubt know, I have written at least two articles on this matter in the past week or so.
Both articles have been in response to the vile racist propaganda being spread by the Chimp – and to a lesser extent by the Daily Mirror – in regard to the [non existent] threat of Britain being overrun by Romanians come January 2014.
Course, all MSM newspapers are nothing more than a mouthpiece for the government and as such, this non too subtle pre-emptive race hate campaign stops firmly at their door.
With that being the case, it was nice to see the Immigration Take Monster, Mark 'harp-on' Harper apparently sharing the same view as me on the situation:
Britain will not face a flood of migrants from Romania and Bulgaria when border controls lapse in the New Year, the immigration minister insisted last night.
Mark Harper played down fears of a mass influx from the Eastern European countries and ruled out extending the restrictions on migrant workers.
Ministers have come under pressure from Tory backbenchers to defy the EU and protect British jobs by keeping controls in place.
Currently, Romanians and Bulgarians can only work in the UK on seasonal fruit-picking visas or if they are self-employed. From January, they will have the same working rights as Britons.
Mr Harper said extending the restrictions from when they expire on New Year's Eve was 'not legally possible' because it would be overturned in court. However, he insisted he was 'not complacent' about potential problems and pointed to measures to limit migrants' access to social housing and benefits.
'You won't see people just being able to turn up and get access to social housing five minutes after they arrive, which is one of the things that drives people up the wall,' he said at a press conference.  Source
Course, any fears that the government are talking about are a direct result of their scaremongering.
I do in fact find myself chuckling though at the way every time these propaganda articles are published, the Chimpanzee insists on mentioning that Bulgaria and Romania have a combined population of 29 million, as if that is the number of people the UK can expect to arrive… Cunts.
Furthermore, whilst it is nice to have a serving MP agree with what I wrote, I won't be singling Harper out for any praise.
In fact, anyone thinking that he is a good guy would be about a thousand miles wide of the mark.
The Take Monsters are only edging their bets and as I have said so many times before;  There are no good MP's… Not a single one of the nonce ponce bent as a nine bob note arsewipes are deserved of the office they hold.
For instance, 'Harp-on' in his capacity of immigration minister approved and launched the "Go Home" ad campaign.
The vile campaign involved marked vans sign written with the words "Here Illegally? Go Home or Risk Arrest" driving around areas densely populated with high proportions of ethnic minorities.
Moreover, in  October 2010 Harp-on defended the newly introduced Public Bodies Bill  which would allow the Secretary of State to sell or lease our public forests.
The only problem that I have with that is they are not the governments to sell the thieving cunts… They are ours.
Course the reason for this bill was to raise revenue to pay off the fraudulent national debt and to further consolidate the ownership of just about everything in the world into the hands of the elite one percent.
Harp-on is after all a Zionist who quite unashamedly promotes himself as a strong supporter of Israel and is in fact a member of Conservative Friends of Israel… No wonder the Cunt Cameron has him in the cabinet.
According to Wikipedia:
Following a public meeting after which Harper had to be rescued by police and a sustained national campaign which included the newly formed local Forest of Dean pressure group Hands off our Forest, the government announced it had abandoned its plans and would remove the forestry clauses from the Public Bodies Bill
Course, on the very same day that Harpers comments were made public by the Chimpanzee, they also published some old fanny about leaflets that Sheffield City Council have had drafted in preparation for the anticipated arrival of the Bulgamanians:
A city council has created a guide to teach migrants how to behave in an apparent bid to ease tensions in the community.
The leaflet, drafted by Sheffield City Council, warns new arrivals, including Roma, against a slew of offensive habits – including urinating, defecating, spitting or having sex in the street – that upset locals.
It also contains instructions on claiming benefits and other taxpayer-funded services like healthcare and accessing translators.
There is advice on 'being a good neighbour', urging migrants not to dump litter in a neighbour's garden or allow their children to play there, hang washing on their fence and not to block drains with soiled nappies. Read More
ARE THEY FOR FUCKING REAL?
Its no wonder that the rest of the world think that we are all mad… I think that we are all fucking mad too.
If I arrived in a country and was handed a condescending, derogatory leaflet telling me how to behave by some cunt with delusions of grandeur, I would give the small minded imbecile a lesson in how not to behave…  Bit of a paradox there.
But what a fucking cheek all the same!
The article then treats us to a photo of the roughest looking Eastern Europeans that the Chimp could possibly find.
Course,  counting the brick work I make the tallest fella about 5 ft 6 maybe 5ft 7 at the most. Hardly from the land of giants then… And not one of them has a warty nose.
However, from that point on, the article descends into a disgusting piece of blatant racist propaganda that is wrong on so many different levels.
You can read the vile shit for yourself at the link provided above.
As an aside, whilst I was looking up a bit of information about Harper, I came across a piece from the BBC about one of their journalists repeaters spending a day with three MP's.
You can read that BBC article consisting of the same old, same old load of old bullshit HERE should you get bored of watching the kettle boil.
It does of course go without saying that one of the Take Monsters featured in the BBC's old fanny is obviously Harp-On Harper.
However, it was one of the other two Take Monsters taking part in this PR effort who caught my eye and whose photo immediately made me think of Fred West.
The Take Monster in question is the MP for Stroud, David Drew, who – as coincidence would have it – turns out to have been born a bred in Gloucestershire.
Course, I have no doubt in my mind what so ever that Cromwell Street was just a small cog in a very large machine.
Neither do I believe for a moment that Brown Bread Fred topped himself.
This is sort of backed up in an interview that Anne Marie West's daughter (Freds grandaughter), Michelle Davis gave to the Sunday People Newspaper in 2009.
During the course of the interview it was  revealed that:
House of Horror mass murderer Rose West is brainwashing the stepdaughter she subjected to years of sexual torment, it is claimed.
Monster Rose helped evil husband Fred rape his own child Anne Marie when she was just eight – and forced her into prostitution at 13.
But Anne Marie's daughter Michelle Davis says her mother is still under the spell of Rose, nearly 14 years after the fiend was jailed for life for the sex killings of 10 women.
Anguished Michelle says Anne Marie talks to her stepmum every week on the phone – even though it brings back the full nightmare of her childhood at 25 Cromwell Street, Gloucester…
... She says Anne Marie dreads the calls – but is too frightened of Rose to hang up on her.
Michelle told The People: "Ever since Mum started getting those calls, she's turned into a different person – it's like she's being brainwashed.
"My usually happy, chatty mum suddenly regresses into a timid child when she is on the phone to Rose.
"She speaks in a squeaky voice, goes very quiet with long pauses and just gives Yes and No answers.
"And when she gets off the phone she's quiet for days."
Michelle added: "After a few drinks one night, Mum admitted she's scared of Rose and feels she has to talk to her and that there is no escape.
"It's like Rose still has this power and control over her even after all this time – and it has caused a huge rift between us."
Read the full interview HERE
Photo: Michelle West
Now, having never been sexually abused as a child, and having read quite a bit about Fred West, I suppose Anne Marie's compulsion to speak to her step mother when she rings could be a legacy of the horrific abuse that she was subjected too.
I mean, Rose West ain't never getting out so really Anne Marie – who is only 10 years Roses junior – has no reason to be afraid of her or even speak to her on the phone, if doing so unnerves her so badly.
So apart from what I have just said above in regard to Anne Marie's fear being a legacy of the abuse she suffered, the only other possible explanation for her to be so afraid of Rose is if  Anne Marie knows about the bigger, much more powerful and dangerous players in the Cromwell Street nightmare, who are still at large and ready to pounce should Anne Marie, get 'difficult'.
Having said that, the fact that Drew and West hail from the same region, and look so alike is no doubt just coincidence… But worthy of a mention all the same.
Which leads me nicely to Harriet Harman.
"What is the old paedophile up to now Spiv?"
Oh, ello Voice of Reason. She isn't up to much as far as I know… Then again, she never was up to much was she.
J'geddit Voice?
"Yes, yes. It was about as funny as a fart in a spacesuit Spiv… Get on with it ya baldy bastard".
Charming, as ever I see Voice!
If ya must know , its not Harry H whose making headlines in the press, its her not so famous Gay husband, come whipping boy that is in the news.
"Jack Dromey Spiv"?
Well, yes as it happens. Do you know him?
"No, never heard of the poof". 
Fair enough. Then I shall start at the beginning.
In September of this year, Jack 'off' Dromey added to his favourites list on Twitter, a link to a gay porn website.
This is what the Chimp said on the matter:
At the time, the then shadow housing minister dismissed it as a mistake as he and Mrs Harman had been exploring romantic breaks in Paris.
According to the Guido Fawkes political gossip website, Mr Dromey said he had accidentally stumbled on the gay porn website – which featured a character called 'Paris'.
Now, when I read that I was immediately reminded (there is a lot of it about today it seems) of  'the shamed MP' sketches from the 'Little Britain'  TV show.
In these sketches, David Walliams plays a politician, stood at the foot of his driveway with his long suffering wife and kids in tow, whilst trying to explain away to the press, a compromising position of a homosexual nature that he'd been caught up in.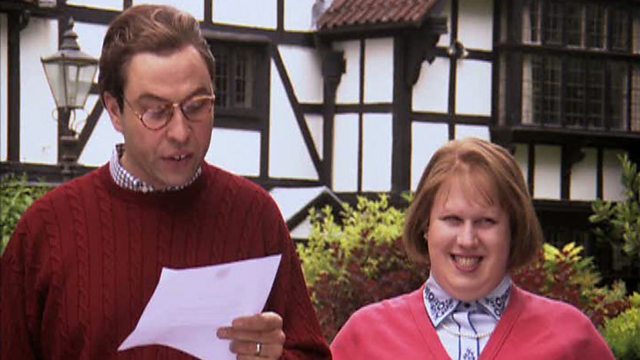 Now obviously, mistakes happen… But never twice when it comes to mistakes like that.
Unless of course, your name is Jack Dromey.
The following is from the Chimp:
Labour frontbencher Jack Dromey was left red-faced after it emerged he added a Twitter link to a gay porn website to his list of 'favourites'.
The shadow policing minister – who is married to Labour deputy leader, Harriet Harman – linked to a tweet about well-endowed black men.
The link showed a picture of two men engaged in a sex act.
This was the second occasion on which Mr Dromey's finger had strayed on Twitter. Back in September, Mr Dromey also favourited a link to a Tweet on a similar theme. Read More
Course, it doesn't hurt to remind yourself about Harry Harman's vile character once you have finished laughing at her husband Jack's jack off junket.
You can do so by clicking  HERE
Moving on.
I was pleased to see the press gave Karin Ward a chance to reply following Freddie Starr's announcement that he intends to sue her following her accusing him of groping her when she was 14 or 15:
A woman who faces being taken to court by Freddie Starr over her claim that  he groped her said yesterday: 'Sue me – I haven't  got any money.'
Karin Ward, whose testimony was pivotal in exposing Jimmy Savile, is facing a High Court defamation claim for £300,000 because she also accused comedian Starr of groping her.
The 55-year-old – who has been recovering from cancer – says Starr molested her when she was a schoolgirl in Jimmy Savile's dressing room in 1974.
Yesterday a furious Miss Ward said she would repeat her claims on oath – and that even if he won, she had nothing worth taking.
 'He can sue me, take everything I haven't got – that's fine, I couldn't care less,' she told  the Daily Mail. 'What can he do  to me? My house is rented, my car is worth £25.
'What's he going to do – have me declared bankrupt?'
The mother of seven last year spoke on camera in the ITV documentary that brought Savile's abuse to public attention.
She also claimed on the programme that Starr had 'wandering hands' and had groped her in the dressing room of Savile's Clunk Click TV show when she was 15.
I have nothing more to add to what I said about Starr in my article 'Drop dead Fred', so I will just reaffirm my feelings towards him… Cunt.
Okay, I suppose now is as good a time as any to do 'News of the Jews'.
Are we all sitting comfortably in our bullet proof vests?
Good, then I shall begin.
I see that Israel are going to stop issuing birth certificates to foreign immigrants.
Not quite sure how that works since it is your birth certificate that creates your legal fiction person.
The Guardian article that I sourced the information from is however a bit vague but it would seem that some sort of registering does take place.
A sort of registering without the receipt if you like.
It all sounds like a bit of a con to me, with the intention being to dehumanise as well as cheat these immigrants out of their birth right.
In fact there is half a clue testament to the fact in the first couple of sentences of the article:
Israel is to stop issuing birth certificates to babies born to foreigners – a move targeted at migrants but will also encompass diplomats and other international workers. The absence of official documentation is likely to cause major problems when applying for passports and other identity papers.
See what I mean? "Stop issuing" are the all important two words in that segment, meaning "stop issuing" as in to stop giving out.
The registration still takes place, you just don't get a copy or any of the entitlements that go with it.
The whole article does in fact have the feel of something that you would have read in Nazi Germany in the mid to late 1930's.
Course, you would have thought that a nation due to receive a Billion Dollars from Germany, paid in instalments between 2014 and 2017  by way of recompense for the Holocaust would be the last nation on earth to persecute others.
You can read the full article by clicking HERE
Swiftly moving on.
Now, try and imagine that one of your loved ones had been locked up in prison since 2002 but never been charged with anything.
This is exactly the situation that Shaker Aamer finds himself in.
Now, to me, it doesn't matter what religion you are or even what the colour of your skin is. If a man is not going to be charged with a crime then he should be allowed his freedom… No ifs, no buts. Charge him or let him go.
So, as far as the  case of Shaker Aamer goes, it absolutely fucking stinks:
"Tell the world the truth… please, we are tired. Either you leave us to die in peace – or either tell the world the truth. Open up the place. Let the world come and visit. Let the world hear what's happening."
These are the harrowing and desperate words of a man who have been locked in Guantanamo Bay since 2002, without any formal charges brought against him, having been cleared for transfer out of the facility twice, classified as a non-threat by the authorities and all despite Prime Minister David Cameron and the UK Government requesting his release in June this year. No matter how hard you think your circumstances are right now, at least you have your freedom – something that has been taken away from Shaker Aamer and his family.
You can watch the video by clicking HERE
Okay, I think you have enough food for thought there, So I will fuck off over to the Boston Bollocks part 2 article.
No rest for the wicked.
Byyyyeeeeeeeeeeeeeee.