May 8 2014
The Daily Chimpanzee
I had only just released yesterdays article on this latest Madeleine McCann old fanny when the Chimp started muddying the waters further.
You see, after the weekends influx of articles about this 'dig' in Portugal – the majority of which stated that it was the British Odd Bod Plod Squad who were carrying it out  although they were only allowed to watch – the Chimp, having been one of the nationals to report that fact have now reported further and in doing so have made out that the plod being spectators is news to them:
British and Portuguese police already at odds over Madeleine McCann search as it emerges that Scotland Yard detectives can only watch their counterparts dig despite covering huge cost
Makes little sense does it?

Especially since it is clearly stated that:The digs are not thought to necessarily be in connection with a search for the youngster's body or remains  

In which case, what the fuck are they digging for?
Moreover, The Chimp is now stating that:
While Met detectives instigated the new searches and will cover the huge costs involved, the work is controlled by the Portuguese. 
There are even concerns that the Met may be banned from 'witnessing' the digs.
So what we have in effect is 6 defectives on holiday, including Head Prat Andy Deadwood – all 6 looking like right fucking dickheads arriving at their destination airport wearing their sunday best suits – flying over to Portugal to maybe, maybe not, watch a dig taking place, that the British taxpayer are paying for at vast cost and which isn't even necessarily in connection with looking for Madeleine McCanns remains… Okay.
I am absolutely lost for words.
Indeed, to say that this shit stinks to high fucking heaven is an understatement.
Now, in yesterday's article I stated that I thought that some kind of stitch up was taking place amidst this old fanny.
I had reached that conclusion by the sudden keenness of the British MSM to report on made up old fanny about the dead, heroin addict, who Scotland Yard allegedly had down last year as being one of the many suspects who were favorite for kidnapping Madeleine.

Indeed, the article is also keen to portray the real suspects in Madeleine's disappearance – namely the McCanns – as being god fearing, upstanding citizens who have been dealt a cruel blow in life.
I mean, the fucking old Chimp fanny mentions the church where the McCanns went to pray in Portugal at least 4 fucking times.
And in an attempt to brainwash people – whilst at the same time reaffirming the couples strong faith in god – the report also has the McCann's thanking the public for their "unstinting support" at a prayer service on the seventh anniversary of Madeleine's disappearance.
Dog give me fucking strength.
I mean, the McCann's must be aware that they have in fact now lost the support of the public… Or at least the majority of the public.
However, the biggest clue that there is about to be a stitch up taking place is the fact that South African businessman Stephen Birch has been served with court papers from the Portuguese judiciary, stating their intent to prosecute him for trespassing on the Murat property in June/July 2012.
This trespass charge obviously relates back to when Stephen entered the Murat property in the early hours of the morning to gather evidence in his quest to prove that Madeleine is buried under a hastily constructed driveway located in the property's backyard.
Now, I can confirm to you that I have in my possession copies of the original documents served on Stephen as well as copies of the translation.
Therefore, as far as I can see, the only point in now serving Stephen with these papers is to stop him from entering Portugal again whilst at the same time deterring anybody from doing the same as he did… Thus, the Murat's backyard has now become a 'no go' zone.
And again, that shit fucking stinks to high fucking heaven.
Especially when you think that last year Stephen was invited by a Portuguese newspaper to enter into negotiations at the behest of Murat with a view to digging up his driveway.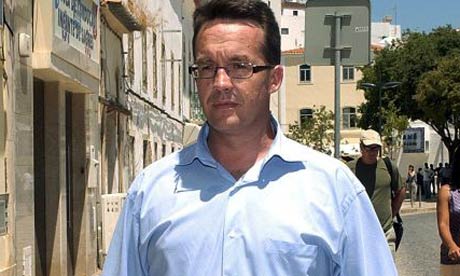 Photo: Robert Murat
However, after seeing the terms of the deal put forward by Murat, it quickly became obvious to me that this was nothing more than a cynical attempt to divert attention away from the McCanns libel action against the original lead detective in the Portuguese investigation, Goncalo Amaral… A person whom I believe to be in general, a good man who has been used as a scapegoat to scupper the investigation.
So, we all owe it to Madeleine to put a stop to this circus.
Therefore, I will end this article by reprinting the latter part of my article 'Come and play circus games'.
You can find the two Chimp articles that I have referenced from in the above by clicking Here and Here
You can also read how Stephen Birch came about his theory by reading my exclusive article 'Digging for Madeleine'
Okay, this reprint starts off with an interview conducted with an unrepentant Goncalo Amaral in January 2014.
Unsurprisingly, the libel trial that the McCanns launched against Amaral and subsequently sought to halt, has still not resumed.
Be aware, the interview has been translated from Portuguese into English:
The man who led the investigation after Maddie's disappearance breaks his silence in an interview with Dagbladet, just hours before battling the McCann's in court.
Photo: Gonçalo Amaral (54) is the man Gerry and Kate McCann, Maddie's parents, do everything they can to stop.
"I am financially ruined and my name and honor is blackened. And I have not done anything wrong," said Amaral to Dagbladet.
Immediately though she was kidnapped
He is one of the main characters in the story that has engaged a whole world. Little Madeleine McCann, then three-years-old, disappeared sometime between nine and ten o'clock on May 3, 2007. As her parents were drinking and dining close by, Madeleine and her younger twin siblings were sleeping alone in the family's holiday apartment in Praia de Luz.
"She died in her parents flat that evening on May 3, 2007. I am not saying her parents killed her. But they have a responsibility for her disappearance," said Gonçalo Amaral.
Now, the McCann's demand £1m in compensation from the man who led the first investigation after their daughter vanished. He is now facing trial in Lisbon.
Amaral still claims that the evidence, observations and the way the parents reacted to their daughter's disappearance, points towards the parents.
Dagbladet met Amaral for an exclusive interview just hours before the trial against him starts in Lisbon. Outside, the rain was pouring down.
"My initial thought was that she had woken up, left the flat to look for her mum and dad. It was not natural to think that something criminal had happened. Children get lost. But the weird thing was that her parents never entered that thought – they immediately said that she had been kidnapped," Amaral said.
He spoke, visibly engaged, about the case that changed his life.
Hard to accept
The conflict between Amaral and the McCann's sparked massive news coverage in the British media. Gerry and Kate McCann have received millions in compensation and have had many journalists and newspapers apologise for their coverage of Maddie's disappearance.
The trial against Amaral started when he published his book, «Maddie: A verdade de mentira» («The Truth of the Lie»), where he meant that the suspicion should be pointed at the McCann's.
The book broke all the records and was translated into eight languages, before Gerry and Kate McCann had it stopped by Portuguese court. They claim the book violated their honor and their search for Madeleine. The Supreme Court in Portugal dismissed the case, and the the book went back on the shelves.
Madeleine McCann's parents then sued Amaral based on his claims in the book. It is now up to the Portuguese court. The claims are sky high and – as the McCann's asked – Amaral's assets are frozen until he has been given his verdict.
"That is why I am living from hand to mouth. I can't dispose the money from my book sale. I work a little as a legal adviser for a firm but I am only getting enough money to survive. I live in my dad's flat in Portugal. It is hard to accept that I have to live that way just because I did my job," said Amaral.
Are you nervous of the outcome of this case?
Amaral shrugged.
"No, I feel safe that the verdict is going to be fair. Everything I wrote in the book can be found in the police documents. The Supreme Court believed me. I am happy that good – not rich – friends have supported me financially so that I could hire a lawyer," he said.
Too much politics
The retired policeman lost 20-30 kilos and said he has had a rough time since being taken off the case. Many people reacted with fury when he called Gerry and Kate in for questioning – as suspects.
Amaral said that he, without a warning, got a telefax saying he was being transferred to other assignments within the police. Amaral claimed Portugal's Prime Minister informed his British colleague Gordon Brown even before he was notified himself.
By then he had already warned against political pressure from the English government, he told Dagbladet.
"This case has involved too much politics and too little police," Amaral said.
Shortly after, the case was dismissed. But the search for Maddie is still engaging the whole of Europe, and many claim to know what happened to the girl.
"The McCann's were very pleased that the case was dismissed," Amaral claims.
The Scotland Yard believes that burglars might have taken Madeleine?
"Of course we considered that. Burglars go after money and valuables. There were no signs of an intrusion. The apartment was in good order – everything was where it should have been. Can thieves really have been frightened by a three-year-old – and taken her with them? Nothing at all suggests that. We put away that theory early on, and it is just sad that is back on the table," said Amaral.
The case is about money and celebs
Kate and Gerry McCann have since their daughters disappearance kept their profile in the media, and still speak of their hope of being reunited with Madeleine.
Influential people in England, such as Virgin-billionaire Richard Branson, are behind the McCann's. Large sums have been donated to The Madeleine Fund, which provide economical support for the McCann's.
"Everything should be about what happened to Madeleine. The case's core has shifted and is now about money, celebrities and politics. It has become an industry – an absurd theatre," Amaral told Dagbladet.
Madeleine could still be alive?
"This is a flurry of rumours and theories surrounding this case. But there are no facts. I think the truth will come for a day. To get there, we have to go back to the McCann's and their dinner party that evening, May 3, 2007. More people have to talk. The McCann's refused to participate in a reconstruction. British police did not want to give the medical information that could have helped make a profile on the victim," Amaral claimed.
"Altogether, British police were not cooperative – they seemed more interested in making sure the McCann's were not arrested. Since the case started, the McCann's have involved private investigators who have been working in spite and against what we do. Our police is independent and have high integrity – we work in an independent country. Our mission has been to find an answer – we cannot think about who the McCann's are and who support them in England."
Did you do anything wrong in your investigation – do you have any regrets?
"Madeleine's mum and dad should have been suspects from a lot earlier on," the controversial investigator said.  Read More
Now, you can choose to believe the likes of the Daily Chimpanzee, and continue to think that Britain is the best cuntry in the world, where the newspapers never lie, the politicians strive to do their best for the population and Simon Cowell is a confirmed heterosexual.
Or you can get your fucking heads out of your fucking stinking arses and stop & smell the roses.
I certainly know who I believe, and it isn't the Bungling British Bobbies, and our warped Sniffenpissin MP's – that fact is for certain.
Okay, turning back now to just before the trial started last September, and that flurry of press activity that preceded it.
Now, you may or may not have noticed that I neglected to mention an important turn around of events that also occurred whilst this hive of press activity was happening, – although the UK's MSM would not have dared mention it anyway.
I am of course referring to Robert Murat's apparent change of heart  to let the South African business man, Stephen Birch dig up his driveway under which he believes Madeleine McCann maybe buried in a shallow grave –  At vast  personal cost to Stephen, I hasten to add.
Never the less, I am not going to repeat in great detail the turn of events that led to Stephen reaching this belief.
If you don't know by now, then best you read my article Digging for Madeleine, which explains everything.
Having said that, a little refresher wouldn't go amiss:
Since Madeleine (Maddie) disappeared six years ago, various leads worldwide have been followed up to try and find her.
Now 14 months after Stephen Birch (56) believes he found her grave, the Cape Town businessman will be given the opportunity to solve the mystery.
Birch believes the British girl, who was three years old, is buried 130 meters from where she went missing in the coastal town of Praia da Luz.
The Portuguese daily newspaper Correio da Manha has for the past eight months tried several times, to obtain permission from Robert Murat to ascertain if Maddie is buried in his property as alleged by Birch.
Murat was initially the police's main suspect, but no evidence could be found that could link him to Maddie's disappearance. Later he won a civil claim amounting to millions of Euro's against the media.
Correio da Manha let Birch know this past week that Murat had agreed to the excavation and negotiations with his lawyer. Murat apparently wants several thousand Euros for any damage that may be caused.
Rapport newspaper reported in June last year that Birch claimed he illegally entered the property of Murat's aged mother in Praia da Luz on the Algarve region.
Birch apparently took scans of the ground in the property. He states that the scans show an object like a child or animal on a secluded portion of the property. Photo's in Birch's possession show that police never did excavations in that section at the time.
Birch has continued with an online campaign since making the allegations. It is aimed at the British and Portuguese government, and Maddie's parents, in the hope that his findings will be investigated.
Kate McCann, Maddie's mother then on a British TV program asked sarcastically: "Who is Stephen Birch actually?" Read More
And it is there in that last sentence, that Ms Healy demonstrates exactly why droves of people are now becoming more and more suspicious of her and her husband… At a right old rate of knots too, I should also add.
So much so in fact, that many British MSM newspapers will no longer allow comments on McCann articles for fear of abuse left below the pathetic, patronising, sycophantic bullshit that they seem to take turns in churning out on an almost daily basis in order to try and keep the McCann band wagon rolling along on all four wheels.
You see Ms Healy, Stephen Birch is the man who has put forward an extremely more credible hypothesis for where your daughter is than the Defective, Deadwood Clowns have put forward in three fucking years of sitting on their useless fucking fat arses, twiddling their stubby fucking thumbs and making up twelve fucking million quids worth of fairy tales worthy of anything that Hans Christian fucking Anderson could come up with.
But no! You and your psychopathic, Freemason husband are not interested in following up on the findings of the man who has spent in excess of £50 Grand of his own money – not to mention the countless hours – and whom you should be thanking for the rest of your fucking lives for trying to find your poor, lost THREE YEAR OLD DAUGHTER … That Kate McCann, is who Stephen Birch is.
No stone left unturned REMEMBER?
Yet instead of doing the right thing, you would both rather spend the fucking money, very kindly donated by a hard up British public, going on wild fucking Goose-chases that a 10 year old wouldn't be fucking daft enough to follow.
So fuck you, fuck your husband and fuck your fucking hugely expensive legal entourage… They don't scare me and I will not be silenced.
Photo: Stephen Birch – since when did initiative deserve derision?
Now, I know that Stephen has come in for a lot of stick over the past year and a half, which I also know for a fucking fact, has at times got to him.
Course, a lot of that abuse has been brought about by his own naivety… And I know that Stephen wont take that as me criticising him because (A) I'm not, and (B) I have told him as much.
You see, Stephen is much more adept at dealing with businessmen and making property deals in his South African homeland than he is at boosting his public image over here in England, whilst at the same time attempting to garner our support on a subject that I can promise you is an absolute fucking minefield – even for us seasoned writers who are born and bred here.
I can also tell you that you only need to put one foot wrong and the whole fucking lot can blow up in your face.
On top of that, the man is South African, although I try not to hold that against him… Only joking… Probably.
What I really mean by that is, Madeleine McCann is an English girl from England and Stephen cannot possibly gauge the depth of emotion running rampant throughout the cuntry in regard to this missing little girl when he doesn't even live here.
Neither can Stephen think like an Englishman any more than I can think like a South African.
Moreover, as an Englishman I can get away with criticising the English – where as any foreigner doing so, will just get an Englishman's back up… Regardless of whether or not that criticism is justified.
And then there are the McCann paid trolls of course, who pounce en-masse at the slightest hint of an anti-McCann comment.
Course, if you are not used to the brain-dead, sycophantic, lumps of dog shit, they will appear to be ordinary, albeit irate members of the public who simply want to rip your fucking head off.
So, unless you are used to the half witted, buck toothed, dribbling arse clinkers… Or you have a Dogman, Wolfie, AUN and a Fuck The State who occasionally hang a troll out to dry, they can be pretty intimidating.
However, having said that, it doesn't matter if you love the fella – and plenty do, including me – or you fucking hate him because like I say; he has a more credible theory on where young Madeleine is than 37 fucking Clowns, sat drinking tea and wasting twelve million pounds of tax payers money, can come up with in the past 3 years or so.
And for that reason alone, every single person who genuinely wants that poor little soul found should give Stephen their full backing because at the moment the odds are that Madeleine McCann is being left to rot away in an unmarked grave as if she is fucking nothing, and that makes my fucking blood boil.
And anyone who doesn't back the man, to my way of thinking, would rather that poor little girl was never found.
Therefore, the shear fucking  fact that the McCanns, their powerful, vastly wealthy entourage of friends & supporters, Defective Deadwood & his 37 clowns, the transvestite Terry May, and the Portuguese authorities, all shy away from investigating Stephens claim… Given the weight of credible evidence verified by independent expert witnesses and taking into account the sites close proximity to the McCann's holiday apartment, coupled with the simplicity, low cost and lack of time needed to carry out the task.
Indeed, the fact that Murat's drive wasn't dug up a year and a half ago suggests to me, a fear of Madeleine being found and a major fucking cover up to stop that from ever happening.
And trust me on this, every single one of those lying bastards knows exactly who Stephen Birch is, exactly what his evidence is and exactly how the British MSM are BANNED from touching the fucking story – whilst elsewhere in the world, some 255 foreign newspapers have already published what our government are scared to fucking death of you finding out about.
Furthermore, ask yourself these two simple questions:
Who stands to lose money, face and reputation by probing the drive?
And, who on paper is in a win, win situation by probing the drive, regardless of whether that tragic little girl lies buried there or not?
So, what you all want to do once you figure out the answers, is get yourself over to Stephen's, Madeleine McCann Facebook page and give him your full support.
The page already has nigh on 50,000 'likes' but is woefully lacking in support from Britain – the very country that he needs backing from to have any real chance of forcing the police to take action and dig up the Murat drive.
You can find that Facebook page by clicking  HERE
Now, as I said earlier, just prior to the libel trial Murat appeared to have a change of heart and agreed to let Stephen dig up the drive – for a hefty price of course.
And at the time, I wrote on here and told Stephen over the phone that I thought it was just a lot of old fanny, specifically timed to portray the McCanns in a good light prior to their libel trial beginning.
Unfortunately, at this moment in time I appear to have been right.
Now,I can tell you that the deal was being brokered by Portugal's best selling newspaper Correio da Manhã, albeit the media company's CEO will no doubt have the right fucking hump that I have.
Furthermore, just as I had anticipated, the terms were so unreasonable that Stephen had no choice but to pull out of the negotiations.
In fact, the only thing in Stephens favour was that Murat had agreed not to prosecute him for trespassing on his property in 2012.
After all, it was that very real threat that had prevented the South African Property Developer from returning to Portugal:
by José Manuel Oliveira 
Robert Murat may sue the South African businessman Stephen Birch for trespassing on private property after the latter publicly assumed that he had entered in the garden of Murat's house in Praia da Luz, near Lagos, whenever Robert went out, in order to inspect the terrain with a georadar through which Birch claims to have located the place where the cadaver of Madeleine McCann, who disappeared in May 2007, is hidden.
"We are looking at what was said, analysing the statements that were made and then I will have a meeting with my client so we can make a decision. Suing is a situation to consider, it remains an open hypothesis", said Francisco Pagarete, Robert Murat's lawyer to DN.
The Anglo-Portuguese citizen, and former real estate agent ended up being constituted asarguido with Declaration of Identity and Residence [Termo de Identidade e Residência]1, just like Maddie's parents were, on suspicion of involvement in the disappearance of the British child, following the investigations of the Judiciary Police, which included at the time excavations in parts of Murat's garden, where nothing was found.
Meanwhile, other lawyers guaranteed to DN that if the lawsuit now being considered does take place, "at most, in the worst case scenario" the South African "could be punished with the obligation of having to pay a fine of four hundred euro for the invasion of a private property".
"This is a complicated process, in which the individual, who now states that he has entered the garden to try to find out where the supposed body of Maddie is, could, later on, deny that version. And to be able to punish that man, Murat would have to prove what he did. On the other hand, while living in South Africa he would only have to come to Portugal to present himself in a court2 if he wished to do so", argued one of the lawyers heard by DN, adding that there are several examples similar to this case. 
Diário de Notícias, July 7, 2012, paper edition
Legal Reference
1. Termo de Identidade e Residência (TIR) – The arguido (formal suspect) is subject to a regular presence before the authorities to confirm with the relevant documents their identity as well as their present residence at that time.
2. The Portuguese Republic and the Republic of South Africa do not have a bilateral extradition agreement, though an agreement of mutual police cooperation exists since 2002. Source
Now, like I said a little while back, by publishing the terms being offered to Stephen for him to excavate the Murat driveway, I am going to piss  Correio da Manhã off big time.
However, once you have read them, I think that  you will see why the newspaper wanted to keep the terms secret… Just sayin:
Dear Mr. Stephen Birch,
On behalf of Mr. Octávio Ribeiro, my editor in chief, I'm replying to the request you send to Correio da Manhã in order to facilitate a deal to dig up Robert Murat's driveway.
We propose the following: 
a) You'll transfer 50.000€ to Correio da Manhã, that will act as mediator with Mr. Murat's lawyer and make sure that the same amount get to an account indicated by him;
b) This amount will not only give you and your team access to the driveway in Mr. Murat's property, but will also allow an excavation. Besides this, Mr. Murat's will give up of any charges against you by trespassing and defamation;
c) Correio da Manhã and CMTV (Correio da Manhã TV channel) will have all the exclusives of covering the excavations and of interviews with you and your staff, as well as the exclusive of a big interview indoor, in our studios. All the copyright of the images are for Correio da Manhã, exception made for South Africa, because it's your country and you can explore them as you want;
d) If the remains of Madeleine McCann are under the driveway Correio da Manhã will pay you back the 50.000€;
e) Correio da Manhã doesn't cover any costs of travel and accommodation for you and your team;
f) If the remains of Madeleine McCann are not under the driveway the 50.000€ will not be returned to you;
g) We think these conditions are very good to serve your purposes and, therefore, are not negotiable. If your answer is positive, we'll ask our lawyers to draft a proper contract;
h) This mail is highly classified, and must remain always in that condition, now, during and after the process.
Best regards
SHE'S A FUCKING CHILD YOU MORONS, NOT A FUCKING CASH COW… Or at least she should not be.
Sometimes, this world makes me fucking sick. Just when the fuck did it all go wrong?
And more to the point, where does it end?
Certainly, writing this article has been one of the hardest that I've written to date.
I have in fact found myself quickly flitting between anger, and bewilderment, disbelief and frustration and just about any other combination of the four.
Certainly, the jokes were hollow. The reality being that there is fuck all to laugh about.
At nine days short of her fourth birthday, Madeleine Beth McCann became a commodity, exploited and let down by the British & Portuguese governments, The British & Portuguese police forces, the Portuguese law courts, the British & Portuguese media, the Tapas 9, the spineless British population and Gerry & Kate McCann.
And as I now bring this article to an end, I just feel very, very down.
RIP Madeleine x
 Oh, and one more thing, the evil cunt in the above photo needs that sneer slapping of his fucking mooey… Just sayin'.