May 28 2014
The Daily Chimpanzee
Its all about getting shut of us and turning the world over to them.
"What you talking about Spiv"?
Hi Voicey… I'm talking about the One Percenters wanting to get rid of us because the world is to overpopulated.
And then they will tell those of us who are left that we don't need big places to live. We can have all the mod-cons we need in a place the size of a fucking shed.
Meanwhile, the rich, useless fat cunts can live on estates thousands and thousands of square miles in size, possibly promoted as being wildlife sanctuaries or such like to start of with – but that would just be propaganda.
You see, they want the world for themselves.
It is in fact not over the top to say that the Chimp has at least one article per week telling us about some marvellous place or another that is the size of a shoebox.
And occasionally one of these articles will even be about a house somewhere around 6 ft wide and selling for 30 grazillion pounds thus duping their dopey readers into thinking that even the stinking rich are living in tiny houses:
One bedroom house just SIX FOOT wide with no indoor toilet on market for £77,000
Tiny property in Colchester, Essex, is just 6ft 3in wide at its smallest

One bedroom home has no indoor toilet despite £77,000 price tag

Narrowly misses out on title of UK's smallest home – which goes to 10ft tall, 6ft wide property in Conwg, Wales
A six-foot wide house which doesn't even have room for an indoor bathroom has gone on the market for a sizable £77,000.

The tiny property, thought to be one of Britain's smallest, has one bedroom, a living room, a small kitchenette and a landing.
But there's no room for an indoor toilet – and instead, it is located in a shed at the bottom of the garden.
That story was from the 25th of March 2014.
And then there is this one from May last year:
Is this London's narrowest home? Makeshift wooden house just 6 feet wide pops up sandwiched between two terraces
Neighbours in Manor Road, Leyton, say house appeared there a month ago

It fills a gap between two houses that used to house a decrepit shed

Waltham Forest Council says it will be torn down if no planning permission

At barely a couple of metres wide, this ramshackle home looks like a contender for the title of narrowest house in Britain.
It sprung up in between two more solidly constructed houses in Leyton, east London, a month ago, leaving locals wondering who was behind it.
Now Waltham Forest Council is investigating the house, which is believed not to have planning permission, and is expected to order it to be torn down imminently.
Not expensive or posh enough for you?
Try this one from a couple of days ago
Is this London's narrowest home: at 99 inches wide?
An impressively narrow house has been snapped up in a matter of days. The home, in Denmark Hill in south-east London, was built on what was once a thin strip of garden at the side of someone else's home. It's a skinny 99 inches wide (or 8 1/4 feet), offering marginally more than 450 square feet – priced at a fairly hefty £450,000.
Still, hardly expensive enough to convince the fuckwits that the elites are having to live in boxes too though.
No worry's, a quick google search brought this up from 2009:
Thin house for someone with a fat wallet: Property 6ft wide on sale for £550,000
By DAILY MAIL REPORTER
UPDATED: 20:55, 8 December 2009
There really is no room to swing a cat but this two-bedroom house just 66 inches wide is set to sell for more than half a million pounds.
The property in Shepherd's Bush, west London, on the market for £549,950, has been described as one of the skinniest houses in Britain.
And estate agents are using that feature as its selling point.
It must be worth a lot more now!
Course, whatever its worth now, you just know it will have fuck all on American real estate:
New York's narrowest house offered at $4.3 million
Skinny townhouse, less than 9 feet wide inside, was home to Edna St. Vincent Millay, Margaret Mead, Cary Grant and John Barrymore.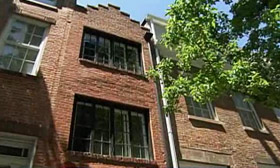 The skinniest house in Manhattan is for sale for $4.3 million, a hefty price tag for a building that's only 9.5 feet wide.
The four-story townhouse has a recreation room in the basement, three bedrooms and two baths, in a total of 990 square feet, plus an expansive shared backyard. Inside, it's just under 8.5 feet wide on the first two floors and just under 7.5 feet wide on the top two floors.
And those are just stories that I picked up without really trying.
You may also have noticed the link in the story above giving you "5 simple ways to make your home feel bigger".
Course, you won't be surprised to learn that isn't the only propaganda link contained within that article.
There is in fact two more, the first being: "How to call the broom closet home".
And the second being: "Small homes, big appeal".
However, today the monkey cunts have excelled themselves with three – count them, 1, 2, 3 – stories about wonderful tiny homes, small yet large enough to swing a cat… Albeit if you tried you would smash the cats skull to smithereens on all four walls.
The first story carries the headline and starts thus:
Build your own 'Hobbit hole' for £1,000: Couple's elaborate Lord of the Rings-style cottages, playhouses and chicken coops
A small part of Thorndike, Maine has been turned into the Shire, thanks to a company that's manufacturing real-life Hobbit holes.

Rocy and Melissa Pillsbury run Wooden Wonders, a company that makes Lord of the Rings-style buildings to be used as playhouses, storage sheds, saunas, adult-sized cottages and chicken coops.

For those who haven't read J.R.R. Tolkien's books, Hobbit holes are the underground homes main characters Frodo and Bilbo Baggins live in when they're not on their own adventures. Continue Reading
Impressive… Not!
The second story begins with the headline:
Home sweet home! Girl, 14, builds herself a tiny $10,000 house as tribute to her late father
Building a house from scratch, even a tiny one, is not for the faint of heart, but 14-year-old Sicily Kolbeck has proven she has what it takes to see her passion project through against overwhelming odds.
Kolbeck, from Marietta, Georgia, started work on her diminutive dwelling, lovingly dubbed La Petite Maison, when she was 12.
At the time, the girl was searching for an outside-the-box idea for a school project when she stumbled upon a sizable online community of DIY builders specializing in downsized homes.   Continue Reading
Sentimentality to boot.
The tiny $22,500 home that even comes with its own garden: Entrepreneurs start making 96-square-foot mini house after huge demand for prototype
It has just 96 square feet of space, but this tiny homes claims to offer everything the modern apartment hunter could need – including a garden.
Called the Salsa Box, the mini home is made by Oregon-based Shelter Wise, and costs $22,500.
It has a living roof, and a fold-down window box to grow herbs and vegetables.  Continue Reading
You see, despite Clever Trevors excellent statistics such as: The worlds population is realistically so small that we could all live in a family home (with a garden) in an area the size of Texas – The Elite scumbags will still insist that if we don't all live in sheds and we carry on knocking babies out at the rate that we are… Well, we are just going to have to eat ourselves or fucking starve.
Now I don't know about you, but the only problem that I have with the elites wanting the world for themselves is that I don't want them to have it.
Come to think of it. I don't even want to share it with them.
Lets go hang the no good, parasitic, fat cunt nonces.
Will overpopulation drive us to eat our own DEAD? Controversial academic claims humanity is moving towards cannibalism at 'ridiculous speed'
Stanford professor Paul Ehrlich predicts population increases will lead to food crisis
Says we will have to address if it is 'okay to eat the bodies of your dead because we're all so hungry'
A controversial Stanford professor has claimed overpopulation could lead to humanity having to eat the bodies of the dead.
Paul Ehrlich, best known for his prediction of human 'oblivion' 46 years ago, says that current population trends are on a course that could leave cannibalism as one of the only options.
Ehrlich claimed that scarcity of resources will get so bad that humans will need to drastically change our eating habits and agriculture.
Ehrlich claimed that scarcity of resources will get so bad that humans will need to drastically change our eating habits and agriculture – and even consider eating the dead.
IS LAB-GROWN MEAT THE ANSWER?

Researchers are developing new ways to grow meat in the lab.
Last year, Mark Post, a professor of tissue engineering at Maastricht University, the Netherlands, presented the first lab-grown hamburger.
To great the burger, stem cells are cultivated in a nutrient broth, allowing them to proliferate 30-fold.
Next they are combined with an elastic collagen and attached to Velcro 'anchor points' in a culture dish.
Between the anchor points, the cells self-organise into chunks of muscle.
Electrical stimulation is then used to make the muscle strips contract and 'bulk up' – the laboratory equivalent of working out in a gym.
Finally thousands of beef strips are minced up, together with 200 pieces of lab-grown animal fat, and moulded into a patty.
Ehrlich claimed that scarcity of resources will get so bad that humans will need to drastically change our eating habits and agriculture.
'We will soon be asking is it perfectly okay to eat the bodies of your dead because we're all so hungry?,' he told HuffPost live host Josh Zepps.
He added that humanity is 'moving in that direction with a ridiculous speed.
'In other words between now and 45 years from now, 2.5 billion people will be added to the planet.
'We are moving towards resource wars.
Ehrlich is widely known for his 1968 publication of 'The Population Bomb' which called for 'population control' to prevent global crises from overpopulation.
'In the 1970's the world will undergo famines – hundreds of millions of people are going to starve to death,' he predicted.
'our children will inherit a totally different world, a world in which the standards, politics, and economics of the 1960's are dead.'
Population crisis: Between now and 45 years from now, 2.5 billion people will be added to the planet, Ehrlich claims
Ehrlich claims that the dangers of overpopulation are once again growing, blaming Republicans and the media for failing to take action.
'We all have to eat, and it's very destructive.
The ethical issues around the way we raise cattle are important, but relatively trivial compared to the wrecking of our life support systems.
'I can much more about people, because I'm a person.'
In his new book, called 'Hope On Earth,' Ehrlich worked with Michael Tobias.
'There's a tremendous amount of optimism in the book,' said Tobais.
'I really think we have  a capacity to come to the aid of individuals.'
Tobias believes that young investors could hold the key to solving the problem, by investing in technologies to solve the problem.
Read more: http://www.dailymail.co.uk/sciencetech/article-2636845/Will-overpopulation-drive-CANNIBALISM-Controversial-academic-claims-humanity-moving-issue-ridiculous-speed.html#ixzz32zM0Z400
Follow us: @MailOnline on Twitter | DailyMail on Facebook