From Hell
Sunday World with thanks to Mark/ The Guardian

Fuck me! Cynthia Owens parents were on a par with Fred and Rose West.
'PAEDO MONSTERS'
We expose evil ring which victim Cynthia Owens claims abused children in posh Dublin suburb
THESE are the surviving members of an alleged paedophile ring which, it is claimed, operated in the Dublin suburb of Dalkey.
Six of the alleged ring are still alive and living in communities, but we cannot identify them for legal reasons.
Of the six we photographed this week, one is working directly with children. Another works as a gardener, while the other two masquerade as respectable pensioners.
A further member of the 'ring' is a taxi driver who regularly ferries children in his car and the last is a former council worker and avid church goer.
All are accused of buying children for ritualistic sex that allegedly occurred in a number of properties in the Dalkey area over a prolonged period of time.
All have denied the allegations made by Cynthia Owen to gardai five years ago, after members of the force contacted her solicitor and asked her to give further statements about abuse she suffered as a child.
Booze
She had already given extensive statements in 1995 about a horrific catalogue of rape and abuse she underwent at her family home – in 4 White's Villas in Dalkey – where her father Peter Murphy Snr and brothers, Peter Jnr and John Joe O'Neill, both allegedly assaulted her regularly.
She agreed to return to Ireland ten years later to give the further information about how her parents sold her to the paedophile ring, following a request from gardai.
Then she detailed how her father, Peter Snr, and mother, Josephine Murphy, sold her to the men for drink and money. She has also claimed she was forced to call to their homes after the monthly rapes to collect booze and food for her mother.
The six surviving members of the ring were all questioned by gardai after the statements were made but no files have been prepared for the DPP and all have strenuously denied the allegations.
It is understood that Cynthia Owens' legal team has serious concerns about the way the investigation has been handled.
She, herself, has written to the Garda Commissioner about a senior member of the force who she says is a long-time friend of a number of the men she has accused.
Five out of the six women who grew up in the Dalkey House of Horrors have all told gardai they were abused, or knew about the abuse going on in the family home. One of Cynthia's sisters, Theresa, committed suicide in 2005, leaving an extensive note detailing
how she and two brothers were regularly raped by sick Peter Snr.
Another brother, Martin, hung himself ten years before, saying he couldn't face the shame of what was going to come out about what went on behind the closed doors of his childhood home.
It is not known how many of the other children may have been sold to the alleged ring, many of whom befriended Peter Snr, an alcoholic and regular drinker around the pubs in the town.
He allegedly offered up the children for booze for himself and his wife Josephine, who in 1973 stabbed a newborn baby to death at the house.
The baby girl, later named Noleen, was born healthy to her then 11-year-old daughter Cynthia in a bedroom in the house.
Dumped
The child was dumped in a laneway in nearby Dun Laoghaire and remained the subject of an unsolved murder for over 20 years until Cynthia, after years of therapy and psychological help, decided to tell gardai what had happened to her.
An extensive Sunday World investigation into the case has this week tracked down the ring members, who she claims raped her during bizarre rituals when her parents had drugged her and plied her with alcohol.
One of the men, speaking to the Sunday World this week, said he had no idea why he was questioned by gardai about his involvement in it.
"That girl must have got the wrong man. There was a man near here with a similar sounding name and he was about my age. He
is dead now. She must have got us mixed up," he claimed.
He also claimed that he had received a letter from An Garda Siochana saying that he was no longer needed in connection with their investigation into the allegations, but refused to show it to us when asked.
Earlier, the Sunday World approached the man Cynthia claims headed up the ring, and who she says threatened to kill her if she ever told anyone about the abuse.
He is currently working with children and is a businessman.
When approached he refused to talk to our team but said: "I'm not talking to you now. I'm not talking at this stage. It was long ago."
Last night, Cynthia Owens' solicitor Gerry Dunne repeated his call for a Cold-Case investigation into the garda handling of the probe.
Dunne says his request to meet with Justice Minister Dermot Ahern, about his concerns over the investigation, has been repeatedly turned down and he was recently told no serious review of the case was warranted, when he wrote to the Garda Commissioner Fachtna Murphy on the matter.
The Cold Case Unit, headed by Detective Superintendent Christy Mangan, is expert in reviewing old cases and making recommendations on them.
Among a long list of questions that remain unanswered in the case are;
why the hold-all bag containing the dead infant and a number of other items contained within it went missing?
why the body of the baby was buried within five days of being discovered in 1973?
And why the investigation into her murder was shelved, unsolved, in a matter of weeks?
In her book, Living with Evil, Cynthia describes a shadowy figure of authority who worked with her mother to remove the murdered, newborn girl from the family home in the dead of night and dump her where she would be easily discovered in a nearby laneway.
Cynthia Owen: 'My mother was evil'
Cynthia Owen grew up in Ireland, the child of two alcoholics. At eight, she was raped by her father. When she had his baby, aged 11, her mother killed it and dumped the body in another town. She talks about how she has coped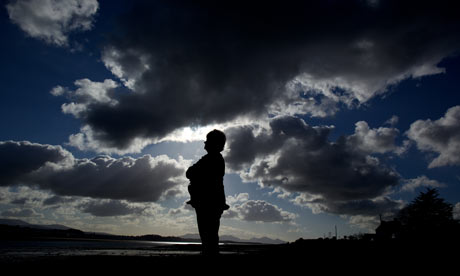 Cynthia Owen: 'My parents died free – they got away with it.' Photograph: Christopher Thomond
As soon as she started writing a book about her life, Cynthia Owen made her husband and son promise that they would never read it. "Otherwise, I could never have written it," she says. "I grew up in hell and I didn't want to take these two people, who I love so dearly, back to hell with me."
Owen's story begins in the seaside town of Dalkey, south of Dublin, where she was born one of nine children. Both her parents were alcoholics, and although they weren't poverty stricken, most of the familyincome was spent on drink. One day, when Owen was about eight, her mother told her to start sleeping in the marital bed. That night when her father came back from the pub, Owen claims he climbed in beside her and raped her. This continued night after night, often with her mother sleeping in a single bed in the same room, until Owen, aged 11, discovered that the "butterflies" in her stomach was actually her father's child. "A lot of people must have known I was pregnant," she says, "but nobody helped."
Owen's waters broke one night during the Easter holidays of 1973 and she gave birth to a baby girl. She alleges that, after removing the placenta, her mother picked up the infant and stabbed her with a knitting needle (more than 40 times the inquest later heard). When she was certain the baby was dead, says Owen, her mother put it in a laundry bag and crept out into the night, dragging Cynthia – now delirious – with her, and hid it in a lane in the nearby town of Dun Laoghaire.
The bag was found the next day by two boys, and the "Dun Laoghaire baby" story was headline news. "I remember seeing it on television a couple of days after I had given birth," says Owen. "It was a programme similar to Crimewatch and they were calling for the mother to come forward. I remember sitting there feeling really angry because I was tired and distressed and hurt and I was thinking, 'Why do I have to come forward? Why don't you just come and get me?'" An investigation was launched but closed six weeks later, and the case became another famous unsolved murder.
The following years were a nightmare for Owen. The abuse continued. She says she got pregnant again at 15 and gave birth prematurely to a stillborn baby. She began drinking heavily. "My mother was evil," says Owen. "I also think she was mentally ill. She would pit all of us children against each other and single some out as her favourites. She decided I was the baddest all. I think it's because I used to question why she had 60 cigarettes a day while we went without socks and toothbrushes. Also, I was the only child that looked like her. I had her red hair and green eyes, while all the other children were dark. I don't know if that was some kind of trigger."
It wasn't until her early 20s that Owen finally managed to escape by boarding a ferry to England. The turning point came two years later when she met Simon, the man she is married to today. "If it hadn't been for him, I wouldn't be where I am now," she says. "Everything is because of him. He made me feel safe. And the more secure I became, the less I stopped running away from it all."
By now, Owen was suffering from post-traumatic stress, nightmares and flashbacks. On the anniversary of her baby's death, everything would come rushing back and it seemed to be getting worse at time went on. "I suffered really badly from survivor's guilt. I never got to hold my daughter, I never got to name her and I didn't get to bury her. I didn't even know where she was. That was a big thing. I wanted to find her and make peace with her. I was tortured by it."
Simon tried to persuade her to go to the police. Finally, one night in April 1995, she picked up the phone and dialled Dun Laoghaire police station, to say that she was the mother of the unidentified baby found 22 years before. "The moment I did that I lost what was left of my family," says Owen. "It ripped our family apart. I've had to raise my son with no family history, nothing behind him. It was like I woke up one day and I was an orphan."
And so began a 15-year fight to bring about some sort of justice. Owen was desperate to be officially recognised as the mother of her baby so that she could name her and perhaps find some peace of mind. In 2005, she succeeded in getting an inquest opened, which unanimously concluded that the baby was indeed hers. "When they made the announcement I just broke down and I sobbed and I sobbed and I sobbed."
Owen named the baby Noleen. She also persuaded the police to show her where they had buried her body. "I got very upset when I finally saw the grave because it was just a piece of barren ground with nothing to mark it," she says. "But at the same time it was as if the weight of 100 years had lifted off me. I had finally found her. I was upset, obviously, but the most dominant feeling I had was, 'I've done it, I've found her.' I put some flowers down and said to her, 'Don't worry, I'm going to get them,' and I went back to the police car, stumbling and crying and I opened the door and I said, 'Take me to see those bastards. I'm ready for them now.'"
Owen attempted to bring the case against her parents to the prosecuting authorities seven times, but each time it came back citing lack of evidence. The story was followed closely by the Irish press and Owen's family home became dubbed the "Dalkey house of horrors". Then, around the time of the inquest, both of her parents died in quick succession. "I wouldn't say that they died before I got justice," says Owen, "because I think if they had lived for another 10 years I still wouldn't have got justice. They died free. They got away with it."
For Owen, the book she has written is her redress. "I decided to write it when it became apparent that I wasn't going to get justice," she says. "I said to myself, if this never gets to trial then the book will be my day in court, my trial and my voice."
She also wrote it, she says, to give a voice to other victims of abuse, including some members of her family. Her brother Michael confessed that he too had been sexually abused, as did her younger brother Martin, who killed himself when he was 27. And her niece Theresa, who was brought up as a sister, also committed suicide at the age of 33 leaving behind a 35-page suicide note detailing her abuse. "Shortly before she died, Theresa rang my father and he burst out laughing at her – cackling just the way he used to do when he abused her. It sent her over the edge. She just couldn't handle it. All their lives were snuffed out really young. They just couldn't live with the torture, they just they weren't strong enough. It absolutely devastated me."
The legal fallout continues. Only last month it was reported in the Irish Times that Owen's sister Catherine had won a High Court settlement in which the coroner acknowledged that the inquest verdict did not implicate her in any wrongdoing whatsoever.
Ask how she managed to survive all this and Owen says it's a combination of meeting her husband Simon, years of therapy and her belief in God. "Not the Catholic God I was brought up with – that is not a very forgiving faith. I believe in a God that is full of love and compassion and who doesn't believe in negativity."
Owen is now 48 and has been signed off work for the rest of her life. She lives in a small cul-de-sac in the north of England. The neighbours are all elderly and while Owen will wave to them in the street, she has chosen not to befriend them. "We chose to take a step back," she says. It's the anonymity they crave.
Unlike many victims of abuse, Owen has managed to break the cycle. She has a 22-year-old son who has been brought up in a safe, loving environment. Even so, she says, they have all been affected. "My husband and son live with the abuse every day. My son had to grow up with a mother who has been crippled with depression and trauma. He's seen me crying, upset and distressed. He's suffered a lot."
Now that the book is out, Owen wants it to be all over. She wants to stop talking about it and get on with her life. "I ask myself every day, why am I still sane, why haven't I turned to alcohol or drugs? How come I'm still here? But I am. I'm not completely crushed. I wouldn't ever allow them to do that to me."
Living with Evil by Cynthia Owen is published by Headline books, £12.99