Jan 14 2014
Christopher Spivey
Do you remember when the McCann/Amaral libel trial FINALLY started last September only to be adjourned yet again?
You do?
Oh good… Can you remind me about it then?
Only joking… Although the pantomime has started and stopped that many times, no one could blame me for needing reminding.
Moreover, the  8'D' British MSM – Degenerate, Disgraceful, Disgusting, Dishonest & Disreputable Distributors of Deliberate Disinformation – have used the trials many adjournments, along with the passage of time to rewrite the facts surrounding the libel action.
Therefore, all I can say is thank fuck I'm here to set the record straight.
However, before I do,I should just mention as a courtesy, that much of the following information on the trial dates is sourced from newspaper articles via links taken from the hugely informative website:  http://www.mccannfiles.com
Okay, lets do this.
The libel trial was instigated by Gerald McCann & his Wife Kate Healy against Goncalo Amaral, a now retired former detective inspector with the Portuguese PJ.
Amaral, who was originally primarily in charge of investigating the disappearance of Madeleine McCann, wrote a book in 2008 entitled The Truth Of The Lie in which he categorically stated that: "They [the McCann's] know that Madeleine is dead and that there were no abductors." 
However, the above is just one of many events in the Madeleine McCann circus that the British MSM have now knowingly, quite deliberately altered the facts about for the sole purpose of aiding  & protecting the McCanns.
You see, whenever Goncalo Amaral name is now mentioned in the British press, it will invariably be followed with him being described as something along the lines of; "the disgraced detective thrown off the Madeleine investigation after publicly criticising British police involved in the case" – as evidenced in the Daily Express on the 4th of January 2014.
In doing so, the British National Press break the first and most important rule set out by the Press Complaints Commission, which clearly states:
1. Accuracy
i) The Press must take care not to publish inaccurate, misleading or distorted information, including pictures.
ii) A significant inaccuracy, misleading statement or distortion once recognised must be corrected, promptly and with due prominence, and – where appropriate – an apology published. In cases involving the Commission, prominence should be agreed with the PCC in advance.
iii) The Press, whilst free to be partisan, must distinguish clearly between comment, conjecture and fact.
iv) A publication must report fairly and accurately the outcome of an action for defamation to which it has been a party, unless an agreed settlement states otherwise, or an agreed statement is published.
Indeed, you would however have thought that the Express would have known better, being as they were amongst a number of British newspapers successfully sued for Libel by Robert Murat – The Portuguese PJ's original suspect in the investigation:
ROBERT Murat, an official suspect in the Madeleine McCann case, is to receive damages of more than half a million pounds from UK newspapers over allegations he was involved in the three-year-old's disappearance.
He sued for libel and has now settled his claim in a deal that will also result in him receiving an apology, his spokesman said yesterday.
Mr Murat, a British expat, was questioned by police after the disappearance of three-year-old Madeleine, who vanished from an apartment in the Algarve, Portugal, in May last year. He denied any involvement in her disappearance.
His case against the media was due to be heard tomorrow, but he has reached a settlement for about 550,000.
In April, Mr Murat's lawyers, Simons Muirhead and Burton, revealed they were pursuing 11 leading British newspapers and Sky TV over allegedly libellous reports. In their statement they named the Sun, Daily Express, Sunday Express, Daily Star, Daily Mail, London Evening Standard, Metro, Daily Mirror, Sunday Mirror, News of the World and The Scotsman.
The Scotsman has already apologised to Mr Murat and paid his legal costs for that part of his complaint.  Read More
Now, since Robert Murat's name continually crops up throughout this article, I guess I best give you a bit of background information about him: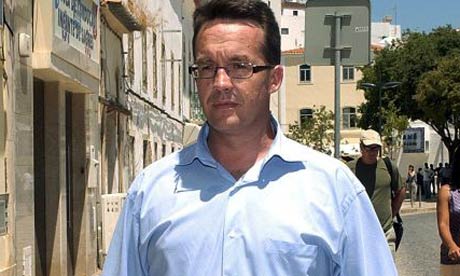 PHOTO: Robert Murat
Robert Murat has struggled to work, seen details of his personal life aired in public and endured speculation that he could have been involved in a crime that has shocked the world – something he strenuously denies.
Portuguese detectives took the 34-year-old property consultant in for questioning just 11 days after Madeleine went missing.
As officers searched the villa just 150 yards from the McCanns' holiday apartment he shared with his mother, Jenny, journalists uncovered details about the man under interview.
Murat was born in Hammersmith, west London, in November 1973 to a Portuguese father and a British mother, and went to school in Portugal before moving back to Britain as a young man.
He held a number of different jobs, including working as a car salesman in Norwich and at a Bernard Matthews poultry farm in Norfolk.
At Christmas 1993, aged 19, Murat met Dawn, a woman eight years his senior whom he went on to marry in March 2001.
After settling in the village of Hockering, Norfolk, the couple had a daughter called Sofia in October 2002.
In 2005, they moved to live with Murat's mother in Praia da Luz, in southern Portugal.
But Dawn Murat – who also had a grown-up son from a previous relationship – grew homesick and returned home to England. That was a prelude to the breakdown of their marriage later that year.
Murat stayed in the Algarve, working in property and as a translator, but regularly returned to Norfolk to see his daughter.
Neighbours in Hockering spoke of a good-natured and generous man who was liked by everyone.
Geoffrey Livock, 71, said: "He would rather help than hinder anyone. He got on with everybody.
"He used to come to the pub and have a laugh and joke and have a game of darts or pool.
"His English was very good. If you were talking to him you would think he was more English than Portuguese. I didn't know anyone to dislike him."
In the days after Madeleine's disappearance on May 3 2007, Murat was frequently seen around the police cordon in front of the McCanns' flat in the Ocean Club complex.
He told reporters and locals he was helping the family and Portuguese police by translating witness statements.
Murat also said he had a daughter the same age as the missing girl who looked just like her – which proved to be true.
Jenny Murat was involved in the early days of the search for Madeleine, organising a stall on the seafront to appeal for information.
One British journalist became suspicious about Murat and went to Portuguese police, the British embassy and Leicestershire police with her concerns.
Whether prompted by the British reporter's tip-off or their own suspicions, Portuguese detectives swooped on Murat on May 14.
Search teams scoured his mother's comfortable villa, named Casa Liliana, while officers interrogated him at the police station in Portimao, about 15 miles from Praia da Luz.
At the same time, police interviewed two other people, Murat's German girlfriend Michaela Walczuch, and her estranged Portuguese husband, Luis Antonio.
On May 15, detectives announced that Murat had been made an "arguido", or formal suspect, in the case. Friends said the weeks and months that followed were agonising for Murat.
He adamantly protested his innocence, insisting he was at home with his mother all evening when Madeleine disappeared.
But he was barred from speaking publicly in his own defence by Portugal's strict "secrecy of justice" laws.
In August, police spent two days carrying out a second search of Casa Liliana but apparently found nothing of interest.
Then, in a dramatic twist, the police investigation appeared to shift focus onto Madeleine's parents, Kate and Gerry McCann, who were themselves made arguidos on September 7. Read More
Okay, now there can be little doubt that the McCanns are being protected by the British Establishment.
I mean, Madeleine was discovered missing by Kate McCann on May the 3rd 2007 at sometime between  9.50pm and 10.00pm.
Yet by close of play on May the 4th, the McCann's had an entourage in place, the likes of which has never been seen before for parents whose child has gone missing.
Clarence Mitchell, the then Head of the 40-strong Central Office of Information Media Monitoring Unit, at the heart of the government's 'spin machine', is appointed by the government to control publicity on the McCann case. He flies out to Praia da Luz later in May. Before doing so, he boasts in a TV interview that it was he who spoke to Archbishop Cormac Murphy O'Connor and got him to arrange an audience for the McCanns with the Pope in Rome. Source
However, that is just half of the story, and for more eyebrow raising information on the subject I strongly suggest that you visit the source page.
Yet, despite 'Team McCann' now being in place, everything was still apparently all fine with Amaral's handling of the case… That is, up until the McCann's were made prime suspects.
Tellingly, up until that point, the McCann's had vowed to stay in Portugal up until the time that their daughter was found – dead or alive:
After Amaral and his team investigated the case for four months, they were driven to the conclusion that Madeleine had died in the McCanns' apartment, and that the parents must have hidden her body. His men took both Dr Gerald McCann and Dr Kate McCann in for questioning on 7 and 8 September 2007. They were not, however, arrested. Two days later, on 10 September, the McCanns returned to England.   Source
And that is when Amarals troubles began.
You see, just 22 days later, the highly qualified detective was shabbily removed from the case via a fax stating that he was being returned to other duties 'for the efficiency of the service'.
But it gets better… It always gets better don't cha know:
Two hours before he was removed from office, Gordon Brown, British Prime Minister, was informed of this, thus arousing further suspicion that Mr Amaral's removal was political. A few days before his removal, Mr Amaral had made reference in off-the-record remarks to a journalist that there had been active interference in his investigation by the British government. Source
So, safe to say then that the McCanns protection starts at the very top.
And in saying that, I am not even referring to Gordon 'paedo' Brown.
I am of course refering to Dobby Big Ears, AKA the Clown Prince, AKA Prince Charles:
SEPTEMBER 30th 2007  
Prince Charles is involved in a dramatic intervention in the Madeleine McCann case according to today's News of the World.
An anonymous e-mail sent to the prince's official website says the three-year-old Madeleine was kidnapped from the Mark Warner Ocean Club holiday resort in Portugal by a disgruntled ex-employee.
The informant named a maid who was sacked from the apartment complex in Praia da Luz and claimed she snatched the child in a revenge plot.  
Source
Now, why would someone send a suspects name to the Potty Prince?
Surely you would send a suspects name to the police? … Or maybe thats just me.
PHOTO: Nuff said
Course, had that been Big Ears only involvement in the case, then I wouldn't have even mentioned it… But its not.
You see, there are literally dozens of references linking Dobby to the case, not least the following tit-bit taken from this website:
By the time Mitchell arrived in Portugal three weeks after Madeleine's disappearance, Gerry needed assurances from the Establishment that he was being taken seriously. To this end, Prince Charles and Camilla made a press release that came out of Clarence House on May 27, 2007. They were giving their full support. The single sentence press release said
"The Prince of Wales and Duchess of Cornwall said they had been following the case of missing Madeleine McCann "closely and with deep concern" and "fervently hoped" she would be reunited with her family." Another indication of Royal influence came from McCann in his blog when he wrote "The rest of us attended mass which was very emotional as a priest from RAF Lossiemouth was visiting and further prayers were said for Madeleine."
RAF Lossiemouth in Scotland is a significant location for Prince Charles having been flown there as a boy when he attended school at Gordonstoun which is just a mile from the military base.
Photo: A knowing look from the Poke
June was when the McCanns did the bulk of their Grand European Tour and a plethora of Sirs and Lords appeared on the scene. Sir Richard Branson, Sir Philip Green, Sir Tom Hunter, Sir Christopher Meyer, Lord Stevens and not forgetting that Lord Tim Bell had already given his support the previous month. The connection between these people is that they were all endorsed by the Royal Family. They were knighted by the Queen. While the credentials of these people were discussed on the Internet, everyone overlooked the fact that the benefactors had all been honoured by the Royal Family. Source
Do you know what?  The number of times that Philip Greens name crops up in connection with sleaze, never ceases to amaze me.
In fact, it was only last month that I was questioning his relationship with the extremely suspect Simon Cowell.
You can read all about the dubious Greeny by clicking  HERE
On the other hand, I am never amazed at the number of times that the Royal Nonce Ponce, in-breds name crops up in suspect cases.
So, with all these powerful people looking after them, its no real surprise that the British MSM never attack the McCanns?
Neither do they ask any awkward questions.
Mind you, there would be no point since Kate healy doesn't answer the fucking things anyway.
I am of course referring to those 48 out of 49 questions that she refused to answer after being pulled in for questioning by the Portuguese police:
During eleven hours of interrogation, Kate McCann refused to answer 48 specific questions.
Madeleine's mother, who was legally represented in the interview, stayed silent as police threw a series of loaded questions at her that made clear they thought she was involved in her daughter's disappearance.
She answered only once – when accused of harming the hunt for Madeleine by her silence.
THE QUESTION SHE DID ANSWER
Q.  Are you aware that in not answering the questions you are jeopardising the investigation, which seeks to discover what happened to your daughter?
A.  'Yes, if that's what the investigation thinks.'
These are the questions she refused to answer : But why?
1. On May 3 2007, around 22:00, when you entered the apartment, what did you see? What did you do? Where did you look? What did you touch?
2.  Did you search inside the bedroom wardrobe? (she replied that she wouldn't answer)
3. (shown 2 photographs of her bedroom wardrobe) Can you describe its contents?
4.  Why had the curtain behind the sofa in front of the side window (whose photo was shown to her) been tampered with? Did somebody go behind that sofa?
5. How long did your search of the apartment take after you detected your daughter Madeleine's disappearance?
6. Why did you say from the start that Madeleine had been abducted?
7. Assuming Madeleine had been abducted, why did you leave the twins home alone to go to the 'Tapas' and raise the alarm? Because the supposed abductor could still be in the apartment.
8. Why didn't you ask the twins, at that moment, what had happened to their sister or why didn't you ask them later on?
9. When you raised the alarm at the 'Tapas' what exactly did you say and what were your exact words?
10. What happened after you raised the alarm in the 'Tapas'?
11. Why did you go and warn your friends instead of shouting from the verandah?
12. Who contacted the authorities?
13.  Who took place in the searches?
14.  Did anyone outside of the group learn of Madeleine's disappearance in those following minutes?
15. Did any neighbour offer you help after the disappearance?
16. What does 'we let her down' mean?
17.  Did Jane tell you that night that she'd seen a man with a child?
18.  How were the authorities contacted and which police force was alerted?
19. During the searches, with the police already there, where did you search for Maddie, how and in what way?
20. Why did the twins not wake up during that search or when they were taken upstairs?
21. Who did you phone after the occurrence?
22. Did you call Sky News?
23. Did you know the danger of calling the media, because it could influence the abductor?
24. Did you ask for a priest?
25. By what means did you divulge Madeleine's features, by photographs or by any other means?
26. Is it true that during the searches you remained seated on Maddie's bed without moving?
27. What was your behaviour that night?
28. Did you manage to sleep?
29. Before travelling to Portugal did you make any comment about a foreboding or a bad feeling?
30. What was Madeleine's behaviour like?
31. Did Maddie suffer from any illness or take any medication?
32. What was Madeleine's relationship like with her brother and sister?
33. What was Madeleine's relationship like with her brother and sister, friends and school mates?
34. As for your professional life, in how many and which hospitals have you worked?
35. What is your medical specialty?
36. Have you ever done shift work in any emergency services or other services?
37. Did you work every day?
38. At a certain point you stopped working, why?
39. Are the twins difficult to get to sleep? Are they restless and does that cause you uneasiness?
40.  Is it true that sometimes you despaired with your children's behaviour and that left you feeling very uneasy?
41. Is it true that in England you even considered handing over Madeleine's custody to a relative?
42. In England, did you medicate your children? What type of medication?
43.   In the case files you were SHOWN CANINE forensic testing films, where you can see them marking due to detection of the scent of human corpse and blood traces, also human, and only human, as well as all the comments of the technician in charge of them. After watching and after the marking of the scent of corpse in your bedroom beside the wardrobe and behind the sofa, pushed up against the sofa wall, did you say you couldn't explain any more than you already had?
44.   When the sniffer dog also marked human blood behind the sofa, did you say you couldn't explain any more than you already had?
45.  When the sniffer dog marked the scent of corpse coming from the vehicle you hired a month after the disappearance, did you say you couldn't explain any more than you already had?
46.  When human blood was marked in the boot of the vehicle, did you say you couldn't explain any more than you already had?
47.   When confronted with the results of Maddie's DNA, whose analysis was carried out in a British laboratory, collected from behind the sofa and the boot of the vehicle, did you say you couldn't explain any more than you already had?
48.   Did you have any responsibility or intervention in your daughter's disappearance?
A QUESTION SHE DID ANSWER
Q.  Are you aware that in not answering the questions you are jeopardising the investigation, which seeks to discover what happened to your daughter?
A.  'Yes, if that's what the investigation thinks.'
Now, one could argue that Ms Healy was being deliberately obstructive there, whereas I would have thought that any mother worth her salt would do anything in her power to aid the police in their search for her missing 3 year old.
Moreover, it's fair to say that if any other mother of a missing toddler had refused to answer all but one of the 49 questions like those put to Kate by the Portuguese Police, the press would have crucified them.
But like I say, that kind of suspect behaviour is never even hinted at in our 8'D' British press.
Instead, they are ordered to blame the lack of progress in finding Madeleine on the "bungled" Portuguese investigation… When in fact, the investigation wasn't bungled at all.
Late in 2011 an alleged, credible source in British intelligence communicated information that would seem to finally explain why the McCanns were given assistance from the highest echelons of the Establishment.
For almost five years, followers of the Madeleine McCann mystery have debated back and forth wondering why the British Establishment stepped in to assist the Tapas 9 in a way never seen before. There have been many missing British children. There have been missing British children abroad. Many Brits have found themselves in legal pickles abroad but they have never had the red carpet treatment. Not, that is, until the McCann Roadshow came along.
A vast array of former policemen spoke of the McCanns' innocence without having full knowledge of the circumstances. Murdoch owned newspapers like the Sun and the News of the World fawned over Kate and Gerry. Private planes were brought in to ferry the McCanns around like they were superstars. Gerry was nominated for "Scot of the Year" and both he and his wife were on first name terms with two successive British Prime Ministers.
None of it made sense.
When the police file became public in the summer of 2008 we learned that the Portuguese Police were far from the bungling Keystone Cops they were made out to be. They were diligent, thorough, and they were hampered because of an interfering British Government. Evidence was withheld from the Portuguese. A semen sample suddenly turned into a saliva sample after the British Forensic Science Service looked at it. The samples were, in turn, destroyed by the FSS so the investigators have no chance of a second opinion. The McCanns' financial and medical details were withheld by British government intervention. Bombshell testimony implicating Gerry McCann and David Payne as potential paedophiles was deliberately withheld from Portugal for about five months.
The investigation was never botched by Portugal. Moreover, it was an investigation that was controlled and steered in one direction from day one by the British Establishment. This has never been in doubt as the Portuguese confirmed the presence of MI6 throughout their enquiries in 2007 and 2008. Read More
PHOTO: Gerry McCann making his speech at the Police Bravery Awards attended by Prince Charles and Gordon Brown.
Now, don't forget, that the McCann's are not sufficiently powerful enough to control the British Media without the backing of those aforementioned extremely powerful people.
Yet despite all of  the favourable press they receive, it is indeed still true to say that many, many members of the general public are now beginning to suspect that the couple are not as innocent as they are made out to be.
It would in fact seem, that the more suspicion the McCanns come under from the notoriously gullible British public, the more the clueless British establishment tries to shore up the fairy tale via the media… It just isn't working though, and has only led to all manner of old bollox being trotted out in the press.
Moreover, the old bollox is so far fetched that instead of constantly scrutinising Goncalo Amaral's performance, what the Press should in fact be doing is scrutinising the Clown heading  the cash cow that is Operation Grange – the Metropolitan Police white wash masquerading as a review/investigation into young Madeleine's disappearance.
The clown in question is Detective Chief Inspector Andy Redwood, the man responsible for fucking up the Jill Dando murder investigation which led to innocent Barry George being sent to prison for life.
But you won't read anything in the MSM that blames Defective Inspector Andy Deadwood for turning that investigation into a monumental fuck up.
After all, they are – as I say – far too busy calling Goncalo Amaral names to cast dispersions on Defective Deadwoods non to dazzling track record:
Words used to describe Amaral in the British media have included: 'disgraced', 'boozy', 'fat', 'lazy', 'incompetent'. He has been described as 'sardine-munching'. He was accused of having 'long, liquid lunches'. He and his team were accused of being 'worse than the Keystone Cops'. 
The attack on him, especially in the British tabloids, has been relentless. It was encouraged, of course, by the McCanns and their advisers, notably ex-government media adviser Clarence Mitchell, who have accused him of deliberately putting them in the frame when, they say, there was not one jot of evidence that they were in any way involved with the disappearance of Madeleine McCann.  Source
Deadwood does have a point there in that photo.
I mean, the fella comes out with the most improbable scenarios surrounding Madeleine's disappearance, seemingly on an almost weekly basis and even appears to work over fucking time whenever "Gerry & Kate" are having a hard time.
Think I'm exaggerating?
Here is what The Anorak had to say in an article written in April 2012:
Madeleine McCann: distorting the facts with Detective Chief Inspector Andy Redwood
MADELEINE McCANN: She is alive. Fact. Well sort of.
The Metropolitan Police have issued a photo of Madeleine McCann at age 9. Only, it's not an actual photo. It's a guesstimate likeness created by an artist. The Met either have no idea what happen to Madeleine McCann, or have an idea but want to use the upcoming fifth anniversary of her disappearance to support their endeavours at solving the mystery.
The tabloid press all lead with this picture of Our Maddie:
The Sun (front page): "Maddie age 9 – Image show her now"
Fact! This is her now.
Daily Mirror (front page): "NEW HOPE FOR MADELEINE – Then & Now"
Fact!
Daily Star (front page): "Amazing Pic To Help Find Missing Girl"
It's an artist's impression. Last week the Star produced one of its own.
Daily Express (front page): "MADDIE: SHE IS ALIVE"
Fact!
Daily Mail (front page): "Is This How Maddie Looks Now?
The answer is EXCLUSIVE to all papers: We have no idea.
The Express adds to the facts by saying that Scotland Yard have found "195 news leads". They haven't. As the Met says in a statement:
"The intention is to identify from that material investigative opportunities which we will then present to the Portuguese authorities who retain primacy for the investigation. Officers have so far identified around 195 such opportunities within the historic material, and are also developing what they believe to be genuinely new material."
They have found 195 things of interest amid the existing files. The Portuguese police may well have already considered them.
Detective Chief Inspector Andy Redwood, of Scotland Yard's homicide and serious crime command actually said that officers are "developing material which we believe represents genuinely new material".
As for the fact that Madeleine McCann is alive, Commander Simon Foy says:
"Most significantly, the message we want to bring to you is that, on the evidence, there is a possibility that she is alive and we desperately need your help today to appeal directly to the public for information to support our investigation."
Nothing has changed.
The Guardian:

 "Madeleine McCann could be living with abductor, says Scotland Yard"
Detective Chief Inspector Andy Redwood said: "We genuinely believe there's a possibility that she is alive. I want to make a direct appeal. If you know where Madeleine McCann is or if you have any direct information or evidence about what happened to her, then please make contact."
As for the headline about the child living with a kidnapper:
There are examples of children who have been abducted only to be found alive years later: Jaycee Lee Dugard was found alive 18 years after being snatched at the age of 11 from a bus stop in California; the Austrian schoolgirl Natascha Kampusch was found in 2006, eight years after being abducted aged 10; and Shawn Hornbeck, who disappeared aged 12 in 2002, was found four years later.
We hear from Jim Gamble, former head of the UK's Child Exploitation and Online Protection unit:
"The person who's done it knows they have done it."
The Guardian does not see fit to add Redwood's other words:
"We are working on the basis of two possibilities here: one is that Madeleine is still alive; and the second that she is sadly dead.Our drive on both scenarios is in equal measure."
They [police] are convinced the missing youngster can now be found safe and well.
 Back in the Guardian we are told:
He [Redwood] unequivocally dismissed the conspiracy theory – promoted by the original Portuguese lead detective Goncalo Amaral – that Madeleine's parents had anything to do with her disappearance. He said detectives believe Madeleine was abducted in "a criminal act by a stranger".
Much of the focus in the early stages of the investigation was on the people who were dining with the McCanns near their apartment on the night of the disappearance. DCI Redwood is working with another police review team in Porto – away from the scene of the abduction and headed by an experienced Portuguese detective – who also wants the case to be reopened.

The decision to restart the inquiry can only be taken by the Portuguese judiciary but the McCann family has been buoyed by a new centre-right coalition taking control, amid hopes that it could be more accommodating.
Madeleine is missing. There is no proof of what crime if any befell her. There are no suspects. If alive, Madeleine will turn 9 on May 12.
Such are the facts. Read More
We must be the fucking laughing stock of the world!
But it gets better.  It always gets better don't cha know.
You see, since that Anorak article was published, Defective Deadwood has had a further 20 months of defectiving to account for, in which the Mets 'breakthroughs' just got more and more bizarre.
For instance, in Feburary 2013, the shysters were sending DNA back and forth between England and New Zealand because Madeleine had definitely been found. Source
And then in May the Chimp reported the following:
Detectives working to find missing Madeleine McCann have given their counterparts in Portugal a new list of potential suspects and have urged them to investigate them
More than 20 new  suspects in the Madeleine McCann investigation have been identified  by British police.
Fuck knows how the cunts managed that since they were using the evidence gathered by the Portuguese PJ. Therefore, the suspects must have already been identified as suspects to warrant being in the Portuguese evidence in the first place… That isn't rocket science by any standards. Source
Laughably, the very next  day the Chimp elaborated on that story:
Police are said to be keen to trace six British cleaners who were working in Praia da Luz when Madeleine vanished and who didn't appear in the Portuguese files.
They are said to have used a white van and went from apartment to apartment offering their services, chiefly concentrating on expats. Source
Now, there you have another example of an out and out lie because at that stage Operation Gravy Train, or whatever the McCann PR stunt of an operation is called, was still only a review in May 2013 – as opposed to an investigation.
So, how the fuck the Defectives found out about the cleaners if they were not mentioned in the Portuguese evidence is way beyond me.
In fact, I would go as far as to say that the only cleaners involved in the McCann case are the ones that Scotland Yard are taking us to.
Never the less, when yet another article appeared for the third day running – increasing the number of newly identified suspects to an estimated total of around 30, an increase of ten in one day, and a fact that later appeared to be simply forgotten about – I couldn't help but take the right fucking piss… After all, they were doing the same and still are for that matter. So why the fuck shouldn't I?
And believe it or not, amongst those 10 new suspects was a middle aged couple who supposedly heard Madeleine crying and as such thought to themselves that they best steal her… Like ya do.
Not that the Met's poor adding up or the extremely far fetched middle aged couple scenario seemed to matter a jot to the MSM, who faithfully printed it all without question.
This prompted me to write the following:
Six years after Madeleine McCann disappeared the police have come up with 20 new suspects; 6 British cleaners who took a wrong turn at Dover and 6 shifty looking Portuguese labourers invisible to the naked eye. Six plus six equals twenty. I know that because the MSM says it does.
But wait!
 Our police force are so on the ball that they are now looking at around 30 new suspects after adding a middle aged couple to the twenty or so other dozen suspects from yesterday… Fuck me, I wish I was making this shit up.
Apparently, this new old couple heard Madeleine crying and thought, "Fuck me, there's a child crying in that apartment lets let ourselves in and comfort her"… WHAT? … It Happens a lot, I'll have you know.
Many a time when my Stacey was a little-un  I would hear her cry and walk into her bedroom to comfort her only to find that a random old couple had beaten me to it.
And for all those that doubt the police are conducting a thorough investigation, stick this in your pipe and smoke it:
The Old Bill have a theory that whoever kidnapped Maddy may have been watching her from an apartment. So, after two years of painstaking detective work, our doggedly, determined, defective, detectives have managed to narrow this theory down to four apartment blocks – the four blocks that surround the McCanns apartment… Brilliant Sherlock, quite fucking brilliant.
Who said our police force was thick as pig shit? 
Meanwhile, sources have told me that the police also have another suspect in mind. Apparently she is a lanky, black, stocky, Caucasian looking man who stands around 5ft 2 ins tall, is slight of build and of Oriental descent. Further more, police defectives have so far been able to narrow the search for this suspect down to 5 billion people.  Read More
Round of applause too, for the London Plod narrowing down the number of apartment blocks to just four which they suspect were being used to stalk the 3 year old child.
Two days on, and we were given a new e-fit photo of what Madeleine may… Or just as easily, may not look like now:
Have you seen me? asks the little girl in the poster. The youngster is Madeleine McCann; not the Madeleine we all remember, but Madeleine as she might look today as a ten-year-old. 
Her once-blonde hair is darker, the button nose has gone, along with those babyish chubby cheeks, and while the distinctive black 'flash' in her right eye — where her pupil runs into the iris — is still visible, it is not nearly so distinctive.
Behind this latest digitally created picture of Madeleine, now being circulated on the Continent, is renewed hope: that one day Madeleine's parents will find out what happened to her, and so end perhaps the most enduring and haunting mystery of modern times. 
Yep! there is nothing like guessing what a missing person looks like to give you renewed hope of finding them is there?.
Photo: The E-fit means that they should find her any day now then… Up to and including sometime never.
However, that new photo wasn't the end of the article since it goes on to remind us in detail of how badly bungled the Portuguese investigation was… Even though it was clearly head and shoulders above Operation Strange, or whatever the whitewashed cash cow is called:
That hope, if truth be told, had been all but extinguished, such were the shortcomings of the original Portuguese police investigation into Madeleine's disappearance on the Algarve a few days short of her fourth birthday in May 2007.
Only now, with the intervention of an elite team of detectives from Scotland Yard which has been carrying out a review of the case on David Cameron's orders, has evidence been properly accessed and analysed. It may be six years late, but at least this basic groundwork is finally being tackled.
Those shit cunts at the Chimp wouldn't know the truth if it jumped up and slapped them twenty one and a half times around the fucking chops whilst screaming "What's my name Mother Fucker, what's my name"… Just sayin'.
Did you also notice the way in which the Chimp makes out that the Met are the fucking Cavalry?
Substitute the words 'The Cavalry' for the words 'A proper bunch of totally inept, corrupt cunts' and you would possibly be getting somewhere close to the truth.
In fact, if Deadwood Redwood is what passes for Dead Good – see what I did there – then my cock is twice as long as Woolfie's three footer.
Never the less, as well as the photo E- guess, there was further exciting news about one of the make believe new suspects who doesn't fucking exist:
The 30-strong squad working on the inquiry — codenamed Operation Grange — has identified 20 potential suspects, among them several Britons, as the Mail reported last week.
But who are they?
One of the 20, the Mail has learned, was a notorious paedophile who kidnapped and murdered a five-year-old girl in his native Switzerland less than three months after Madeleine vanished from the Ocean Club resort in Praia da Luz.
Have you stopped laughing yet?
I fucking haven't!
In fact I probably won't for years to come having read that bit about the "30-strong squad working on the inquiry — codenamed Operation Grange ".
Codename?
Fucking codename?
And cue James Bond, why don't you ! … Or at the very least, Brooke Bond – who would be the Chimps version of James Bond.
Still, credit where credit is due, Paedo Pete sounds a bloody good find.
Hmmm, I wonder what makes the Brit Plod suspect him?
"Urs Hans Von Aesch murdered five year old Ylenia Lenhard from Appenzell in Switzerland  just months after the disappearance of Madeleine McCann Spiv".
Oh, hi Voice… Did ya get kicked in the bollocks? … Ha, ha, ha… Thats a good one, go me… J'Geddit? … Hi voice? … High Voice? … Kicked in the bollocks? … Fair enough, have it your own fucking way but I'm  wasted on you lot, I really am.
Never the less Voice, the useless corrupt lowlife coppers must have had more to go on than just that?
"Course they bleedin' did Spiv… They are professionals after all y'know".
Fair do's Voice. Please… Feel free to enlighten us.
"Well, what with The Chimp being connected anall,  it seems that they must have been tipped the wink that one of the twenty new suspects – whom incidentally had now gone down by ten in just two days – was a notorious paedophile called Urs Hans Von Aeschwho who had kidnapped and murdered a five-year-old girl named Ylenia Lenhard from Appenzellin which is in  Aeschwho's native Switzerland, less than three months after Madeleine vanished from the Ocean Club resort in Praia da Luz, Portugal".
Isn't that just a lengthier version of what you just said a moment ago voice?
"More or less spiv… Yes".
Please don't tell me that is why he was a suspect Voice!
"Yep".
Voice?
"Yes Spiv"?
Fuck off I'm busy.
Dreadfully sorry about that. Now, take my word for it when I tell you that you really don't want to miss out on reading the rest of that stomach churning old fanny which you can do so by clicking  HERE
Unfortunately, just six days after Paedo Petes name was made public, 'The Yard'  had another tip off, leaving Poor Paedo Pete nothing more than a distant memory… Well a 6 day old distant memory anyway:
A vital witness has revealed he saw a man wearing sunglasses lurking in a stairwell near Madeleine McCann's apartment 24 hours before she vanished.
Mario Fernando, 47, told Portuguese cops about the "weird" stranger lurking at the Ocean Club resort in Praia da Luz but has never been quizzed by British police or spoken publicly.
Now, six years after Madeleine disappeared, the laundryman has urged British detectives to speak to him. Source
OOOOH, get a load of this posh cunt witness given the honour of being "vital".
Shame then that we never heard no more about him after that… I suppose that could be because, despite Mr la di dah 'vital' urging the urchin plods to get in touch with him, they couldn't…  BECAUSE THEY WASN'T ALLOWED TO  BEING AS OPERATION GRANGE WAS A FUCKING REVIEW, NOT A FUCKING INVESTIGATION… Although it has since become one… Allegedly.
Think I'm wrong in what I say?
Try this… Oh and note the number of new suspects:
Portugal's top lawyer yesterday poured scorn on Scotland Yard's investigation into the disappearance of Madeleine McCann. 
Attorney General Joana Marques Vidal said officers from London had no right to operate in Portugal and cannot question, interview or arrest anyone.
Her comments are in stark contrast to the Metropolitan Police's upbeat announcement on Thursday of 'genuinely new' leads in the six-year-old case and that arrests could be made within weeks.
Detectives say they are preparing to swoop on 38 suspects – including 12 Britons – in Portugal and other parts of Europe.
Scotland Yard says it has asked the Crown Prosecution Service to submit an International Letter of Request to enable a team of officers to pursue inquiries in Portugal.
But Mrs Marques Vidal said she has received no British request for mutual legal assistance in an inquiry into the disappearance of Madeleine – meaning the Met has no right to pursue inquiries…
…  Portuguese detectives have condemned any deal between London and Lisbon as 'political b*******'.
One said: 'British police may be allowed to sit in on the interviews, with the prosecutor's agreement, but they must not interfere or ask questions themselves. And if this deal does exist politics should not be allowed to interfere with justice. That is b*******.'   Source
That was back in June 2013.
Yet despite that fact being made quite clear, the Met still continued with their daft deception.
And it really did get fucking daft, because in July the Chimp had this to say:
Detectives searching for Madeleine McCann could fly to the Portuguese holiday resort where the youngster went missing within days to follow up on new leads.
Metropolitan Police officers could potentially interview suspects, search properties and even make arrests in the Algarve where Madeleine disappeared while on a family holiday in 2007…
…  The Met said earlier this month that it was preparing to swoop on 38 suspects 'scattered across Europe' after announcing a full criminal investigation.
Among them are a dozen British nationals who were visiting or living in the Algarve at the time the then three-year-old went missing…
…  Mr Redwood said the painstaking review has brought together all the information about Madeleine for the first time.
He said: 'That has given us the ability to see this case with fresh eyes, and through that bring out new – genuinely new – lines of inquiry.
'I'm hopeful that when we pursue those lines of inquiry, we will be able to bring some sort of resolution.  Source
Good luck with that then Defective Deadwood, ya lying prick.
On the 1st of August, the Portuguese acknowledged the aforementioned letter of request, yet despite all of the old bollox seemingly being printed on a daily basis in the British MSM at the time, the Portuguese Authorities still hadn't at that stage granted their request:
The exchange of letters between London and Lisbon means the Portuguese end of the Yard's new inquiry is now on an official footing.Detectives from Operation Grange are expected in the Algarve in the next few weeks.
 But sources stressed the British police officers can do nothing in Portugal without being accompanied by public prosecutors.
Portugal's Attorney General's office confirmed receipt of a letter from Home Secretary Theresa May.
A spokesman said: "A request for judicial assistance has been received from the British authorities.
"There is currently no timetable for when and how we will proceed."
Yesterday's confirmation by the Portuguese is another significant step in the two-year operation which has cost £5million so far.
Last month detectives announced a new investigation after a review identified 38 potential suspects.
The "persons of interest" come from five countries and include 12 Britons.
So, what did Defective Deadwood have to say about the Portuguese authorities not being prepared to commit themselves to anything with the British police at that precise moment in time:
Detective Chief Inspector Andy Redwood said both the British and Portuguese "remain completely committed" to solving the mystery.  Source
Stop fucking laughing… We don't want to shatter his illusions.
Yet unbelievably, the headlines got even more cringe worthy in October:
Madeleine McCann may have been abducted after disturbing burglars in her family's holiday apartment, Scotland Yard believes.
Detectives think her disappearance could be linked to a series of break-ins at the Portuguese resort from which she vanished, the Daily Mail can reveal.
The burglaries – thought to be the work of a 'team' of thieves – happened in the months leading up to Madeleine's disappearance from the Ocean Club in Praia da Luz in May 2007.
One theory – now being taken seriously by British police – is that burglars panicked after Madeleine awoke from her sleep.
Sources in the Algarve – where the authorities are working closely with Scotland Yard – confirmed yesterday that detectives are investigating a series of thefts from the Ocean Club and elsewhere in Praia da Luz.
One local source said: 'It is a very serious line of inquiry.'
The break-ins came to light during the Metropolitan Police's two year long, £5million review of Madeleine's abduction.
Details of the new theory emerged as Kate and Gerry McCann prepare to make a 'significant' new TV appeal in light of 'fresh, substantive' material unearthed as part of the Met's review…
… Well-placed sources in Portugal dismissed local reports that police believe a local paedophile gang was responsible.
Instead, they revealed, British detectives are focusing their inquiries on a series of break-ins at Algarve resorts.
It was not clear yesterday whether the McCann's holiday apartment, by a public road, had been previously targeted by burglars.
But police are continuing to look at a large but 'manageable' list of phone numbers identified as being in Praia da Luz.
A 'significant' number have not yet been attributed to anyone. However, officers are now able to create a log showing calls being made at the time of Madeleine's disappearance.
Details of the new theory emerged as Kate and Gerry McCann prepare to make a 'significant' new TV appeal in light of 'fresh, substantive' material unearthed as part of the Met's review
Interestingly enough, that quoted £5 million price tag hadn't risen in 4 months at that stage… Fuck knows why that was!
However, do you really believe that two years of work undertaken by 30 plus plodulites had only come to £5 million quid so far?
Have a fucking word!
Still, I wonder whether or not Defective Deadwood views this fresh substantive evidence as being key to the investigation?  That is to say, the investigation that the Portuguese still hadn't committed themselves to at this stage… Lets ask him.
Defective Deadwood, is this fresh substantive evidence key to the investigation?
"It could be".   Source
Fair do's… I was only fucking asking.
Now, cast your minds back to what was said by the Portuguese Attorney General Joana Marques Vidal  in June:
"officers from London had no right to operate in Portugal and cannot question, interview or arrest anyone".
Got that?
Good, because the following – taken from the Daily Chimpanzee last September – is a classic example of the lies that Scotland Yard and the MSM were coming out with at the time… And still are for that matter:
The Metropolitan Police revealed that more than 400 people – including new witnesses – have been interviewed since a new investigation was ordered in May 2011.
Earlier this week, the Yard also revealed that since launching its own investigation, 41 people of interest have been identified, including 15 UK nationals, up from 38 people of interest including 12 UK nationals established in July. Detectives have issued 31 international letters of request (ILOR) to mostly European countries in relation to some of the persons of interest as well as accessing phone records.
Madeleine's parents, Kate and Gerry McCann, said: "We are greatly encouraged by new information coming to light with pieces of the jigsaw now fitting together.
We are really hopeful that the forthcoming appeal on Crimewatch will bring further new evidence which will take us a step closer to finding Madeleine and to bringing those responsible for her abduction to justice."
Detective Chief Inspector Andy Redwood, the senior investigating officer, said: "We now believe we have the most complete picture to date of the events surrounding her disappearance.
"We are now making targeted and new appeals for help from the public. I truly believe there are people out there who hold the key to Madeleine's disappearance, and that so far they may be completely unaware of that fact."  Source
Getting angry yet?
No?
Okay, then l shall continue.
Now, the September/October increase in reporting of  blatant lies, along with widespread MSM promotion of the planned forthcoming Bullshit live BBC, McCann Crimewatch special, that was going to be shown in England, Holland and Germany – but significantly NOT IN PORTUGAL, despite the country's two main TV stations both trying desperately to arrange to do so – all coincided with the Amaral libel trial due to begin. Source
That fact compelled me to write the following:
I know what we can do today!
lets examine this sudden upsurge in reporting on Madeleine McCann's disappearance.
Oh, and take no notice of Gelly Baby in the photo above. He may look like he is going to knock the bejesus out of Kate when they get home… But he's a big softy really.
Now, according to the Independent, Defective Chief Inspector Andy Deadwood – how he made such senior rank I'll never know – has said: "We now believe we have the most complete picture to date of the events surrounding her disappearance.
I'm impressed!
And what has brought about this claim?
Weelll, a load of old phone numbers actually, that surely must have been on file for the past 6 years and which won't help the police catch anyone who had anything to do with the little girls disappearance… Or, put another way, a total waste of public Home Office money.
I'm not impressed?
The McCann's – who pretend to be a couple but aren't – are not on the police list of suspects who used mobile phones, because according to their solicitor, Clarence the Clown, Kate & Gelly didn't have their phones with them on the night in question 6 years ago – Despite the fact that they did.
I'm still not impressed.
However, the McCann's have also issued a statement which is coincidentally almost the same as Defective Deadwoods, and states that;  "We are greatly encouraged by new information coming to light with pieces of the jigsaw now fitting together".
I'm impressed!
Albeit a tad confused.
What is the McCann statement based on? I mean, if the case is coming together like a jigsaw, then someone must be in the frame for taking Maddy, at the very least.
The McCann's statement is unfortunately based on Defective Deadwood's crazy mobile phone chase.
I'm not impressed.
So, what we have is the Police sending out a clear message that the McCann's had absolutely nothing what so ever to do with Madeleine's disappearance, despite the lies, and inconsistencies in their story, not to mention the fact that should the Portuguese authorities re-open the case, the McCann's would still be the prime suspects.
By the same token, the McCann's, in their sycophantic, suck-up statement to Defective Deadwood's ludicrous statement, are also sending out a message, loud and clear, that they had fuck all to do with their daughters disappearance… Despite, the former Portuguese Detective, Goncalo Amaral claiming they are guilty
And, as if those two statements were not enough to convince enough people that Kate and Gel are innocent, the McCann's and Defective Driftwood are going on TV's Crime Watch to launch a joint appeal for witnesses who may have forgotten to report that they saw a burglar, on the phone to his mother, whilst abducting Madeleine six years ago… Like you do.
And, by staging this  joint appeal for witnesses, will only go to reaffirm that the McCann's had fuck all to do with Madeleine's disappearance – which people will assume must be true because they are sat next to that nice Defective Deadwood, who wouldn't go to all that trouble if the parents were guilty of anything… Other than lying to the police and child abandonment, obviously.
Meanwhile, over in Portugal, where the British police would have you believe that they have been hard at it, despite the fact that they haven't, former number one suspect Robert Murat, after flatly refusing point blank for a year and a half to let his driveway be dug up, now rings up a newspaper and says he's changed his mind… "Pay me an unreasonable amount of money and you can dig", says he.
This change of heart sends out the message that Madeleine can't possibly be buried there, else Murat wouldn't agree to the dig, thus again reaffirming that the McCann's are not involved in their daughters disappearance in anyway what so ever… Despite Murat as of yet, not having signed any contract that will let anyone dig anywhere.
All this renewed activity does not fall on any specific anniversary, but just coincidently falls at the same time that the McCann's are suing Goncalo Amaral for a million pounds for writing in his book that the McCann's are guilty, when they clearly are not, as evidenced above.
Course, so as not to prejudice Amaral's chance of winning, the Independent doesn't mention the trial once in the article below – as is only right and proper… After all, it is for the Judge to decide that the McCann's were libelled by that useless, piss head policeman, who wrongly thought that the nice, loving professional couple had something to do with their daughters disappearance… All the world is without a doubt, a stage.
This shit fucking stinks.
I do however  worry that I am getting cynical in my old age late youth, don't cha know…
And very well written that was too… Even if I do say so my fucking self.
Yet things still got sillier.
In fact, on the very same day that the McCanns were due to appear alongside Defective Deadwood on the live Crimewatch TV special, the MSM – or to be more precise those people who really call the shots in conjunction with the potty plod – came up with  yet another "breakthrough" for the press to print… Just in time to give the show one final plug.
The only thing  was, I wasn't sure whether to laugh at this supposed breakthrough or bang my fucking forehead against the wall as hard as I fucking could:
Police today issued two e-fits of a man they suspect may have been involved in the abduction of Madeleine McCann.
The images, based on statements from two key witnesses, differ – but each shows him with an intense stare and a hint of a smile.
Detectives say the man – who may speak German and is white, aged 20 to 40 with short brown hair, medium height and build, and clean-shaven – is of 'vital importance' to the inquiry.
Fair do's, lets have a butchers at them then
Oh dear, oh fucking dear.
How those two E-fits supposedly came about is fucking hilarious.
You can of course decide that for yourself by reading the full account, which can be found by clicking  HERE.
Never the less, the E-fits were so absurd that I thought I best release my own
Much better in my opinion. Then again I am biased.
Now, come mid October, the Portuguese still hadn't said whether or not they would reopen their investigation again:
A source from the Policia Judiciaria refused to confirm or deny that they were reopening their investigation when contacted by Portuguese media last night. Source
This meant that for all Defective Deadwoods old fanny, the British police still couldn't do fuck all until the Portuguese authorities stopped faffing about.
Yet still the old bollox kept coming.
The very next day in in fact, which also just so happened to be the day after the BBC Crimewatch show had aired in England Holland & Germany… BUT NOT FUCKING PORTUGAL, THE ONLY COUNTRY THAT REALLY FUCKING MATTERED:
"Police investigating the disappearance of Madeleine McCann received 150 calls from Holland after a TV broadcast there last night".
So, there were 150 (nice round number) Dutch holiday makers wandering around outside the Ocean Club resort in Praia da Luz, on the night of the 3rd of May 2007 were there?
Never the less, that news still laughably managed to spawn two more E-fit photos… Dog give me fucking strength!
Are you getting angry now?
Okey dokey, then I shall continue some more.
Now, the same article carried the following photo of Defective Deadwood along with a caption which stated:
Detective Chief Inspector Andy Redwood in the Scotland Yard incident room where British officers are launching their own search for Madeleine.
Now in all fairness, that caption was just about the most accurate piece of reporting to appear in the MSM since Operation Deranged – or whatever the deranged operation is fucking called – had begun.
I mean, when all is said and done the incident room was just about the only place that the useless cunts could conduct an investigation at that stage… Mind you, it has to be said that for all their two years of investigating, the clueless cunts were never going to find Madeleine in their office… Just sayin'.
So, what did Defective Deadwood have to say about the 150 Hollandish phone calls from the  Hollanders who rang in from Dutchland:
Mr Redwood, who insists Mr McCann had nothing to do with his daughter's disappearance, said two independent callers had put forward the same name for the suspect.
Another caller gave the name of a man who was known to be in Portugal at the time of Madeleine's disappearance.
Mr Redwood said officers were waiting to 'action the information' and 40 people were ready to take further calls. Source
I getcha… Two callers from Holland… Both giving the same name of the suspect… We are definitely talking Double Dutch here.
Did you also clock the way that the newspaper slipped in Handy Andy Pandy's "Gerry is innocent ok" message?
I think that the propaganda rag just about got the balance right with that. Sort of subtle in an in your face kind of way, but not too subtle that you could miss it if you were reading with your eyes closed.
And, I also hope that Dandy Andy didn't let that other encouraging tip off  from the other Hollander bloke who rang up to give the name of a fellow Hollanderman who was somewhere within the confines of Portugal's 35,645 square miles on the night in question get overlooked, what with the exciting news from the two pissed Dutch fellas playing snap with a pack of 'Happy Family' playing cards.
Fuck me, how that twat Redwood ever got past harassing motorists is beyond me.
However, as an aside you may be interested to know that the same link contains another possibility as to the reason that the British Establishment is protecting the McCanns.
You see, after I received information that Gelly Baby had been involved in writing up a government report falsely stating that children living near nuclear power stations in England were no more likely to get cancer than those living further afield – Which was total bullshit and in stark contradiction to a German report on the same subject – It seemed a plausible enough reason to me.
Never the less, having given the brain drained British public sufficient time to forget about the E-fit, 'guess who' photos & the drunken Dutch prank phone calls, Silly Sod Plod came out with their latest, not to mention daftest, bit of old fanny to date… Well, 10 days had passed by when all was said and done.
And would you Adam and fucking Eve it; this latest bit of old fanny had Madeleine McCann down as being kidnapped by a BLACK fella with the unbelievably incredulous motive of  him taking revenge on the Ocean Club holiday complex for sacking him.
I mean fuck me, this news was put forward as being a legitimate line of enquiry, without so much as an acknowledgement that a fella of Afro Caribbean appearance looks about as much like a blonde, dark haired, cleanly shaven, bald headed white fella with a beard, as my Jasper looks like a Siamese cat!
Oh, and did I mention that the fella in question was also conveniently DEAD:
Euclides Monteiro worked in the restaurant at the Ocean Club in Praia da Luz but was fired a year before Madeleine vanished on May 3, 2007.
It has been claimed he was caught stealing from the tills and raiding the resort's rooms for valuables to sell in exchange for drugs.
Photo: Heroin addict Euclides Monteiro who has become a key suspect in the investigation into the disappearance of Madeleine McCann.
An investigation is now under way to determine whether Monteiro, who died in a freak tractor accident in 2009 aged 40, took Maddie in revenge for losing his job.
It has also emerged that police warned holiday hotel staff about Monteiro, known as Toni.
Nelson Rodrigues, 32, a barman at the Ocean Club, told the Daily Mirror: 'The officer told us. "We know him, you can't trust that man".
'They said he had been in trouble in the past for drug offences.'
Monteiro, from Cape Verde in West Africa, was convicted of theft in 1996 but escaped deportation after a presidential pardon. However, his family deny the allegation.
Police identified him as their main suspect after mobile phone records indicated he was around the McCanns' holiday apartment in Praia da Luz when Maddie disappeared. Read More
Hmmm.
Now, come mid November the British Police were finally given the go ahead to launch their investigation by the Portuguese.
And ever since then, the old fanny has just kept on coming and coming eventually leading me to write the following on January the 5th, in reply to a particularly inaccurate Chimp article that I took exception to:
I don't know about you, but personally, when I read some of the old fanny that the Chimp and others publish as fact, I feel greatly irked that I am being mistaken for a mug cunt.
Take this new Madeleine McCann nonsense.
What are we? Mentally fucking retarded?
"Analysis of mobile phone data suggests Madeleine McCann could have been kidnapped by a gang of burglars who panicked when she woke up as they raided her holiday apartment"
No it fucking doesn't!
"Three prime suspects for the abduction of Madeleine McCann have been identified by Scotland Yard officers"
No they fucking haven't!
"Analysis of mobile phone data suggests a burglary gang was operating very near to where she vanished in Portugal in May 2007″.
Fuck off with the 'Analysis' bullshit already!
"The three men made an unusually high number of calls to each other in the hours after Madeleine was reported missing from her holiday flat in the Algarve".
No they fucking didn't!
"Police believe the thieves, including at least one Portuguese man, had already carried out one raid in the resort of Praia da Luz, disturbing a child".
Police also believe that their uniform commands them respect. They would be wrong on that fucking score too.
"That child's parents, who had been drinking outside the property, rushed inside to find the intruders had fled".
Its always good to follow a set pattern when telling porkies… Gelly Baby McCann & Kate Healy were on the piss too… Cept there was no urgency in their case.
"During their bungled investigation Portuguese police attached no significance to the break-in, which came a few days before Madeleine disappeared".
Would that be Bungle from Rainbow? I wondered what he had been up too.
British detectives said this oversight was a 'disgrace'.
Spiv said British Defectives are a 'disgrace'.
Following the Yard phone breakthrough, informal discussions have taken place about arresting the three burglars and searching their homes and other sites.
No they haven't
It is believed background checks have taken place into their criminal history, their circle of friends and relatives and the vehicles they have used.
Then again, Joe fucking Average will believe any old fanny.
British detectives believe the burglars may have panicked after they woke Madeleine up by mistake and decided to take her away with them.
Like ya do… When you have only got 2 braincells and kidnapping a child is an easier option than simply walking out.
An informed source said: 'After all the far-fetched theories about what may have happened to Madeleine, there may be a far more simple explanation: that a burglary went horribly wrong. 
"An informed source"… Hmmm, must be fucking true then. Nice to see that the wholly corrupt Met are finally owning up to starting the far fetched theories though.
'It is the main line of inquiry for British police.'
Proof positive that our police forces are a fucking joke… And not a funny one either.
But Scotland Yard's hopes of  early arrests have been thwarted by the reluctance of the Portuguese authorities to agree to a formal joint investigation.
And who can fucking blame them?  Personally, I would rather have a joint investigation with the Keystone cops than the British plod squad.
Because none of the burglars is British, the Met cannot arrest them in Portugal and will need the full cooperation of local police to pursue the inquiry.
"Because none of the burglars is British"!
Is it cos I is black?   Where the fuck does the Chimp find these Monkeys?
Behind the scenes, highly sensitive diplomatic discussions are taking place to resolve the issue so that British detectives can be based in Portugal. Home Secretary Theresa May is being briefed regularly.
Why? Does Smelly Tel Smell want to go on holiday to Portugal too?
Yard detectives have dismissed the idea that a local man who died in a tractor accident four years ago was responsible for Madeleine's disappearance.
That is to say, they have now that every other police force in the world has finally stopped laughing at them and their pathetic ideas.
Portuguese police regard the 40-year-old, a former employee at the Ocean Club holiday complex the McCanns stayed at, as their prime suspect.
 NO THEY FUCKING DONT!  They regard Kate and Gelly tots as the prime suspects.
Met officers disagree with their reasoning and are concentrating on the burglars.
Stop talking like a cunt… You're mugging yourself off Monkey Boy.
The compelling mobile phone 'cell site analysis' – which has helped solve a number of major crimes – has strengthened  suspicions about the gang.
Course, any crime solved by mobile phone "analysis" didn't have the data collected 7 years after the fucking crime took place.
A major appeal based on 'substantive' new information – including descriptions of possible suspects – was broadcast on the BBC1's Crimewatch in October. Days before the appeal, senior detectives revealed mobile phone records may hold the key to solving the case.
Or… Put another way McCann & Healy were getting low on funds.
Detective Chief Inspector Andy Redwood, who is leading the inquiry, said officers were examining data from thousands of mobiles thought to belong to people who were in Praia da Luz around the time of Madeleine's disappearance.
 I wouldn't trust Defective Chief Imposter Andy Deadwood to lead a fucking conga line… Why are they still examining mobile phone data if they have the three amigo's bang to rights?
Police are trying to identify the owner of each phone to build up a picture of exactly who was in the area.
Is this some kind of Police Cunts joke that we Public Cunts aren't suppose to get?  What happened to the three stooges at the beginning of this news article… I use the term 'news article' very, very loosely.
More than 3,000 people live in Praia da Luz, while holidaymakers and seasonal workers visit from around the world. 'This is not just a general trawl,' said Mr Redwood. 'It's a targeted attack on that data to see if it assists us to find out what happened to Madeleine at that time.'
I'm getting confused? HAVE YOU GOT THREE STOOGES OR NOT?  … CUNTS!
Mr Redwood said officers had been unable to identify, six years on, a large number of mobile phones, especially those bought on a pay-as-you-go basis.
Fuck off Deadwood. I would like to think that you were for the chop, but on this bollox performance you are in for a Knighthood me old china.
The records also contain information on which numbers were dialled and when. It is thought some numbers might appear on police intelligence systems, or be linked to criminals.
But they don't because if they have the fucking phone numbers it would take them fucking minutes to find the information out, the lying low life scumbags… No offence 
According to Scotland Yard, the phone records were looked at by the Portuguese police investigation but in no detail. Scotland Yard announced it was launching an investigation into Madeleine's disappearance in July – after spending two years reviewing the case under the codename Operation Grange.
And Monkey Boy says that like its a good thing!
Madeleine, whose parents Gerry and Kate live in Rothley, in separate fucking houses in Leicestershire, was days away from her fourth birthday when she was abducted.
Earlier this week it emerged that the bill for the Yard's probe has topped £6million. The total is now likely to exceed £10million, with £88,000 having gone on travel costs so far.
Meantime, whilst the government continue to treat us like cunts by spending 10 million quid on a fraud, people continue to starve in this cuntry…
… And if you are not angry by now, then you must be tootin on too much of the highly fucking dangerous, instantly addictive, mind altering wacky baccy… That actually never did no one any harm.
Okay, lets get on to this libel trial circus malarkey.
Now as you no doubt know, the McCanns are suing Goncalo Amaral and his publishers for libel to the tune of a cool million pounds, over allegations made against the couple in Amaral's book 'The Truth of the Lie':
In the book Amaral, the former chief investigator on the case, claimed Madeleine died in the family's Algarve holiday apartment and accused the parents of faking her abduction.
The McCanns say Amaral became rich by promoting his warped theories after being thrown off the investigation in October 2007, five months after Madeleine went missing. Source
Course, if you listened to the British press, you would be forgiven for thinking that the book had been banned worldwide.
This simply isn't true. The book was originally banned in Portugal and the UK.
However, the ban was lifted in Portugal on the 15th of May 2012:
Maddie, The Truth of the Lie returns tomorrow[today], 15 of May, to the Portuguese bookshops. For longer than two years the book was banned in our country. The book could be read in France, in Spain, in Holland, in Germany, in Denmark, in Italy. But not in Portugal. That banning was a disgrace that the Portuguese civic majority refuses and rejects.
Better later than never, as from tomorrow it is liberated and the Portuguese can read «Maddie, The Truth of the Lie», the book in which Gonçalo Amaral relates in a concise and objective manner that which, in his understanding, contributes to the material discovery of the truth and helps the fulfilment of justice in the case of the disappearance of the English girl.
But it wasn't only in Portugal that the book was banned. It was also in England, the alleged fatherland of freedom of expression, of that freedom of speech that fills the mouth of Hyde Park [Speakers' Corner reference], where a thick cloak of silence struck the book.
In a straightforward manner, in the English language, no British citizen can access what inspector Gonçalo Amaral told about the investigation, about the steps that were taken to ascertain the truth. The investigation of Gonçalo Amaral only reached the British citizens through the filter of a British press that was based on the most appalling and xenophobic prejudices. Source
Now, just like the above, I also find it absolutely disgusting that the book was banned, especially in this country.
In fact, banning the book was not only the law courts undermining the right of every adult in England & Portugal to make up their own minds as to whether the book was truthful or not – it was also a great travesty of justice!
You see, the book contains no sensitive information that can't be found in the Portuguese police investigation reports… And that is why this trial could be the unmaking of the McCanns.
Are they panicking?
I certainly think they are.
Moreover, I think that you will agree with me by the time I have finished.
Now, the trial its self was originally scheduled to begin on the 9th of February 2012, but was then promptly postponed by the judge until September 13th 2012:
A court hearing is due to start on September 13 in Lisbon. The McCanns' are still considering whether to appear to face Goncalo Amaral, 55, who wrote in his book The Truth Of The Lie that Madeleine was dead.
The McCanns' lawyer Isabel Duarte said Kate and Gerry, both 44, of Rothley, Leics, were confident of victory.
And their spokesman Clarence Mitchell said: "If they win the case every penny they receive in damages will go into the Madeleine Fund."  Source
So it would appear that the McCann's were confident to start off with. Indeed, so much so, that they were in two minds whether or not to attend the trial.
Indeed, on the 9th of September 2012, the Sunday Express reported that the McCanns had made up their minds and would not be flying to Portugal for the trial:
Kate and Gerry have decided not to attend but Mr Amaral, 54, will be there for the four-day trial even though he does not have to give evidence. Source
The Star Newspaper was even more forth coming, especially with their propaganda & lies:
The McCanns' lawyer Isabel Duarte said yesterday: "Kate and Gerry are not needed in Portugal for the trial."
She said they were confident of victory, adding: "We reasonably expect compensation for the dreadful damages this book has brought the family."
Any payout will be spent entirely on the continuing global search for Maddie, the couple said.
Mr Amaral led the bungled investigation but was sacked for criticising British police. Source 
However, come the 13th the trial was again delayed due to Amaral's lawyer having been taken ill:
 A request has been made for the adjournment of the first session of the trial in the lawsuit filed by the McCanns against former PJ inspector Gonçalo Amaral.
The request was made due to health reasons, relating to Gonçalo Amaral's lawyer, Dr. Santos de Oliveira. The trial will now begin the following week, on 20 and 21 of September. Source
Unfortunately, the Lawyer ended up having surgery and although a new date  was set for January 24th 2013,  the McCanns must have cut up rough about the delay prompting the trial judge to seize Amarals assets:
The start of this trial has been postponed twice, the first one on the 9th of February of 2012.
The judge then scheduled the start of the trial at the Palace of Justice for the 13th of September of the same year, with another three sessions on the agenda, but none took place due to Gonçalo Amaral's lawyer's unavailability, as he was admitted for a stomach examination under anesthesia.
Under this action, which prompted the request for the seizure of Gonçalo Amaral's assets under an injuction, Kate and Gerry McCann further claim for the protection of rights, liberties and guarantees. Source
And then something extremely strange happened. The McCann's appeared to lose their earlier confidence and tried to broker an out of court settlement with the former Portuguese policeman:
They were the ones who took him to court for defamation and asked to suspend the judgment in order to negotiate. On the eve of the trial of Gonçalo Amaral, against whom they filed a complaint, the McCanns asked to negotiate.
It is not often the accusers ask to negotiate before a trial, but in this case it was so. TVmais found that, on the eve of Gonçalo Amaral's trial, the McCann couple's lawyers proposed a meeting in order to reach an extrajudicial settlement [out of court]. Source
However, on the 20th of February, the Portugal News published a story stating that the two sides had failed to reach an agreement and the case was back on.
Mind you, that isn't all that was revealed by the Portuguese newspaper, being as the article delved into the McCann's finances:
The parents of missing British girl Madeleine McCann and a former PJ police inspector have this week reportedly failed to reach agreement on an out-of-court settlement.
Photo: Goncalo Amaral, blamed the stress of the court case for the collapse of his marriage
The defence team of Gonçalo Amaral told Lusa News Agency that court proceedings are back on track after the two parties failed to agree terms.
Kate and Gerry McCann sued Amaral for 1.2 million euros in damages, and the case was put on hold due to an apparent attempt in January by the McCanns to reach an out-of-court settlement.
The case centres around the publication of a best-selling book by Amaral, The Truth of the Lie, which was later transformed into a television documentary shown on national television.
It was reported last month that more than 1.2 million euros was made from Kate McCann's book about her missing daughter.
"Income from the book has significantly improved the position", of the funds' accounts, its directors said this week, who added: "This will continue as a result of publication in other countries and the release of the paperback."
Madeleine's Fund climbed to around 2.5 million euros in the immediate months after her disappearance in May 2007, but in 2009, Gerry McCann told The Portugal News, "We are in danger of running out of money by the end of the year."
While the Fund has admitted it has scaled back following UK Prime Minister David Cameron's creation of Operation Grange, it revealed that it still pays for "a 24-hour, 7 day a week telephone line to receive and capture information from around the world which may assist the investigation while also supporting a small investigation team, including a Portuguese speaker to help with the above and with campaign activities."   Source
Now, it wouldn't hurt at this juncture to have a closer look at the way that the charity, 'Madeleine's Fund: leaving No Stone Unturned', was being run.
All of the following information is taken from the excellent McCann Files website and its worth noting that what follows is only a small portion of information taken from two, very detailed reports which can be accessed by clicking on the site name used earlier on in this sentence.
I should also say – especially with this being an extremely long article – that those of you with a short attention span can skip this section and scroll down to where the libel trial saga continues, should you so wish.
And, I have even typed the first couple of words in red so as you know how far to scroll down.
Say thank you Chrissy:
The case of missing Madeleine McCann is unlike any other missing person case. Her parents Kate and Gerry McCann set up a limited company (Madeleine's Fund) less than two weeks after she went missing, and engaged many, mainly legal, professionals, to further their search for her.
Madeleine was reported missing by her parents Kate and Gerry McCann on the evening of Thursday May 3, 2007. On 15 May, just 11 full days later, the limited company Madeleine's Fund: leaving No Stone Unturned was incorporated…
…The book informs us that the limited company arose out of an offer to help 'from a paralegal based in Leicester, via a colleague of Gerry's.' This man worked for the International Family Law Group (IFLG), a firm based in central London…
…Kate says 'it was difficult to know what they could do (and anyone in her position would agree) but we decided it would be worth meeting them to discuss the possibilities.' The paralegal accompanied by an unnamed barrister flew to Portugal on the afternoon of Friday May 11. They met that day and had two further sessions with the lawyers over the course of the weekend.
We are told that the barrister, having inspected the proximity of the Tapas bar to their holiday apartment, assured them that their behaviour (in making periodic checks on their children) could not be deemed negligent and was 'well within the bounds of reasonable parenting.' The lawyers also advised about applying to have Madeleine made a ward of court, such status being helpful as the 'courts could make orders to reveal information not otherwise available that might be relevant in our case.'
In the context of the financial help that was then being offered, Kate says the IFLG paralegal advised them to set up a 'fighting fund'. The IFLG would devise the objectives of the fund and instruct a leading charity law firm Bates Wells Braithwaite (BWB) to draw up Articles of Association. The use of the term 'fighting' is odd. Who were the McCanns fighting? Whether 'fighting' is the paralegal's word or Kate's paraphrase is unclear.
It is perhaps strange that the IFLG paralegal, expert in the complex area of international family abductions, would promote the idea of setting up a limited company so convincingly that the McCanns agreed. At the time of the first meeting between the McCanns and the two legal visitors, Madeleine had been missing for only one week…
…On Sunday May 13 the IFLG issued a press brief release with Ann Thomas, managing partner as the contact person. It merely said that 'last week' they and barrister Michael Nicholls QC had been instructed to act for the McCanns…and that details of how contributions could be made to help get Madeleine back would be made available 'in the next couple of days.'
Presumably then, Mr Nicholls was the barrister who reassured the McCanns about their 'reasonable' parenting. According to the website maintained by his Chambers his principal areas of practice are:
'International and domestic family law and medical ethics, including jurisdiction, recognition and enforcement, conflicts of law, child abduction, international relocation, private children's cases, contempts, families and the media (freedom of expression and press injunctions) and disputes about medical treatment.' 
It is unclear why his particular expertise warranted instruction in a missing child case where there was no issue of family abduction. Apart from his family law experience he also had expertise in media (freedom of expression and press injunctions) but at that time the media was totally supportive of the McCanns…
… It is odd that the McCanns committed themselves to a launch date, set it would appear, before BWB were engaged. In an email to the Charity Commission, BWB refer to being instructed 'this afternoon' (i.e. Monday May 14). What difference would a couple of days delay have made? And it is clear from the documentation that the Charity Commission officials were helpful, and that it was likely that charity status could have been obtained with only minor delay with a little compromise by the McCanns.
Charity status is valuable because it gives an organisation credibility with the public, grant making bodies and local government, making it easier to obtain funds. It also gives the organisation tax advantages. Individuals, sole traders and companies can also benefit from giving to registered charities. Higher rate tax payers may be able to claim a tax refund. Under the Gift Aid scheme a donation is treated as if standard rate tax (20%) has been deducted and this is equivalent to an extra 25p in the £ for the charity. For donations between 6.4.2008 and 5.4.2011 the government gave an extra 3p in the £ supplement. Individuals can also have charitable donations deducted from their salaries, and this is tax efficient as their income tax is calculated on their salary after the donation. Seewww.hmrc.gov.uk/charities-donors/ for more information on the benefits to an organisation of charity status.
Charities must give an annual report and accounts to the Charity Commission and make these documents available to the public on request. There are also rules relating to fundraising. The trustees (directors) cannot normally receive salary, fees or contracts from the charity and nor can their spouses or other close family members. These requirements are not onerous or unreasonable. Having hired charity experts BWB on the advice of the paralegal, it is surprising that Kate did not let them have a day or two more to explore charity status. And it is surprising that the McCanns have not apparently revisited this issue…
… And after they incorporated the company in 24 hours, BWB applied for British and European trade marks on 18 May 2007 and was given the reference 2456061. These trademarks protected fundraising, internet and print promotions. Again this action was unprecedented at this very early stage in a missing person case.
Review of the Memorandum of Association and Articles of Association filed in May 2007 reveals in 3.1.3 that one of the three objects of the company is to provide support, including financial assistance to Madeleine's family (my italics). Now this could mean uncles, aunts, parents and any blood relations.
This object was not included in the draft submitted to the Charity Commission on May 14. In fact the draft objects were different to the ones actually used for the company as incorporated. The objects in the draft were general, relating to missing persons and the education of the public and the promotion of sound administration of the law. An accompanying note from BWB headed 'proposed activities' did state that initially practically all the donations received would be used for the search for Madeleine, and that substantial funds would not be forthcoming if donations were not restricted in the first instance to her.
The objects of the company as incorporated are specific to Madeleine McCann, with a final object to pursue other cases when the objects relating to her case are fulfilled.
5.2.1 permits payments to directors as beneficiaries and 5.2.4 permits payment of rent where appropriate to directors for premises. Therefore, if the McCanns or family members used a room in their home to work for the Fund, the payment of rent from the Fund would be permitted if they should want it and the Board agreed.
The quorum for Board meetings is one third of the current Board membership. This makes the current quorum two, as there are now six directors. Three directors are family members. The Chairman has a casting vote. John McCann was Chairman until he resigned in July 2010. It is unclear who the current Chairman is. If Brian Kennedy (Kate McCann's uncle) – who was one of the original directors – took over as Chairman, then the McCann family has a majority at board meetings by virtue of the Chairman's casting vote.
The conflict of interest policy (Articles nos 37 and 38) is interesting.
It says (37.1) that directors with a personal interest in an upcoming vote must declare that interest, and (37.2) withdraw from the relevant part of the meeting, and (37.3) not be counted in the quorum for that part of the meeting relating to their personal interest and (37.4) have no vote on the issue affecting them. That is proper governance.
However no 38 states that 'no director shall be regarded as having a conflict of interest solely because he or she is also eligible to receive the support of the Foundation.'
A reasonable person would conclude there is a clear conflict of interest for a family member director if decisions are to be taken on payments of legal fees, rent for part of his/her private house for use as an 'office', and other costs not directly related to the search for Madeleine. The draft documents sent to the Charity Commission only contained no.37 so had those documents been adopted, the McCanns and family members would not have been able to attend or vote on issues regarding certain proposed payments to themselves…
… The composition of the Board varied during the first year. At the most there were nine directors meaning the quorum was three. Two were family members; three were friends – Esther McVey, Jon Corner and Dr Peter Hubner. It is not known whether Michael Linnett, a retired accountant based in Leicester or P J Tomlinson (who resigned on 28.12.2007) were friends of the McCanns. Friends can of course be very independent, but the optics of having a majority of family and friends on the Board is not desirable. Gerry and Kate became directors on November 12, 2008. Board numbers were reduced to six, following the resignations of Dr Hubner, Dr Skehan and John McCann in 2010…
…  The 2009 and 2010 accounts give no breakdown of income. Expenditure is given as 
Merchandising and campaign costs – 2010 £421,236/ 2009 £974,786.
Admin Expenses – 2010 £29,868/ 2009 £30,865.
It is impossible to know from this what percentage of expenditure went on searching for Madeleine because there is no analysis of Merchandising and Campaign costs. From the analysis filed relating to 2008, it is likely that substantial costs and in particular legal fees are included here that may have no direct relationship to the search for Madeleine.
How do these summarised accounts provide the transparency that Mrs McCann wrote about?
The Directors' Report for both these years states that money was spent on legal costs for the McCanns in their action against Mr Amaral's book which they felt was libellous. You signed off the 2010 accounts as auditor on 9 November 2010. In Oct 2010 the Portuguese Appeal Court upheld Mr Amaral's appeal – surely this warranted a note to the accounts as a post balance sheet event with financial implications for the company?
Alternatively, the court ruling could have been – but wasn't – mentioned in the Directors' Report.
The McCanns appealed the October 2010 decision but lost in the Supreme Court in March 2011. Surely the substantial money spent on this case should be clear in the filed accounts so that prospective donors can make informed decisions.
Mr John McCann
Mr John McCann was one of the first directors and resigned on 23 July 2010. According to media reports he resigned his fulltime job very shortly after his niece disappeared to work full-time for the Fund. The official McCann website states that 'none of the directors have taken any money from the fund as remuneration.' Can you confirm that no salary or fees were paid to Mr John McCann for the period he was a director.
Presumably he was paid by a benefactor whose money did not go into the Fund?
The auditors passed the questions to Clarence Mitchell, the McCanns official spokesman. I exchanged emails with him and finally received the following email:
I have now been authorised to issue the following brief statement from Madeleine's Fund in response to your approach:
"Madeleine's Fund – Leaving No Stone Unturned Limited" fulfils all of its legal requirements through the filing and public declaration of all the information that is legally required of it. It exists to support the search for Madeleine and remains entirely dedicated to finding her through everything that it does, fully in line with its published objectives."
I appreciate that this does not directly address your specific questions but this is all that the Fund wishes, or needs, to state at present. I hope it is helpful nonetheless.
Kind regards,
Clarence
So I am none the wiser, but more puzzled as to why the official spokesman is not facilitating what his clients claim they want – the 'highest standards of transparency.'
In fact the official statement 'covers' three additional questions I put directly to Mr Mitchell.
1) Why does the official Madeleine website not provide actual and up-to-date financial information re the Fund – ie income analysis and details of expenditure?
2) Is all book income going to the Fund? The book cover says 'all royalties to the Madeleine's Fund'. Royalties are only paid after an advance is cleared. Will/has the book advance been paid to the Fund?
3) The official website states that 'an experienced Fund Administrator has been appointed to ensure the highest standards of transparency and accountability'. What is the name of the Fund Administrator and when and how was he/she recruited – was the job advertised?
Mr Mitchell referred me to Alison Barrow, at Transworld regarding the question about whether all book income is going to the Fund. I emailed her this question and also asked about sales to date in England and Ireland – but I only received a read receipt, and no subsequent reply.
I was surprised that Clarence Mitchell referred me to the publishers Transworld. Their obligation is to pay the contractual advance to their author. It is not their concern where the cheque ultimately ends up, and nor would they normally know.
I also addressed the questions below to BWB:
1. Did the McCanns approach you directly about setting up the company or was the approach made by the IFLG (International Family Law Group) or by some other intermediary?
2. On what date were you contacted and asked to set up the company?
3. In drafting the documents and getting agreement thereto, did you deal with the McCanns in Portugal (by email and telephone) or did you deal with an intermediary in the UK such as the IFLG?
4. Did you act pro bono or at a reduced fee given the circumstances of this case?
5. When the Charity Commission told you that charity status would not be an option as the draft Articles of Association related to one child rather than to missing children generally, did you suggest to your clients that they might consider a compromise so that charity status might be obtained?
It appears to me that charity status would have helped the company both in the short and medium term, and that with compromise and the expertise of your company, it could have been obtained by amending the draft Articles of Association so that while the main thrust of the work involved searching for Madeleine, some resources would be devoted to other missing children cases.
Your clients clearly wanted the company set up quickly but I have never understood why speed outweighed the issue of charity status which would have been hugely beneficial to the company.
6. In general, when there are no disputed issues with the Charity Commission, how long does it take to achieve charity status after a company has been incorporated?
The FOI documents subsequently supplied by the Charity Commission partly answered these questions. As Kate has not said in the book or elsewhere that BWB acted pro bono or for a reduced fee, it is reasonable to assume they charged a commercial fee for the work they did under huge time pressure – a fee paid for by the many people who sent in money to help find Madeleine.
BWB sent me a brief emailed letter from partner Rosamund McCarthy on July 18 2011 referring me to Clarence Mitchell and saying that BWB 'no longer acts for the company.' However, a Current Appointments Report obtained from Company House on July 20, 2011 gave BWB Secretarial Ltd (the company secretarial wing of BWB) as the company secretary of the Fund. I asked Company House to clarify whether this was accurate in case a recent resignation had not been reflected in the Report – but was informed the Report was correct. I then raised this inconsistency with Ms McCarthy by email; I received a read receipt but no actual reply.
BWB are but one of a number of UK legal firms who have acted for the McCanns in the past four years, as the attached table shows. Limited company accounts normally contain a page of company information listing the company solicitors, bankers etc. For each of the four years for which accounts are available two firms of solicitors are listed. BWB are listed for each year including 2011 so presumably the date they parted company with the McCanns was after March 2011…
…  Giving other administrative costs:
£20,630 -2011
£23,699 – 2010
£25,115 – 2009
Could these 'other administrative costs' all relate to costs incurred by Kate McCann for using a room in her house for her work for the Fund. Clearly she would have costs like telephone, printer cartridges, postage, stationery and heating the room but these would hardly come to more than £20,000 pa? She might have to pay rates for the partial 'business use' of her house but even so, its hard to see how the administrative costs are so high in the context of this organisation. Costs relating to dispatching merchandise and campaign material would presumably be charged under Merchandising and Campaign costs and not under Administrative Expenses.
None of the four sets of accounts filed include any fixed assets. If there was an employee you would expect basic equipment for him or her: a desk and chair, a PC and printer and a filing cabinet.
Note 3 in the accounts for 2008 and 2009 shows a prepayment of £19,795 at both March 31 2008 and at March 31, 2009. Now prepayments normally relate to costs which have to be paid in advance like insurance, subscriptions or rent and rates. Most costs are paid when or after the goods or services are received. Now as it appears from earlier parts of this article that the Fund had no employees and no office, then employers' liability insurance, rent and rates would not apply. There could have been prepayments on a media monitoring subscription and possibly on a travel insurance policy relating to the directors who might be travelling abroad in connection with the search. However, any prepayments on such a subscription or on travel insurance could not possible equal almost £20,000!
For what could the Fund have paid such a substantial amount in advance? The major costs itemised in the 2008 accounts were legal fees and search fees. Could any of the companies involved have demanded significant money upfront as the audited accounts indicate? The Board would have had to agree to this. It is unwise to say the least to pay any company in advance for goods and services not received – unless there is a very good reason for doing so, perhaps because it is the only way to retain the services of a company essential to the aims of the organisation.
Examination of the accounts for the year ended 31 March 2011 lodged on December 30 2011, a day before the deadline for filing, throws up the question 'what happened to the advance for the book Madeleine which would have been paid in late 2010?'
The huge (unquantified) advance reported in the media in October 2010 does not appear to be in the accounts. If it was, it would either be included in the income figure in the Income and Expenditure Account or shown on the Balance Sheet with an accounting note to explain the payment had been received in the year and would be included in the Income and Expenditure Account for the year ending March 2012, the year in which the book was published. There is no balance sheet entry or note…
… As well as the taxation note changing, I see a change in Note 1.2 Income. The 2008, 2009 and 2010 accounts all state –
'Income comprises donations received by the company along with revenue recognised in respect of merchandise supplied, exclusive of VAT.'
But in the 2011 accounts the heading Income changes toTurnover and the note reads –
'Turnover comprises revenue recognised by the company in respect of goods and services supplied by the company, exclusive of Value Added Tax and trade discounts.'
Why has the word donations been deleted?
The website seeks donations and in interviews the McCanns always stress the need for money to continue their search. While donations to the Fund have obviously declined and the Directors' Report states this, there must have been some donations including money from small fund raising events held by the many supporters of the McCann family around the country.
Back to the 'missing' advance.
Of course you could argue that the book cover's promise of 'all royalties to the Fund' did not include the advance because this is a separate part of the payment for the book. However an advance is surely 'advance royalties' and should have been lodged to the Fund's bank account. It is pure semantics to argue that the advance is separate to the royalties, which would not be paid until after the book had been published and after the advance had been cleared by sales.
All the above makes me sceptical about Madeleine's Fund. Even the name is misleading because the usual connotation of Fund is that some charitable purpose is involved. The Fund or should I say the limited company is merely an ordinary private company filing the minimum accounting details to comply with the law, and filing close to the latest legal filing date.
The official website states that the Fund does not have charity status. Despite that, there is great public confusion as to the status of the Fund, which has not been helped by consistently sloppy journalism. As mentioned, the term 'not for profit' which is used by the company has no meaning to the HMRC, and given the lack of financial information, it is impossible to say whether the Fund would meet a reasonable person's interpretation of that term.
In the accounting year to March 31 2011, the McCanns lost two appeals in their case against Sr Amaral for his book 'The Truth of the Lie.' The Directors' Report does not mention this though it has financial implications for the company. In both the 2009 and 2010 Directors' Reports reference was made to paying for legal representation for the family in Portugal in connection with the Amaral case. Thus, it is reasonable to assume that these Portuguese legal costs were met in the year to March 2011 and will be met in the future. A further appeal by the McCanns is set for April 2012. Surely some mention of these ongoing legal costs should have been made in these accounts?
Hmmm.
Now, as I say, there is much, much more information on the anomalies and rather suspect book keeping to be found at Source.
Okay, returning to the libel trial.
Following the collapse of negotiations between the two sides, a new trial date was set for September the 13th  2013.
However, come the day the trial was further adjourned until a week later taking the date to the 20th of September.
By now it was rumoured that the McCann's marriage had gone tits up and the fact that Kate turned up at the trial without Gelly Baby – along with the fact that she had reverted back to her maiden name, Healy, would in all fairness appear to confirm the rumour.
Now, this was the period in time that I was talking about earlier, in which the McCanns were never out of the British Press whom forced one unbelievable story after another onto the British population in an effort to improve the couples rapidly diminishing public support, and further ram home that they had fuck all to do with their daughters disappearance.
Course, the fact that the Portuguese authorities would also be aware of these pro-McCann stories couldn't have done the couple any harm either, in terms of the imminent libel trial.
However, what strikes me as strange is that given the McCann's former swagger and confidence – to such an extent that originally the couple were not even going to bother turning up for the trial – the Met were now publicly calling for the McCanns to stay away under the guise that their presence would provoke a media circus – thus damaging their *aherm, aherm* hard work up to now… A message that stranger still, the couple chose to ignore.
The hearing could not come at a worse time, however, as Scotland Yard detectives begin work in the Algarve to try to solve the six-year-old ­mystery of Madeleine's disappearance. The Sunday Express understands officers have advised the couple not to attend the civil hearing.
They believe Kate and Gerry's presence would provoke a media circus and could seriously damage their sensitive work on Portuguese soil.
However, Mr Amaral is expected to attend and give interviews on the steps of the court to support his view that Madeleine died in apartment 5a of the Ocean Club in Praia da Luz on May 3, 2007.
He will say that under freedom of the press he has the right to air his views, especially as he was in a senior coordinating role early in the investigation.
A family friend said: "He has spent months working on his case and is very confident he will win."
Isabel Duarte, the McCanns' lawyer in Lisbon, said: "Kate and Gerry do not have to give evidence so they do not need to be here. I am confident of winning." She is seeking damages for Kate, Gerry and their twins Sean and Amelie, plus further damages for the harm caused to the search for Madeleine.
It is expected some of the McCanns' family will give evidence at the trial to explain the impact Mr Amaral's allegations had on them and on the global hunt for the missing child.
A source said: "Because of the sensitivity of the situation, police don't want the McCanns anywhere near the country because they fear it could turn into a media circus. They have faith in the Yard investigation and will do what the police feel is best. It will be bad enough having all the old allegations dragged up again and repeated. No doubt Mr Amaral will want to say his bit outside the court and it will all flare up again. It will not be helpful for the Yard."   Source
Meanwhile, unbeknownst to most middle Englanders, the McCanns were far from the darlings in the foreign press, that they were being portrayed as in the British papers.
A typical article in other newspapers throughout the world would be something along the lines of this one taken from the Las Vegas based, 'All Voices', published on the 2nd of September 2013:
The disappearance of Madeleine McCann is the most high profile international disappearance to date — but the evidence is overwhelming against the parents of the little girl. However, the UK is doing a bang-up job of protecting them to the point of allowing them to sue detectives in Portugal who declared them as suspects. Always concerned about getting money, Kate and Gerry McCann are suing Goncalo Amaral for a hefty sum over his claims that they may have murdered the girl (or were otherwise involved in her disappearance/death).
It's an asinine lawsuit, to be clear, and officials are even encouraging the McCanns to avoid showing up in court — avoid showing up in a trial that they have initiated. Goncalo Amaral famously made claims that Maddie McCann died in apartment 5A and along with other experts he made sure to produce enough evidence to back his claims up — but Kate and Gerry didn't stay in Portugal and have notoriously been uncooperative with very basic elements in the investigation.
Amaral is confident that he will be victorious in this lawsuit — and hopefully he is. The evidence against Kate and Gerry McCann would be enough to lock them up in many other scenarios, but for some reason they are being coddled in the UK as the media pumps out sappy and borderline false reports to sway the public into believing this couple is innocent of wrongdoing. It's shameful and will only add to the time that will pass without Maddie's remains being located.  Read More
Course, the fact that the McCanns did attend the trial, albeit separately, to me suggests that relations were not only a bit strained between themselves, but also between them and the Metropolitan police.
However, it certainly has to be said that things did not go the McCanns way – or at least the way that they hoped it would have – in the opening days of the trial.
Indeed, at least in my mind, producing a grief councillor with dubious qualifications to witter on for hours in court about how poor Kate had contemplated suicide certainly wasn't the McCann's brightest idea.
Moreover, by early October it had been noted in the foreign press that the alleged 'libellous content' in Amarals book – of which the whole McCann's case was/is based around –  had been written using information taken directly from the Portuguese investigation case notes.
Indeed, whilst giving evidence at the trial, Former Portuguese police family liaison officer, Ricardo Paiva told the court that Amaral's book was "based on our investigation" adding that  the book "contains the professional and personal opinions of Goncalo Amaral as a police officer".
Paiva then went on to say that the publication of Amaral's book did not hinder the "flow of information" coming in to police and that everything in the book "can be found in the case files" which have been made public.
Moreover, Portugal police' organised crime unit head, Luis Neves testified that Amaral's conclusion that Madeleine was dead was accepted early on by the McCanns.
He then went on to say that it was the British police who suggested bringing in the sniffer dogs which was "not accepted lightly" by the Portuguese PJ due to "cost" and them having "no experience of it in Portugal".
The decision to bring in the sniffer dogs was of course one that the British police and the McCanns no doubt regret, given the outcome… That is to say, that the dogs detected the scent of a cadaver in both the McCanns holiday apartment and their hire car.
The performance of the dogs was later called into question after they had also reacted to remains at Haut de la Garenne orphanage in Jersey, which were later found to be animal bones.
Course, that is just more old fanny because we all know what went on at the Jersey boys home, don't we?
Next to take the stand  was retired police officer Francisco Moita Flores, who is now working as  a TV commentator.
He described the Madeleine McCann investigation as being:
One of the 'most complex and well-investigated cases' he had had ever seen and called Mr Amaral 'competent.'
He insisted the Tapas Nine – the McCanns and the friends dining with them at a tapas bar near their apartment the night Madeleine disappeared – should have had their phones tapped because of 'inconsistencies' in their statements.
Attacking the ongoing Home Office-funded Met Police investigation into Madeleine's disappearance, called Operation Grange, he told the court: 'There's a prophetic and dogmatic vision behind it. 
'These detectives are only putting forward the hypothesis of abduction.'
Judge Maria Emilio Melo e Castro stopped lawyers on both sides asking Mr Amaral's former police colleagues what they thought about his conclusions on Madeleine and her parents in his book because they were 'opinions' and not 'facts.'
 She waved the book in her hand as she demanded to know from Ricardo Paiva: 'The back cover says it contains exclusive revelations.
'What's new in the book that's not in the police files?'
Told by Mr Paiva, 'Nothing', she replied: 'Ok, so then I have to conclude this is misleading advertising.'
Another defence witness, Mr Amaral's ex-number two Vitor Tavares de Almeida, was bizarrely dismissed after being asked just one question. 
The police chief, still a serving officer despite being convicted in January of torturing a crime suspect and receiving a two and a half suspended jail sentence, has previously claimed he believes the McCanns concealed Madeleine's body.
He was overheard on a video link muttering: 'What am I doing here?' before being sent away after admitting he had only read the final two pages of Mr Amaral's book.
Mr Amaral denies defamation. The case continues. Source
The trial was then adjourned until Wednesday, 27th November 2013… Fuck me, these judges don't half work hard, don't they?
Furthermore, come the day, the trial was further adjourned until January the 7th 2014.
Now, in October, both Gelly Baby & Ms Healy had asked to testify… And having said that, I will remind you that the couple had originally been that confident of victory that they were not even going to attend the trial, let alone give evidence.
Yet within 3 months they were suddenly keen to reach an out of court settlement.
When Amaral refused to accept their terms, under Portuguese law, the McCanns had no choice but to continue with the trial – sparking a sustained agenda of bullshit articles appearing in the British 8'D' press, specifically designed to make the McCanns look like Saints.
Moreover, against Scotland Yards advice, the McCanns had not only attended the trial, they now also wanted to take to the fucking witness box!
something doesn't quite add up here to me.
Course, if all things were equal, Goncalo Amaral would piss all over the McCanns in this trial… But they aren't.
And lets not forget that both the British and Portuguese governments do not want the true facts surrounding Madeleine's disappearance, and the subsequent investigation to come out.
This has led to what can only be described as a farce beyond all belief  – whereby either The Cunt Cameron or The transvestite Homo Secretary, Terry May ordered Scotland Yard to begin a multi million pound review (they both take credit for initiating the whitewash) of a professional, well run police investigation carried out by the Portuguese PJ, whom at the time had the eyes of the world watching, as well as being put under pressure from the British government and not to mention being  impeded by glaring inconsistency's in the uncooperative McCann's & their friends evidence: All under the guise that the Portuguese PJ had fucked the investigation right up.
Meantime, The clown in charge of the review, Defective Inspector Andy Deadwood – who will now no doubt be in line for a Knighthood – has to carry out this review with one hand tied behind his back, in the full knowledge that his government boss, the transvestite Homo Secretary, Terry May is holding in her possession 3 maybe 4 top secret files on the case… You really couldn't make this shit up.
The following letter was supplied by Stephen Birch. The censoring is mine.
Now tell me that isn't absolutely outrageous!
Even more so when you take into consideration that the Millions of pounds spent on the smoke screen Operation Grange could have gone towards helping those struggling to feed their children in this country.
Course, caught up in the middle of all this old fanny, is Goncalo Amaral who has had his name and reputation damaged beyond all repair and still remains to this day the Establishments scape goat… That too, is absolutely fucking disgusting.
But worst of all and by far most importantly, is the fact that whilst all these warped cunts are playing out their absolutely fucking sick in the head circus games, at the heart of the matter lies the body of a sweet, innocent 3 year old toddler laying undiscovered somewhere… And fuck me that poor child deserves justice, and I for one intend to see that she fucking gets it.
Furthermore, I also have to tell you that whilst I have made wisecracks throughout this article, I am absolutely fucking repulsed by these arseholes and I cannot for the life of me understand why no cunt is willing to stand up and say ENOUGH… IT FUCKING STOPS RIGHT FUCKING NOW.
I really, really cant.
It breaks my fucking heart thinking about that poor little girl… I kid you not…
Anyway, to get back on track.
Is it any wonder then, that Goncalo Amaral, who still stands firmly behind all of his allegations, is a shadow of his former self?
The following is a transcript of an interview conducted with the ever increasingly frail looking former Detective Inspector.
The interview apparently took place on the 7th of January, just hours before he was due in court.
However, the trial was once again adjourned and as far as I am aware, no new trial date has been set at the time of writing.
Be aware, the interview has been translated from Portuguese into English:
The man who led the investigation after Maddie's disappearance breaks his silence in an interview with Dagbladet, just hours before battling the McCann's in court.
LISBON (Dagbladet): Gonçalo Amaral (54) is the man Gerry and Kate McCann, Maddie's parents, do everything they can to stop.
"I am financially ruined and my name and honor is blackened. And I have not done anything wrong," said Amaral to Dagbladet.
Immediately though she was kidnapped
He is one of the main characters in the story that has engaged a whole world. Little Madeleine McCann, then three-years-old, disappeared sometime between nine and ten o'clock on May 3, 2007. As her parents were drinking and dining close by, Madeleine and her younger twin siblings were sleeping alone in the family's holiday apartment in Praia de Luz.
"She died in her parents flat that evening on May 3, 2007. I am not saying her parents killed her. But they have a responsibility for her disappearance," said Gonçalo Amaral.
Now, the McCann's demand £1m in compensation from the man who led the first investigation after their daughter vanished. He is now facing trial in Lisbon.
Amaral still claims that the evidence, observations and the way the parents reacted to their daughter's disappearance, points towards the parents.
Dagbladet met Amaral for an exclusive interview just hours before the trial against him starts in Lisbon. Outside, the rain was pouring down.
"My initial thought was that she had woken up, left the flat to look for her mum and dad. It was not natural to think that something criminal had happened. Children get lost. But the weird thing was that her parents never entered that thought – they immediately said that she had been kidnapped," Amaral said.
He spoke, visibly engaged, about the case that changed his life.
Hard to accept
The conflict between Amaral and the McCann's sparked massive news coverage in the British media. Gerry and Kate McCann have received millions in compensation and have had many journalists and newspapers apologise for their coverage of Maddie's disappearance.
The trial against Amaral started when he published his book, «Maddie: A verdade de mentira» («The Truth of the Lie»), where he meant that the suspicion should be pointed at the McCann's.
The book broke all the records and was translated into eight languages, before Gerry and Kate McCann had it stopped by Portuguese court. They claim the book violated their honor and their search for Madeleine. The Supreme Court in Portugal dismissed the case, and the the book went back on the shelves.
Madeleine McCann's parents then sued Amaral based on his claims in the book. It is now up to the Portuguese court. The claims are sky high and – as the McCann's asked – Amaral's assets are frozen until he has been given his verdict.
"That is why I am living from hand to mouth. I can't dispose the money from my book sale. I work a little as a legal adviser for a firm but I am only getting enough money to survive. I live in my dad's flat in Portugal. It is hard to accept that I have to live that way just because I did my job," said Amaral.
Are you nervous of the outcome of this case?
Amaral shrugged.
"No, I feel safe that the verdict is going to be fair. Everything I wrote in the book can be found in the police documents. The Supreme Court believed me. I am happy that good – not rich – friends have supported me financially so that I could hire a lawyer," he said.
Too much politics
The retired policeman lost 20-30 kilos and said he has had a rough time since being taken off the case. Many people reacted with fury when he called Gerry and Kate in for questioning – as suspects.
Amaral said that he, without a warning, got a telefax saying he was being transferred to other assignments within the police. Amaral claimed Portugal's Prime Minister informed his British colleague Gordon Brown even before he was notified himself.
By then he had already warned against political pressure from the English government, he told Dagbladet.
"This case has involved too much politics and too little police," Amaral said.
Shortly after, the case was dismissed. But the search for Maddie is still engaging the whole of Europe, and many claim to know what happened to the girl.
"The McCann's were very pleased that the case was dismissed," Amaral claims.
The Scotland Yard believes that burglars might have taken Madeleine?
"Of course we considered that. Burglars go after money and valuables. There were no signs of an intrusion. The apartment was in good order – everything was where it should have been. Can thieves really have been frightened by a three-year-old – and taken her with them? Nothing at all suggests that. We put away that theory early on, and it is just sad that is back on the table," said Amaral.
The case is about money and celebs
Kate and Gerry McCann have since their daughters disappearance kept their profile in the media, and still speak of their hope of being reunited with Madeleine.
Influential people in England, such as Virgin-billionaire Richard Branson, are behind the McCann's. Large sums have been donated to The Madeleine Fund, which provide economical support for the McCann's.
"Everything should be about what happened to Madeleine. The case's core has shifted and is now about money, celebrities and politics. It has become an industry – an absurd theatre," Amaral told Dagbladet.
Madeleine could still be alive?
"This is a flurry of rumours and theories surrounding this case. But there are no facts. I think the truth will come for a day. To get there, we have to go back to the McCann's and their dinner party that evening, May 3, 2007. More people have to talk. The McCann's refused to participate in a reconstruction. British police did not want to give the medical information that could have helped make a profile on the victim," Amaral claimed.
"Altogether, British police were not cooperative – they seemed more interested in making sure the McCann's were not arrested. Since the case started, the McCann's have involved private investigators who have been working in spite and against what we do. Our police is independent and have high integrity – we work in an independent country. Our mission has been to find an answer – we cannot think about who the McCann's are and who support them in England."
Did you do anything wrong in your investigation – do you have any regrets?
"Madeleine's mum and dad should have been suspects from a lot earlier on," the controversial investigator said.  Read More
Now, you can choose to believe the likes of the Daily Chimpanzee, and continue to think that Britain is the best cuntry in the world, where the newspapers never lie, the politicians strive to do their best for the population and Simon Cowell is a confirmed heterosexual.
Or you can get your fucking heads out of your fucking stinking arses and stop & smell the roses.
I certainly know who I believe, and it isn't the Bungling British Bobbies, and our warped Sniffenpissin MP's – that fact is for certain.
Okay, turning back now to just before the trial started last September, and that flurry of press activity that preceded it.
Now, you may or may not have noticed that I neglected to mention an important turn around of events that also occurred whilst this hive of press activity was happening, – although the UK's MSM would not have dared mention it anyway.
I am of course referring to Robert Murat's apparent change of heart  to let the South African business man, Stephen Birch dig up his driveway under which he believes Madeleine McCann maybe buried in a shallow grave –  At vast  personal cost to Stephen, I hasten to add.
Never the less, I am not going to repeat in great detail the turn of events that led to Stephen reaching this belief.
If you don't know by now, then best you read my article Digging for Madeleine, which explains everything.
Having said that, a little refresher wouldn't go amiss:
Since Madeleine (Maddie) disappeared six years ago, various leads worldwide have been followed up to try and find her.
Now 14 months after Stephen Birch (56) believes he found her grave, the Cape Town businessman will be given the opportunity to solve the mystery.
Birch believes the British girl, who was three years old, is buried 130 meters from where she went missing in the coastal town of Praia da Luz.
The Portuguese daily newspaper Correio da Manha has for the past eight months tried several times, to obtain permission from Robert Murat to ascertain if Maddie is buried in his property as alleged by Birch.
Murat was initially the police's main suspect, but no evidence could be found that could link him to Maddie's disappearance. Later he won a civil claim amounting to millions of Euro's against the media.
Correio da Manha let Birch know this past week that Murat had agreed to the excavation and negotiations with his lawyer. Murat apparently wants several thousand Euros for any damage that may be caused.
Rapport newspaper reported in June last year that Birch claimed he illegally entered the property of Murat's aged mother in Praia da Luz on the Algarve region.
Birch apparently took scans of the ground in the property. He states that the scans show an object like a child or animal on a secluded portion of the property. Photo's in Birch's possession show that police never did excavations in that section at the time.
Birch has continued with an online campaign since making the allegations. It is aimed at the British and Portuguese government, and Maddie's parents, in the hope that his findings will be investigated.
Kate McCann, Maddie's mother then on a British TV program asked sarcastically: "Who is Stephen Birch actually?" Read More
And it is there in that last sentence, that Ms Healy demonstrates exactly why droves of people are now becoming more and more suspicious of her and her husband… At a right old rate of knots too, I should also add.
So much so in fact, that many British MSM newspapers will no longer allow comments on McCann articles for fear of abuse left below the pathetic, patronising, sycophantic bullshit that they seem to take turns in churning out on an almost daily basis in order to try and keep the McCann band wagon rolling along on all four wheels.
You see Ms Healy, Stephen Birch is the man who has put forward an extremely more credible hypothesis for where your daughter is than the Defective, Deadwood Clowns have put forward in three fucking years of sitting on their useless fucking fat arses, twiddling their stubby fucking thumbs and making up twelve fucking million quids worth of fairy tales worthy of anything that Hans Christian fucking Anderson could come up with.
But no! You and your psychopathic, Freemason husband are not interested in following up on the findings of the man who has spent in excess of £50 Grand of his own money – not to mention the countless hours – and whom you should be thanking for the rest of your fucking lives for trying to find your poor, lost THREE YEAR OLD DAUGHTER … That Kate McCann, is who Stephen Birch is.
No stone left unturned REMEMBER?
Yet instead of doing the right thing, you would both rather spend the fucking money, very kindly donated by a hard up British public, going on wild fucking Goose-chases that a 10 year old wouldn't be fucking daft enough to follow.
So fuck you, fuck your husband and fuck your fucking hugely expensive legal entourage… They don't scare me and I will not be silenced.
Photo: Stephen Birch – since when did initiative deserve derision?
Now, I know that Stephen has come in for a lot of stick over the past year and a half, which I also know for a fucking fact, has at times got to him.
Course, a lot of that abuse has been brought about by his own naivety… And I know that Stephen wont take that as me criticising him because (A) I'm not, and (B) I have told him as much.
You see, Stephen is much more adept at dealing with businessmen and making property deals in his South African homeland than he is at boosting his public image over here in England, whilst at the same time attempting to garner our support on a subject that I can promise you is an absolute fucking minefield – even for us seasoned writers who are born and bred here.
I can also tell you that you only need to put one foot wrong and the whole fucking lot can blow up in your face.
On top of that, the man is South African, although I try not to hold that against him… Only joking… Probably.
What I really mean by that is, Madeleine McCann is an English girl from England and Stephen cannot possibly gauge the depth of emotion running rampant throughout the cuntry in regard to this missing little girl when he doesn't even live here.
Neither can Stephen think like an Englishman any more than I can think like a South African.
Moreover, as an Englishman I can get away with criticising the English – where as any foreigner doing so, will just get an Englishman's back up… Regardless of whether or not that criticism is justified.
And then there are the McCann paid trolls of course, who pounce en-masse at the slightest hint of an anti-McCann comment.
Course, if you are not used to the brain-dead, sycophantic, lumps of dog shit, they will appear to be ordinary, albeit irate members of the public who simply want to rip your fucking head off.
So, unless you are used to the half witted, buck toothed, dribbling arse clinkers… Or you have a Dogman, Wolfie, AUN and a Fuck The State who occasionally hang a troll out to dry, they can be pretty intimidating.
However, having said that, it doesn't matter if you love the fella – and plenty do, including me – or you fucking hate him because like I say; he has a more credible theory on where young Madeleine is than 37 fucking Clowns, sat drinking tea and wasting twelve million pounds of tax payers money, can come up with in the past 3 years or so.
And for that reason alone, every single person who genuinely wants that poor little soul found should give Stephen their full backing because at the moment the odds are that Madeleine McCann is being left to rot away in an unmarked grave as if she is fucking nothing, and that makes my fucking blood boil.
And anyone who doesn't back the man, to my way of thinking, would rather that poor little girl was never found.
Therefore, the shear fucking  fact that the McCanns, their powerful, vastly wealthy entourage of friends & supporters, Defective Deadwood & his 37 clowns, the transvestite Terry May, and the Portuguese authorities, all shy away from investigating Stephens claim… Given the weight of credible evidence verified by independent expert witnesses and taking into account the sites close proximity to the McCann's holiday apartment, coupled with the simplicity, low cost and lack of time needed to carry out the task… The fact that Murat's drive wasn't dug up a year and a half ago suggests to me, a fear of Madeleine being found and a major fucking cover up to stop that from ever happening.
And trust me on this, every single one of those lying bastards knows exactly who Stephen Birch is, exactly what his evidence is and exactly how the British MSM are BANNED from touching the fucking story – whilst elsewhere in the world, some 255 foreign newspapers have already published what our government are scared to fucking death of you finding out about.
Furthermore, ask yourself these two simple questions:
Who stands to lose money, face and reputation by probing the drive?
And, who on paper is in a win, win situation by probing the drive, regardless of whether that tragic little girl lies buried there or not?
So, what you all want to do once you figure out the answers, is get yourself over to Stephen's, Madeleine McCann Facebook page and give him your full support.
The page already has nigh on 50,000 'likes' but is woefully lacking in support from Britain – the very country that he needs backing from to have any real chance of forcing the police to take action and dig up the Murat drive.
You can find that Facebook page by clicking  HERE
Now, as I said earlier, just prior to the libel trial Murat appeared to have a change of heart and agreed to let Stephen dig up the drive – for a hefty price of course.
And at the time, I wrote on here and told Stephen over the phone that I thought it was just a lot of old fanny, specifically timed to portray the McCanns in a good light prior to their libel trial beginning.
Unfortunately, at this moment in time I appear to have been right.
Now,I can tell you that the deal was being brokered by Portugal's best selling newspaper Correio da Manhã, albeit the media company's CEO will no doubt have the right fucking hump that I have.
Furthermore, just as I had anticipated, the terms were so unreasonable that Stephen had no choice but to pull out of the negotiations.
In fact, the only thing in Stephens favour was that Murat had agreed not to prosecute him for trespassing on his property in 2012.
After all, it was that very real threat that had prevented the South African Property Developer from returning to Portugal:
by José Manuel Oliveira 
Robert Murat may sue the South African businessman Stephen Birch for trespassing on private property after the latter publicly assumed that he had entered in the garden of Murat's house in Praia da Luz, near Lagos, whenever Robert went out, in order to inspect the terrain with a georadar through which Birch claims to have located the place where the cadaver of Madeleine McCann, who disappeared in May 2007, is hidden.
"We are looking at what was said, analysing the statements that were made and then I will have a meeting with my client so we can make a decision. Suing is a situation to consider, it remains an open hypothesis", said Francisco Pagarete, Robert Murat's lawyer to DN.
The Anglo-Portuguese citizen, and former real estate agent ended up being constituted asarguido with Declaration of Identity and Residence [Termo de Identidade e Residência]1, just like Maddie's parents were, on suspicion of involvement in the disappearance of the British child, following the investigations of the Judiciary Police, which included at the time excavations in parts of Murat's garden, where nothing was found.
Meanwhile, other lawyers guaranteed to DN that if the lawsuit now being considered does take place, "at most, in the worst case scenario" the South African "could be punished with the obligation of having to pay a fine of four hundred euro for the invasion of a private property".
"This is a complicated process, in which the individual, who now states that he has entered the garden to try to find out where the supposed body of Maddie is, could, later on, deny that version. And to be able to punish that man, Murat would have to prove what he did. On the other hand, while living in South Africa he would only have to come to Portugal to present himself in a court2 if he wished to do so", argued one of the lawyers heard by DN, adding that there are several examples similar to this case. 
Diário de Notícias, July 7, 2012, paper edition
Legal Reference
1. Termo de Identidade e Residência (TIR) – The arguido (formal suspect) is subject to a regular presence before the authorities to confirm with the relevant documents their identity as well as their present residence at that time.
2. The Portuguese Republic and the Republic of South Africa do not have a bilateral extradition agreement, though an agreement of mutual police cooperation exists since 2002. Source
Now, like I said a little while back, by publishing the terms being offered to Stephen for him to excavate the Murat driveway, I am going to piss  Correio da Manhã off big time.
However, once you have read them, I think that  you will see why the newspaper wanted to keep the terms secret… Just sayin:
Dear Mr. Stephen Birch,
On behalf of Mr. Octávio Ribeiro, my editor in chief, I'm replying to the request you send to Correio da Manhã in order to facilitate a deal to dig up Robert Murat's driveway.
We propose the following: 
a) You'll transfer 50.000€ to Correio da Manhã, that will act as mediator with Mr. Murat's lawyer and make sure that the same amount get to an account indicated by him;
b) This amount will not only give you and your team access to the driveway in Mr. Murat's property, but will also allow an excavation. Besides this, Mr. Murat's will give up of any charges against you by trespassing and defamation;
c) Correio da Manhã and CMTV (Correio da Manhã TV channel) will have all the exclusives of covering the excavations and of interviews with you and your staff, as well as the exclusive of a big interview indoor, in our studios. All the copyright of the images are for Correio da Manhã, exception made for South Africa, because it's your country and you can explore them as you want;
d) If the remains of Madeleine McCann are under the driveway Correio da Manhã will pay you back the 50.000€;
e) Correio da Manhã doesn't cover any costs of travel and accommodation for you and your team;
f) If the remains of Madeleine McCann are not under the driveway the 50.000€ will not be returned to you;
g) We think these conditions are very good to serve your purposes and, therefore, are not negotiable. If your answer is positive, we'll ask our lawyers to draft a proper contract;
h) This mail is highly classified, and must remain always in that condition, now, during and after the process.
Best regards
SHE'S A FUCKING CHILD YOU MORONS, NOT A FUCKING CASH COW… Or at least she shouldn't be.
Sometimes, this world makes me fucking sick. Just when the fuck did it all go wrong?
And more to the point, where does it end?
Certainly, writing this article has been one of the hardest that I've written to date.
I have in fact found myself quickly flitting between anger, and bewilderment, disbelief and frustration and just about any other combination of the four.
Certainly, the jokes were hollow. The reality being that there is fuck all to laugh about.
At nine days short of her fourth birthday, Madeleine Beth McCann became a commodity, exploited and let down by the British & Portuguese governments, The British & Portuguese police forces, the Portuguese law courts, the British & Portuguese media, the Tapas 9, the spineless British population and Gerry & Kate McCann.
And as I now bring this article to an end, I just feel very, very down.
RIP Madeleine x
Now press play